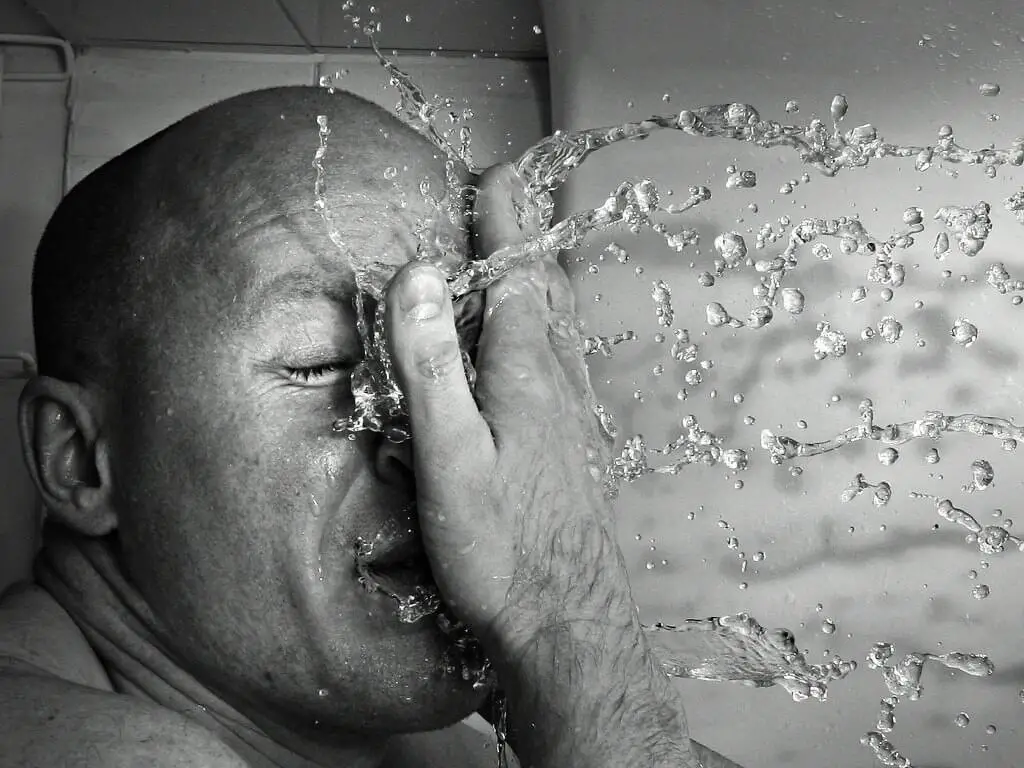 Exfoliating?! Isn't that what my girlfriend does in the shower with that weird rock? What does it have to do with gloriously shaving, trimming, and sculpting my most manly of facial hair? 
Well, hypothetical puzzled reader: puzzle no more! Today I'm going to share with you not only why exfoliating is the best thing you're still missing in your shaving routine, but also recommendations on five of the best exfoliators for men available on the market today. If you have an open mind, and value the quality of a closer, cleaner shave, read on!

No, really: why exfoliating? What even is it?
Don't you hate the irritation of finding a pimple, in-grown hair, or blackhead lurking under your 'stache, or appearing and coming back again and again like a Horror movie slasher? I know I do! The good news is that exfoliation, when done with a high-quality product, can rid you of these unwelcome face-guests for good. According to the ASCP (Associated Skin Care Professionals):
"Exfoliation is a skin care therapy in which the outer layer of dead skin cells are gently sloughed off with the use of an abrasive tool or product…Exfoliation helps prevent pimples and blackheads, which develop when pores and sebaceous glands are blocked by built-up debris."
See? Simple! Exfoliation complements the good use of quality shaving creams, razors, and aftershave rubs in rejuvenating your skin. The process, done both mechanically and chemically, gets rid of irritating dead cells and other debris, and highlights the fresh and vibrant skin beneath. This obviously will have you looking fresher day-to-day, and can even slow aging of the skin!
That "weird rock" (pumice, to be exact) your girlfriend keeps in the shower is an example of a tool for mechanical exfoliation. Today, we're focusing on chemical exfoliation: meaning, cleansing products, rather than scraping tools. They're similar in texture to a cream or lotion, and you apply small amounts of them to your face after your post-shave rinse, one to three times a week. If the word "chemical" alarms you, don't worry: the best exfoliators out there go with herbal and mineral ingredients as much as possible, rather than harsher and more complex materials.
So which exfoliators are the best?
After much thought, I found these five products impossible to simply rank in order. However, I'd recommend any one of them as among the best facial exfoliators on the market for men: they each do their job well, are available (Amazon links are affilate) at a fair price relative to their quality and come from trustworthy sellers. Your own results with each product may vary in relation to your skin's sensitivity and other factors, so don't panic if the first well-reviewed exfoliator you try doesn't work quite as well for you as it does for most people. (Though, you'll quickly gather from the reviews that these products work for a wide range of the population.) With that disclaimer aside, let's dive in!
Kyoku For Men Exfoliating Facial Scrub
First on the list is Kyoku For Men Exfoliating Facial Scrub. Having won awards from GQ as well as Esquire Magazine, this scrub comes infused with vitamins A and E to balance skin pH levels, improving elasticity and revitalizing patchy skin. Since Kyoku pride themselves on using natural ingredients (such as rice bran and other Japanese herbs,) as opposed to harsh chemical wherever possible, this product is a generally safe bet for all skin types. The manufacturers recommend using it one to two times per week for best effect. Another good point: Kyoku comes with a 90-day money back guarantee, on the rare chance you're less than satisfied.
Daily Power Scrub Facial Cleanser For Men (Rugged and Dapper)
I love the bottle for this one: such a sleek, simple, and manly design. In addition to looking good, the bottle also contains eight ounces of product; enough to last several months. Rugged & Dapper is made from organic ingredients such as aloe vera, Vitamin C, willow bark, and burdock root, without animal testing. The combination of ingredients is designed to deeply hydrate the skin, clear out the pores for faster cell regeneration, and overall tone and revitalize the skin's appearance. It's widely considered one of the best daily cleansers out there for getting rid of acne (including acne scars). Plus, it smells amazing!
Jack Black Face Buff Energizing Scrub
Jack Black strikes the perfect balance between really scrubbing away the dead skin, while not irritating the fresh skin underneath. By using it before each time you pick up the razor, you can help yourself attain a closer and fresher-looking shave. The tiny scrubbing particles open and clean congested pores, while the Vitamin C rejuvenates skin. It smells good, it won't leave your face itchy, and it's even developing a following among women as well as men.
Nivea for Men Energy Face Scrub
This is another great product for reducing irritation, when applied before shaving. It has a foamy texture, and combines Vitamin E and fine scrubbing particles to do what a good exfoliator does: clear out pores, get you a closer shave, and leave your skin looking fresh and radiant. With today's women favoring more than ever good-looking skin on men, I expect the use of products like Nivea's to increase rapidly in the near future.
Exfoliating Facial Scrub for Men by Derma-Nu
Last, but far from least, Derma-Nu's facial scrub is another fantastic option to ensure an ultra-smooth shave. Its natural and organic ingredients include pumice and jojoba beads help prevent both razor burn and ingrown hairs, and overall leave the skin looking fresher and more radiant each morning. Derma-Nu gives a 100% satisfaction guarantee, and the dapper gentleman will likely do well with this exfoliator.
To wrap it up:
There you have it. Five of the best facial exfoliators on the market today, all available through Amazon*. I've personally found I strongly prefer the way I look since I started exfoliating my face three times a week. My skin looks refreshed and even "shiny," without looking oily. I'm someone who gets frustratingly dry skin in the fall and winter, so I'm really appreciating what a good ingredients can do.
I consistently get a closer shave, my acne is gone, and I feel much more confident when I look in the mirror, at business meetings, and when out meeting women. Feel free to read in more depth about any of the five products above, from the manufacturer's information and the reviews if you need any more information. As always, happy shaving and happy grooming, gentlemen!
About the Author
Laura Jones is a grooming and lifestyle enthusiast who writes about the latest gadgets for men and women. Her blog thehomegear.com aims to improve the quality of life by guiding people to pick the best gears for their home.
*Indicates affiliate link