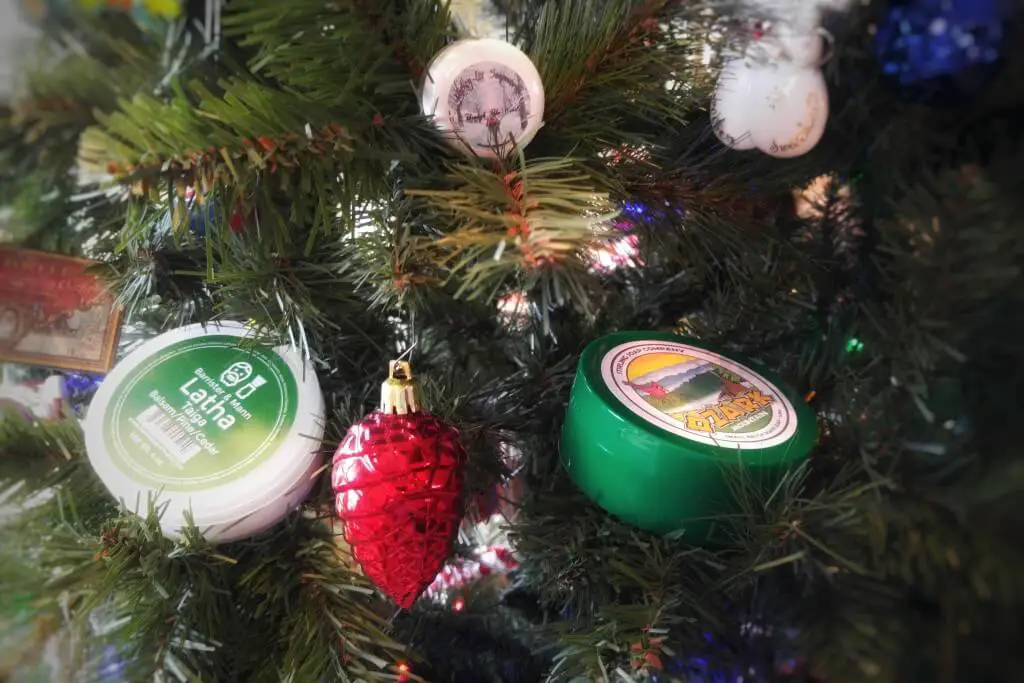 Everyone is gonna sit up
Until after three
Everyone will be all lit up
Like a Christmas tree
Louis Armstrong, "Christmas Night in Harlem"
One of the great things about our wet shaving hobby is having a stable of soaps with a variety of different scents, so that you can pick out just the right one to match your mood or the season. Around this time of year, I enjoy, as Louis Armstrong put it, getting "all lit up like Christmas tree," both in the sense Armstrong meant and also in the sense of using pine scented products to recreate that Christmas tree smell that is tied so closely with fond childhood memories. If you'd like to do the same, there are quite a few great artisan shave soaps that will do a great job of helping you get your ho-ho-ho on.

Now here's the thing about the scent of a Christmas tree, though: it depends on what specific variety of tree you traditionally set up in your home. Many of the most popular varieties are not pines but fir trees: one poll names the Fraser Fir, Douglas Fir and Balsam Fir as the top three selling Christmas tree varieties in the U.S. On the other hand, the National Christmas Tree Foundation names the Scotch Pine as the most common Christmas tree variety in the country. Each variety has a different scent, so bear that in mind as you read my reviews.
I'll focus in this article on the scent of these soaps, but obviously if a soap doesn't lather easily and perform well, you may as well not use it. All the soaps on this list clear those bars with no problem, though each is a little different from the next, performance-wise. But these are all great performing soaps with festive scents that for the most part also work beyond the holiday season.
Stirling Soap Company – Ozark Mountain
For Arkansas-based Stirling Soap Company, coniferous scents are right in their wheelhouse: they have several in their line-up, including one that's called Coniferous. One that particularly reminds me of a Christmas tree is Ozark Mountain. Stirling describes the scent as "a drive through the Ozark Mountains in fall," but I'm afraid I've never been to the Ozarks; for me Ozark Mountain hits me as as the bright, resinous aroma of the Fraser Firs and Balsam Firs that my family usually traditionally buys at Christmas.
Ozark Mountain is a tallow-based soap available in a wide, great-looking green tub of 5.8 oz. of soap for $12 or as a 4.5 oz. refill puck for $8.
Stirling Soap Company – Scots Pine
If your traditional Christmas tree is the popular Scotch Pine, this is the Christmas tree soap for you. Scots Pine and Scotch Pine are both names for the same variety, Pinus sylvestris. It has a scent not quite like other pines, and definitely distinct from the fir tree varieties. To me it has a warmth that other conifers' scents do not, making for a cozy shave on a cold morning. It's not a Christmas tree smell for me, but it will be for many people who are used to decorating a Scotch Pine each year.
Like Ozark Mountain, Scots Pine is available in a wide, green tub of 5.8 oz. of soap for $12 or as a 4.5 oz. refill puck for $8. Of note, Scots Pine is made using sheep tallow. Stirling says this contributes to the post-shave feel, which is nice, though I don't honestly notice a difference from their regular tallow formula.
Barrister and Mann – Latha Taiga
Taiga is a recently released scent in Barrister & Mann's Latha line: budget-friendly soaps with more simple scents than their main line of products. Though Latha soaps are less expensive than B&M's other offerings, the performance is top notch, and Taiga is probably the easiest lathering of the selection of soaps I'm discussing in this article.
Taiga's scent is labeled as "Balsam/Pine/Cedar," and B&M describes it as "just like freshly cut fir trees in the middle of Winter!" Full strength Christmas tree to my nose. Balsam Fir is definitely the leading note here, making Taiga feel like kin to Stirling's Ozark Mountain. Both are bright, fresh fir scents, but Taiga seems to have a sweetness to it that Ozark Mountain does not, while Ozark Mountain is a bit stronger and more resinous.
Latha Taiga comes in a sturdy translucent tub with a green label, 4 oz. of tallow soap for $11.
Mickey Lee Soapworks – Through the Woods
Mickey Lee Soapworks' Through the Woods is a seasonally available soap, and though it is not purely a Christmas tree scent, it is probably the most Christmas-y of the soaps mentioned here. It makes me think of being right in the middle of a family Christmas party in a someone's cozy home; the spicy, sweet smell of gingerbread men just out of the oven mixing with the piney boughs of a Christmas tree.
It's not that pure Christmas tree scent that some of these other soaps are, but it will definitely put you in the holiday mood. So much so that while it's perfect for evoking your Christmas spirit, it's not a scent I can really see using much outside of the season.
Through the Woods features a snowy winter scene on a wide, white plastic tub. It's a tallow soap, 3.3 oz. for $12
Mike's Natural Soaps – Pine & Cedarwood
Mike's Natural Soaps is kind of an elder statesman of the U.S. artisan shave soap scene at this point, making and selling a fine, tallow-based product since early in 2012. Their Pine & Cedarwood soap is scented exactly the way it's named: about equal measures of pine and cedarwood. It's a very pleasant, outdoorsy scent, cool and damp, but the amount of cedar takes it away from making you really feel like a Christmas tree. But on the other hand, it certainly goes well with wintery, Christmas-y smells while having the advantage of working well any time of the year.
Mike's Natural Soaps has sort of rolling availability; as I write this Pine & Cedarwood is in stock but if it's not when you check, just keep an eye on the site for it to come back. It's available as a 4.5 oz. bar of soap for $11.50 or 5 oz. of soap in a tin for $14.
Aftershaves
If you're looking for a good scent pairing to slap on post-shave, Barrister and Mann and Stirling Soaps both sell matching aftershaves for the scents I mentioned, and they would go well with any of the these Christmas tree scented soaps. Other options would include the classic Pino Sylvestre aftershave splash, which comes in a pinecone-shaped bottle, or, if you don't mind a hit of menthol in the wintertime, Krampert's Finest Frostbite, a nourishing splash scented with Frankincense, which in this context has a definite piney, resinous scent.
Samples
Sample sizes are available for all these soaps. For Stirling and Mike's Natural, you can buy samples directly from the artisan. Samples of Barrister and Mann and Mickey Lee Soapworks soaps are available from Maggard Razors.
In Conclusion
To be perfectly honest, we bought an artificial tree a couple years ago that we pull out each year. The scent of the real thing is not worth cleaning up needles, keeping it watered, worrying about a fire hazard, etc., for my family. But we still love that scent. My wife has several scented candles that are reminiscent of that nostalgic smell, and me, I reach for Latha Taiga or Ozark Mountain when I want to get all lit up like a Christmas tree. (But the others all have a place in my shave den as well.)