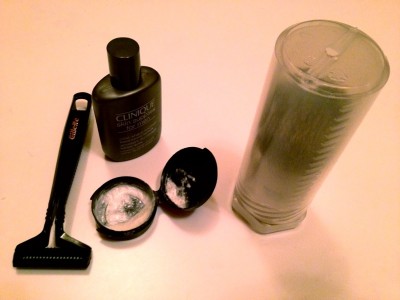 Several weeks ago, I reached out to the readers of Sharpologist.com to ask how you would go about shaving on vacation. It's easy if you check a bag: just bring everything.
But I'm a light packer, and going to Las Vegas, I wanted to bring a little piece of old-school wet shaving with me. No Gillette Fusion and canned goo for me, as tempting as that was.
First, I picked up up the $5 Gillette Guard single blade razor, sold only in India. Locally, this is about a nine cent razor with cartridges costing less. Available on West Coast Shaving, it's still damned cheap, and Mantic59 told me it worked reasonably well.
Next, I bought an Ogallala bay rum shave stick. I loved the smell and how it worked, but like others had complained, it didn't agree with my sensitive skin. After a few test runs at home, I PIFed to a friend and instead brought a long the sample tub of Edwin Jagger Sandlewood cream that came along with my West Coast Shaving order.
I brought along my regular shaving brush, but stored it in a Muhle shave tube that I bought on the Superior Shave for a whopping $6.50 with free shipping (that I'm not seeing on their awesomely basic site right now). It worked perfectly.
Finally, I brought along a travel-sized container of Clinique Post-Shave Healer (thanks, Mark).
The results? Not great. The lather was fine, but the the Gillette razor wasn't sharp enough for me and resulted in too many passes that led to weepers and my usual neck redness that I battle on an almost daily basis unless the stars completely align.
But it was fun to wet shave on the road, even if the results were less than stellar.
Thanks to this great community for pointing me in in the right direction. There is certainly room for improvement on my next vacation shaving adventure.