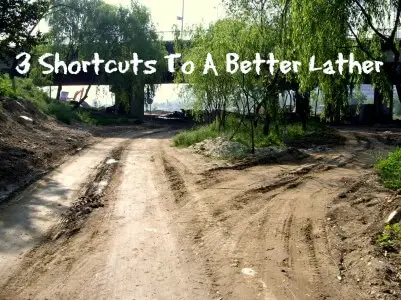 I think it's safe to say everyone has experienced trouble making traditional shaving lather at one time or another.  Here are 3 shortcuts to making a better, more stable lather, more quickly.
"Superlather"
Priming the brush with a shave soap then adding shave cream (AKA "Superlather") can be an effective (albeit perhaps a bit messy) way to get a stable lather.  Loading a wet shaving brush with shave soap (or even a gentle glycerin-based facial soap) will "trap" water and hold it where it needs to be.  Then adding a shaving cream will fully hydrate the lather and also create a really slick cushion to work with.  This was actually the topic of one of the first shaving videos I made six years ago:
"Uberlather"
A trick similar to "Superlather" is "Uberlather."  Uberlather is the process of adding a few drops of pure glycerin to the shaving brush before lathering with shaving cream or soap.  The extra glycerin will create a more stable, long-lasting lather.  Glycerin can be found fairly easily: look for it at your local mega-mart, drug store, or large grocery store.  It is usually in either the skin care or first aid area.
Distilled Water
Sometimes lather is not very good because the water is not very good, with too many minerals or contaminants (e.g. "hard" water).  If you have hard water try using distilled water.  Just heat some up (not to boiling!) and pour into your sink (with the stopper closed, of course).
Bonus Idea: "Brush Friendly" Brushless Shave Cream
There are some brushless shave creams that are "brush friendly" and therefore are very tolerant of the ratio of water to cream.  Two of the best in my opinion are Truefitt and Hill Authentic No. 10 Shaving Cream
and Pacific Shaving Caffeinated shave cream.