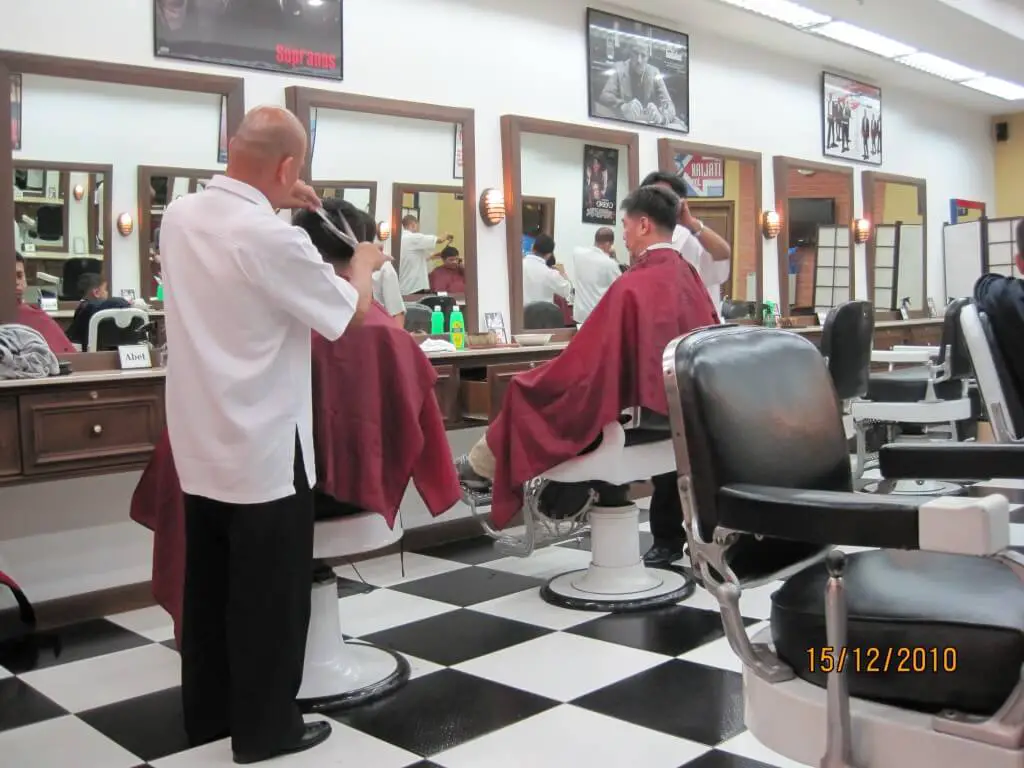 "What does a barbershop smell like?"  It's a question I've been asking myself–and others–for a while now.  So I decided to apply some data to the question.

Background
In a previous article I said:
There is no doubt in my mind that one of the attractions of old school shaving is getting the "vibe" of a barbershop.  Whether it's based on an early childhood memory or even a romantic notion of what a barbershop should smell like is almost irrelevant.  It's like a racial memory.
But it seems like neither shavers nor artisans/brands can agree on just what individual smells make up a barbershop scent, other than it's made up of several individual notes.  So let's try an experiment.  Based on a number of conversations I've had with both other shavers and cream/soap artisans recently, I've created a list of individual scent elements that commonly come up when discussing barbershop scents.
Then I created a survey for respondents to pick the top 3-5 scent notes that they think belong to a barbershop, from:
Talcum Powder
Leather
Tobacco
Ink (newspaper, magazines)
Wood (like Mahogany)
Alcohol (think Barbacide or another disinfectant solution)
Sandalwood
Citrus
Bay Rum
Other
I posted the survey link here on Sharpologist as well as a number of shaving forums and ran it for a week or so to gather data.  There were almost 300 survey responses, which I then collected into a spreadsheet (you can look at the raw data I put into a Google Docs spreadsheet HERE).  I'll be the first to admit this is not a "scientific" survey.  But I do think there are enough answers to make some general comments.
What Does A Barbershop Scent Smell Like?
The most-selected individual ingredients include:
Talcum Powder (73%)
Pinaud Clubman (46%)
Alcohol (like a disinfectant) (38%)
Leather (26%)
TIE: Wood, Sandalwood (24%)
Clearly some kind of "powdery" element is important (critical?) to a barbershop scent.  Pinaud Clubman aftershave is also a common scent element.
It's worth noting that Pinaud Clubman in itself is a combination scent.  Most agree it's made up of citrus (lemon, orange) and floral (mostly lavender) notes over musky base.
Perhaps more interesting is looking at the combinations that were most frequently selected per answer (second tab in the spreadsheet):
Pinaud was selected by itself (the only answer selected) 18 times.
Pinaud, alcohol, and Talcum Powder were selected 14 times.
Pinaud and Talcum Powder were selected 9 times.
These combinations account for about 13% of the responses.  Add in the various similar combinations and in this respect Pinaud becomes an even more impactful element.
Shaving Like You Are In A Barbershop
From the survey results it looks like "the barbershop experience" can be divided into two general categories, powder and Pinaud. 🙂  But what shaving products match those categories?  Luckily that job became easier when I discovered that shaving blogger and frequent Sharpologist contributor Joe Borrelli is a huge enthusiast of barbershop shaving soaps!  I showed him the survey results and asked which of the shave soaps he had matched the categories that the spreadsheet found (currently available, in alphabetical order):
Powdery, "Talc" Shave Products
Pinaud Clubman-Like Shave Products
Some Other Suggestions
Joe made some additional suggestions that don't fit into either category above, but that he still considers "barbershop:"
The European Connection
I should note that the scents and products above call back to American barbershops.  The "vibe" of a European barbershop is completely different.  There the predominant scent is generally considered to be almond.  Products like Cella* and Razorock p.160* would fall into that category.  Another common scent is that of Proraso*.
*affiliate link
So there you have it!  Looking to get that "barber experience" at home?  Get yourself one of these soaps and a good shaving brush, deluxe it up with warm towels and a single blade razor, and give yourself a treat!
Have another suggestion for a "barbershop" product?  Leave a comment below!
(Did you find this article interesting?  Be sure to share it!)