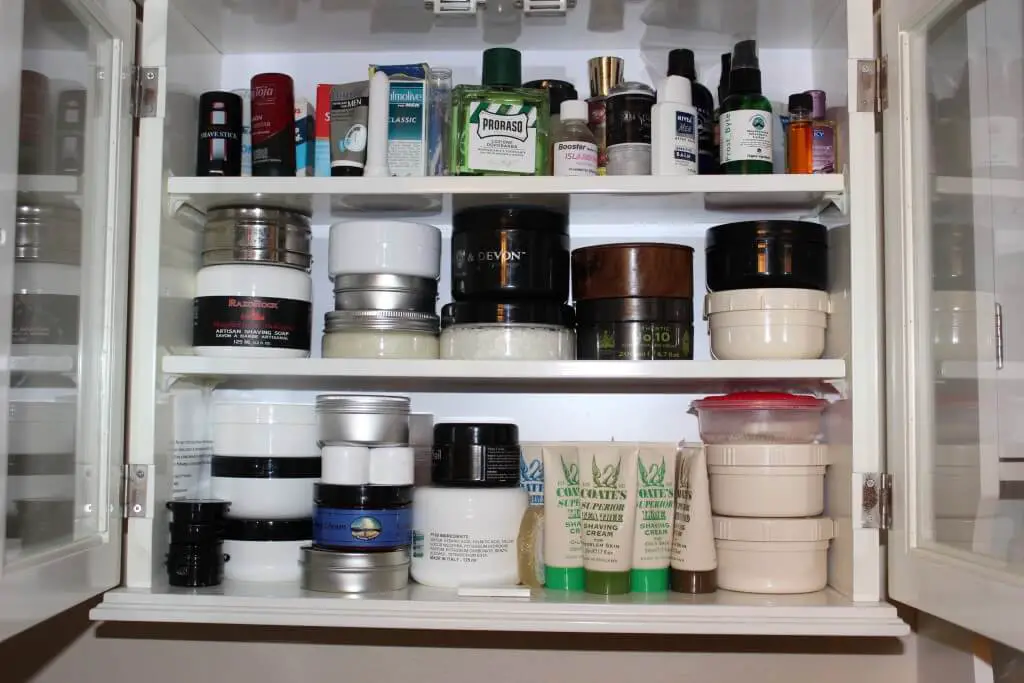 A while back Jay wrote an article about "shaving on the cheap."  It's a solid set of "software" products (creams and soaps) but it got me wondering: what do the "old timers" consider to be the shaving products that "punch above their weight" and are amazing values?  So I asked some of the folks who have hung around shaving-related blogs and forums for a long time.  Here are their top results.

First, the tl;dr.  These aren't necessarily the lowest cost products but rather products that perform better than their peers:
What Are The Best Values In Shaving?
Taylor Of Old Bond Street
Nivea
Van Der Hagen
Semogue
Tabac
Palmolive
Cella
Proraso
Omega
Arko
Now lets look at the "what" and "why."
10. Taylor of Old Bond Street Shaving Creams
Long the "value" brand of the top-shelf shaving creams*, Taylor's have been consistently priced lower than their competitors.  While still high compared to a pressurized can of shave foam (!) the creams are concentrated enough to last for a long time.  Performance of Taylor shaving creams tend to be a little variable though, with some versions performing noticeably better than others (I think the more recently-launched scents like Grapefruit and Peppermint are stand-outs).  Their Sandalwood shave cream was a favorite on Amazon's Best Selling Shaving Creams for a long time but recently fell from the list.
9. Nivea
In the US, Nivea For Men Sensitive Aftershave Balm* is comparatively inexpensive, widely available, and performs very well (though it's perhaps not quite as good as it was a few years ago, before a minor reformulation).  In other parts of the world (western Europe particularly) Nivea produces  number of excellent "old school" shaving creams and balms at modest prices.  The European version of the shaving cream can be found in a few specialty stores in the US.
8. Van Der Hagen "Luxury" Shave Soap
Long known in the US as a "value" shaving brand, Van Der Hagen (VDH) nonetheless produces a shaving soap that is competitive with artisan-made, glycerin-based shaving soaps costing much more.  Their Luxury shaving soaps (one unscented and one with a mildly generic scent) are widely available in groceries, mega-marts, and drug stores.  Whether the performance will change after VDH's purchase by Universal Beauty Products remains to be seen.
7. Semogue Shaving Brushes
Not as well known as other brands, some Semogue shaving brushes, made in Portugal, are considered excellent values.  The most mentioned models include the 620*, the 1305*, and the 1460*.  All three use boar hair and come in at around US $20.  Although they seem to require an extensive break-in period, they are regarded as excellent, long-term performers.
6. Tabac Shave Cream
Less well-known as their shave soap (which is excellent but hardly a "value"), Tabac shave cream* has a similar scent as the soap and is surprisingly affordable.  Although it performs well some find it difficult to lather and "picky" to get the hydration just right, especially in hard water.
5. Palmolive Shave Soap/Cream
Although Palmolive products are generally known as low cost world-wide, there are significant differences in performance between products made in the US vs. products made in the rest of the world.  In fact, "old school" lathering shave creams* and soaps* by Palmolive simply aren't produced in the US and only available in the US as imports into a few specialty shops (although Amazon may carry some versions).
4. Cella Shave Soap
Not too much more to say about Cella* that already hasn't been said: "Cella Crema da Barba All'Olio Di Mandorla" is an inexpensive, single-note scent (almond) "soft" shave soap that has gotten very high marks among those who have tried it, including Sharpoligist co-founder Andy Tarnoff.  It's even on Sharpologist's Best Shaving Soap list.
3. Proraso
Like Cella but even more well-known, Proraso has long been a staple of the old school we shaver.  Pretty much the entire product line*, from creams to soaps to aftershaves, punch well above their weight in value.
2. Omega Shaving Brushes
Omega is another Italian brand*, often mentioned in the same breath as Proraso (and indeed they often cross-produce products under each other's name), Omega brushes in particular are regarded as solid performers.  The Omega Pro 48* and Pro 49* are considered the classic European barber shave brushes.  Although their most famous brushes are boar bristle, they make a number of fine badger brushes and even some that mix badger and boar (I have a "Mixed Mighty Midget*" and it actually performs very well!).  Note that their synthetic brushes, the "S" line, is definitely behind the technological curve for synthetics.  There are better values in that niche.
1. Arko Shave Stick
By far the most-mentioned "value" product is the Arko shave stick.*  The scent can be an acquired taste (err…smell): I've said before that "some don't mind it at all, describing it as a generic mild citric soap scent while others compare it to a urinal cake.  Luckily the scent is not strong so even if you're not a fan of the smell it's easy enough to put up with."  But for the vast majority who try it, Arko performs like shave soaps that cost much, much more.
Honorable Mentions
While the "top 10" above were the most-mentioned products, some others were suggested that I think deserve a little love.
Clubman
Pinaud Clubman products* are ubiquitous in the US: inexpensive, widely available, and do what they're supposed to do with a minimum of fuss.  Personally I think the aftershave products contain too much alcohol but their popularity cannot be denied.
Parker
A number of the people I gathered data from mentioned Parker razors.  Parker razors, particularly the 96R*, perform as well as razors costing 25% more.
Merkur 23C
Similarly, the Merkur 23C* was specifically recognized by many I spoke with as a great "value" razor.
*affiliate link
What are the other "great value" (vs. "cheap") shaving products out there?  Leave a comment!