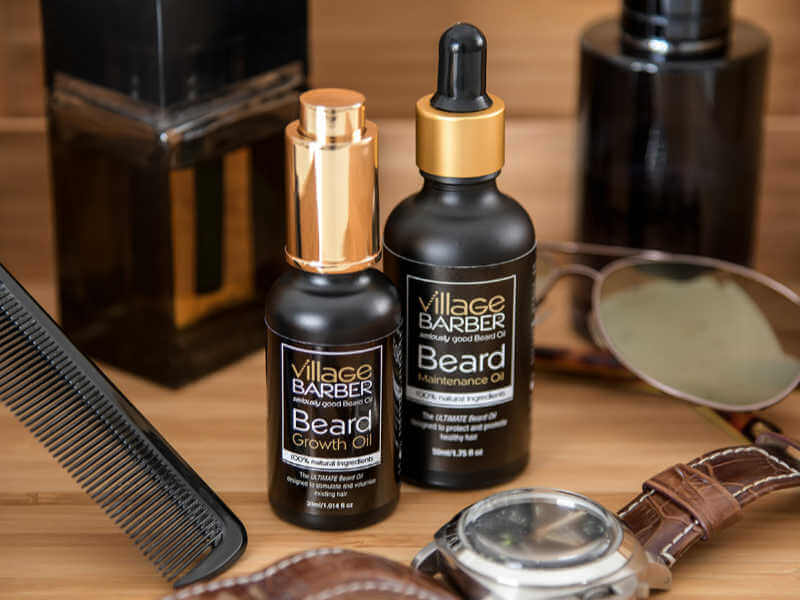 Village Barber, who made its name with an excellent shave oil and aftershave balm a few years ago, recently launched a beard care line.
Village Barber Beard Growth Oil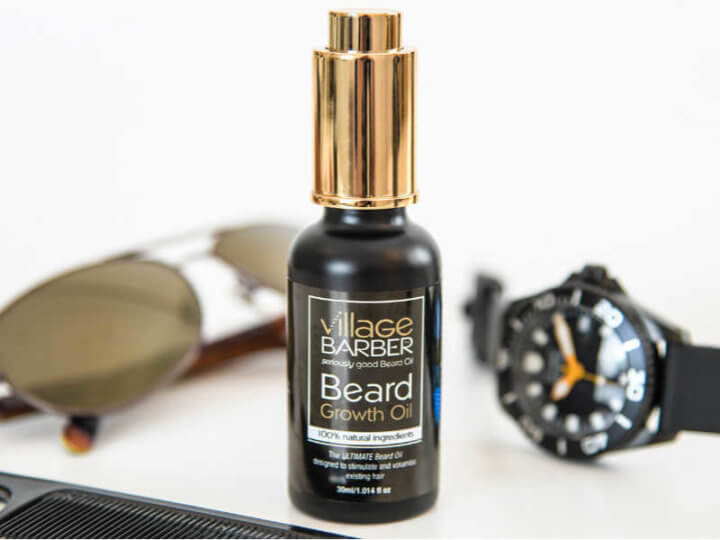 Village Barber Growth Oil specifically designed to stimulate and volumise existing hair. From Village Barber's website:
Village Barber premium Growth Oil has been synergistically blended to stimulate the follicles and promote strong, healthy hair as well volume, and eliminates itchiness and any flaking of the skin.
Ingredients: Coconut, Jojoba, Rosemary, Lavender, Geranium, Thyme, Sage, Cedarwood, Cypress, Lemon
Village Barber Beard Maintenance Oil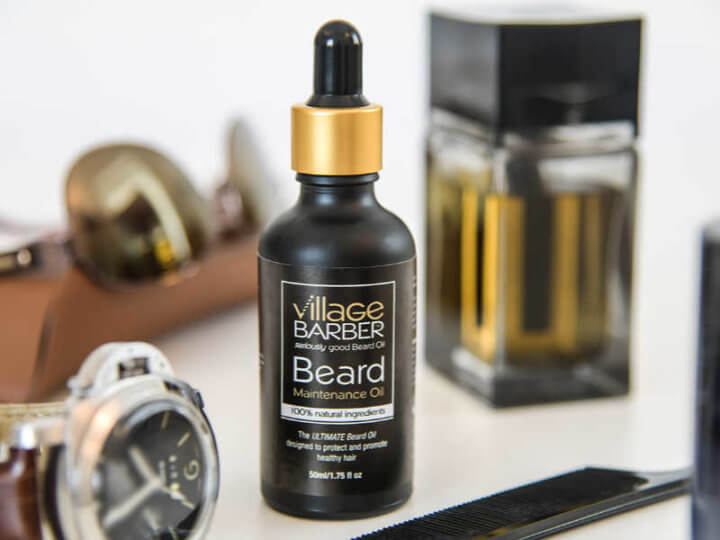 Village Barber Maintenance Oil is designed to protect and promote healthy hair:
Village Barber Maintenance Oil softens, nourishes and conditions even the coarsest of beards as well as eliminating itchiness and any flaking of the skin.
Ingredients: Coconut, Jojoba, Patchouli, Orange, Lemon, Vetivert, Vanilla, Bergamot, Benzoin Styrax
Village Barber Beard Oils In Use
[Note from Mantic59: I don't have a beard so I asked someone who does–and who also happens to be a past Sharpologist contributor, Patrick Kansa.  Here are his thoughts:]
When it comes to stuff to put in your beard, you've got no shortage of choice. Are you a beard balm guy, or a beard oil guy? I've tended more towards balms these days, as you not only get the hair and skin moisturization that an oil gives, but you also get some measure of styling control (for a mustache, you'll need to go to a wax most likely). However, oils can have their place as well.
For example – if you're the type to shower at night, then an oil can be nice, as it's a lighter option to put on your beard and skin before turning in. In that case, you might want something more like the Village Barber Growth Oil. It's light, and it's scent has a definite sharper, muskier note to it. Now, I'm not going to say I was able to validate the growth assistance claims of the oil. The scent isn't half bad, though, and a little goes a long way. I particularly found the push-button plunger on the dropper interesting as well. A pump or two loads the dropper, and then you use the same button to dispense it on your fingers before application.
Now, for daytime use, I'd definitely go more for the Village Barber Maintenance Oil (again, if I wasn't using a balm that day) between the two, solely based on the scent. It's similar to the growth oil, but instead of a musk, I pick up more of a cleaner ginger note in there, which I rather liked. And frankly, with beard oils, you're likely going to pick a product that (a) you like the smell of and (b) it's a business you want to support (which is why I like the stuff from Detroit Grooming so much). However, there's no harm in seeing what all is out there, and trying out new stuff.
For the Village Barber oils, not only is the packaging top notch (heavy glass bottles, good neck seals, and interesting droppers), the oils inside are top notch as well. All 100% natural, and easy going on the skin. My skin can sometimes be sensitive to harsher stuff, but these oils caused me no problems at all. Not only that, they got the job done of keeping my skin moisturized and gave my whiskers that healthy gleam.