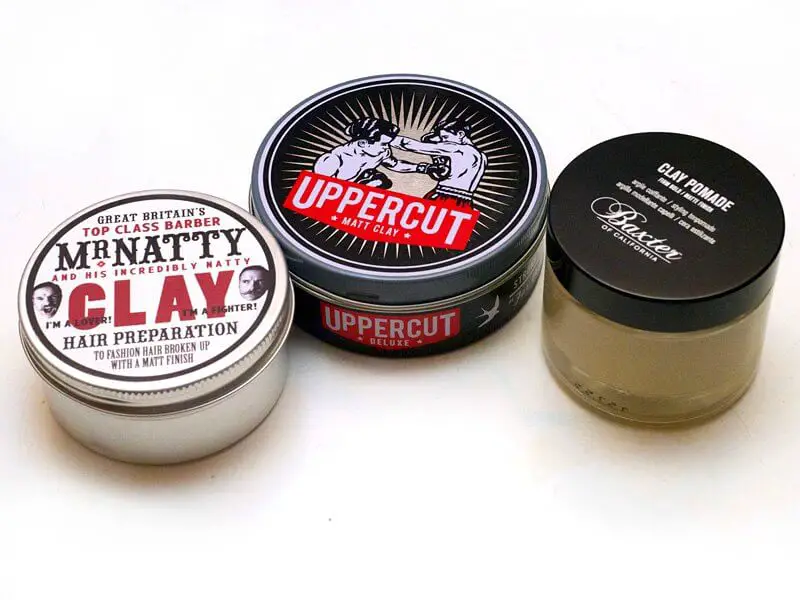 When I see pictures of myself from 10 years ago, I don't think I look all that different. But then I look more closely.  Where did all my hair go?
On a daily basis, I don't feel like I'm going bald, but my hair is certainly at its finest, and thus, my styling options are limited. Turns out West Coast Shaving's John Koontz is in the same boat, and he sent me over three of his personal favorites to review.  If your hair is like mine (and just look at the thumbnail author photo, albeit from two years ago, to find out if it is) you really can't go wrong with any of these clays.

In order of preference:
Baxter of California Clay Pomade: This is great stuff. I love Baxter's aftershave, and this clay is no different. Very lightly scented of lemon, fennel and sage, it's quite dense. It offers a firm hold with a matte finish, which is very important to me, because shiny=bald, but when on my hair, it doesn't look like I'm using any product at all. And that's the point. My hair looks fuller when using it, without out that "just rolled out of bed" look that may or may not be appealing to you. At $18, this product will last a very, very long time. Highly recommend.
Mr. Natty's Clay Hair Preparation: I also liked this clay product, which is a little oilier than the Baxter. In my hair, it gives the look of a styled product; still in a matte finish but with more crunchy, broken-up definition. For some reason, I associated this product with "going out" more than Baxter, which feels perfect for office use. The scent is somewhat strong, maybe like cherry or cream soda, and while my wive loved it, I'm not sure if I want my head smelling like a Swisher Sweet every day. Or maybe I do. At $24, this British product will also last an eternity.
Uppercut Matt Clay: I love the minty smell and old-timey boxer themed tin of this Australian clay, but it might not be right for my hair. It's strong; really strong, and unless you use very sparingly and emulsify in your hands on totally dry hair, you might get unexpected results. I could see this working very well for someone with longer hair. On my head, the way it separated the strands of hair made me actually look a little more bald (but in a stylish sort of way). But at least my hair didn't move a millimeter. For the right head, it's another great value at $17.99.