Back when Supply first started they had a single shave cream.  Over the years they have tweaked the formulation and added scents so I decided to pick some up to try.
Supply Ultra Lather Shave Cream And Healing Post Shave
[Note: Supply and Amazon links are affiliate.]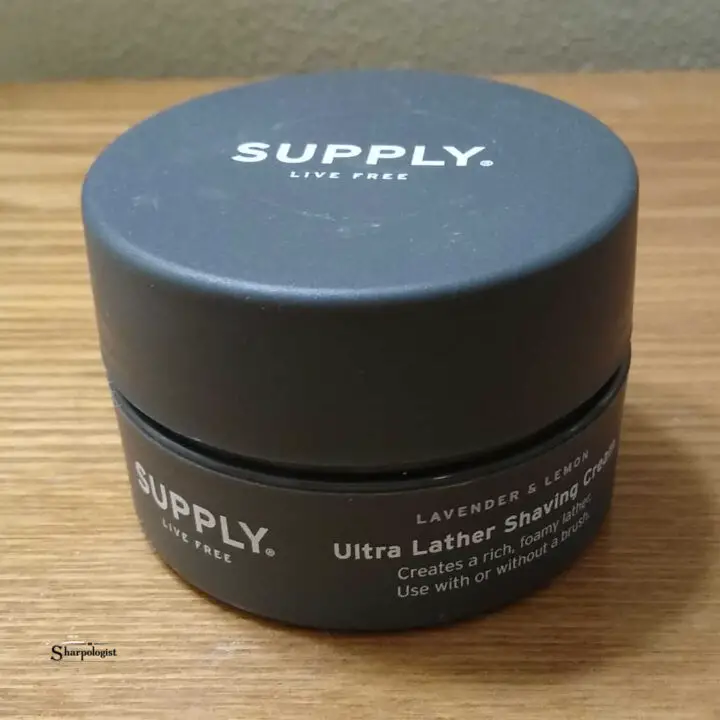 Ultra Lather Shave Cream
From the Supply website:
Whip up a rich, foamy lather with just a fingertip of our plant-based shaving cream. The blend of natural ingredients replenishes your skin, prepares your hairs for a silky-smooth razor glide, and leaves you moisturized and refreshed after you've finished shaving….
We leave out the petroleum jelly, sulfates, phthalates, parabens, and other toxic compounds. They're cheap and effective, which is why so many cosmetic products include them – but they're extremely bad for you in the long run….
We prefer to use gentle, plant-based alternatives. Every batch is made by hand in the USA, and personally approved by our CEO before hitting our shelves.
Scents:
Black Pepper & Fir: A powerful, but not an overpowering combination of fresh spice and evergreen scents. The Fir cools off the spice of the Pepper without killing its heat & edge.
Sandalwood & Cedar: Warm and rich. The subtle smokiness of Cedar is balanced by the sweetness of Sandalwood
Citrus & Basil (Previously "Coastal"): Notes of bergamot, cedar, & oakmoss. Beachy and citrusy, like a midsummer's day in southern Italy.
White Birch & Sage: Notes of cypress, pine & earthy scents. White Birch to give you the mountain man vibes. Sage to kill the bad vibes.
Lavender & Lemon (Previously "Calm"): Notes of blue sage, lavender & eucalyptus. Soothing and stress-relieving – like a stroll through a French lavender field.
Bergamot & Juniper (Previously "Crisp"): Notes of juniper, bergamot & jasmine. Woody and masculine, like waking up among conifer-covered peaks.
Ingredients
Water, Stearic Acid, Sodium Methyl Cocoyl Taurate, Myristic Acid, Coconut Acid, Glycerin, Potassium Hydroxide, Butyrospermum Parkii (Shea) Butter, Kaolin, Simmondsia Chinensis (Jojoba) Seed Oil, Helianthus Annuus (Sunflower) Seed Oil, Theobroma Cacao (Cocoa) Seed Butter, Mangifera Indica (Mango) Seed Butter, Tocopherol, Phenoxyethanol, Ethylhexylglycerin, Sodium Hydroxide, Fragrance
Healing Post Shave
From the Supply website:
Many aftershave lotions contain the same type of alcohol as hospital-grade hand sanitizer. This alcohol kills bacteria, but it stings like salt in a wound, and it's bad for your skin in the long run.
Our post-shave balm is also anti-bacterial, but it's 100% alcohol-free. Think of it as a nourishing juice for your skin – soothing irritation, boosting skin cell repair, and keeping you hydrated and moisturized.
Best of all? Unlike typical aftershaves, it'll actually make your skin healthier if you use it regularly.
Every time you shave, tiny invisible cuts appear on the surface of your skin. Our alcohol-free Healing Post Shave soothes inflammation, enhances cell repair, and keeps your skin moisturized throughout the day.
Instead of using harsh chemicals, we created a gentle blend of witch hazel, aloe vera, vegetable glycerin, and shea butter – carefully balanced to replenish even the most sensitive and acne-prone skin.
Ingredients
Organic Aloe Barbadensis Leaf Juice, Polysorbate 20, Glycerin, Hamamelis Virginiana (Witch Hazel) Water, Fragrance, Allantoin, Butyrospermum Parkii (Shea) Butter, Tocopherol, Phenoxyethanol, Ethylhexylglycerin, Sodium Hydroxide, Fragrance
My Experience With Supply Ultra Lather Shave Cream And Healing Post Shave
[Note: I purchased the Supply Ultra Lather Shave Cream and Healing Post Shave from Supply.  The views expressed here are my own and have not been reviewed or approved by Supply.  Supply and Amazon links are affiliate.]
Ultra Lather Shave Cream
The shave cream's consistency is very creamy and "sticky" (usually an indication that is has not been sitting around on a warehouse shelf for a while).
I purchased the "Lavender and Lemon" version and off the jar I do get a lavender and citrus scent.  The scent is very mild and not persistent to my admittedly notoriously insensitive nose.  Lathered on the face I don't get any scent at all, which is a bit of a disappointment to me.  YMMV of course.
Related Post: The Supply SE Single Edge Razor May Not Be What You Expect!
Speaking of lathering, building a lather with this shave cream using a brush is stupid-easy for me, even in my "hard" water.  I find it quite tolerant of the water-to-cream ratio.  It also works brushless for me so I would consider this shave cream a "brush friendly" but not a "brush required" product.
So how is the performance?  I find the lubrication/glide very good and the protection/cushion outstanding!  In fact, like some other excellent shave creams I have tried (Viking Revolution and St. James Of London for example) I have to "thin the mix" with a little more water or else there is almost too much cushioning!
Healing Post Shave Aftershave
I think the consistency of the Supply Healing Post Shave is more like an aftershave splash than a balm–quite "runny" and clear, vs. thicker and white like most balms.  And the pump-style bottle it comes in would bear that out to most others too I suspect.
If you have exceptionally dry skin or live in a dry climate you may need something with a little extra "oomph."  But that's not to say it's not good!  I find it is gentle and calming on the skin.  It should be fine for most shavers.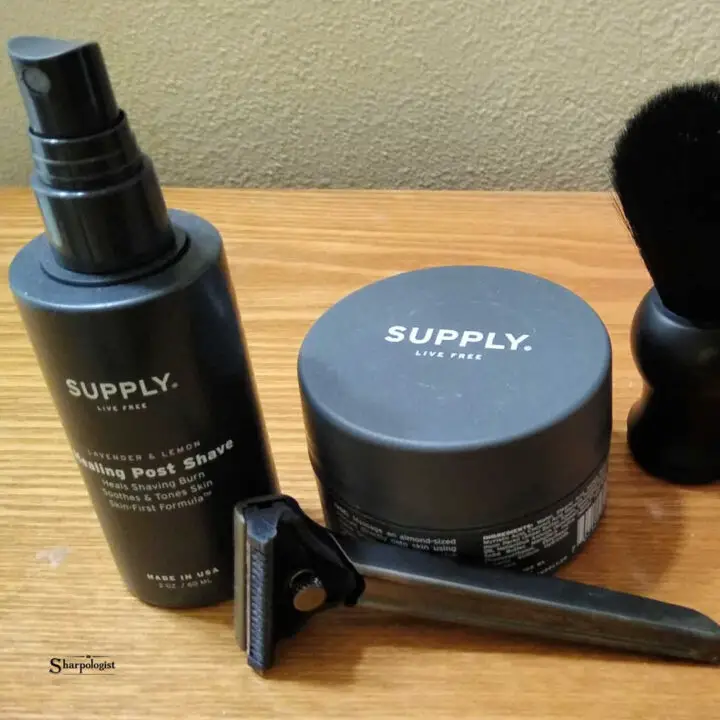 Summing Up
In conclusion, the Supply Shave Ultra Lather Cream and Healing Post Shave are the perfect duo for anyone looking to achieve a smooth shave, with minimal irritation. Their combination of natural ingredients, such as aloe vera and witch hazel, guarantees a refreshing experience that will leave your skin feeling soft and nourished. It is easy to use and also offers long-term protection from skin irritations.
The Supply Shave Cream and Healing Post Shave are available on the Supply website and their new Amazon storefront.