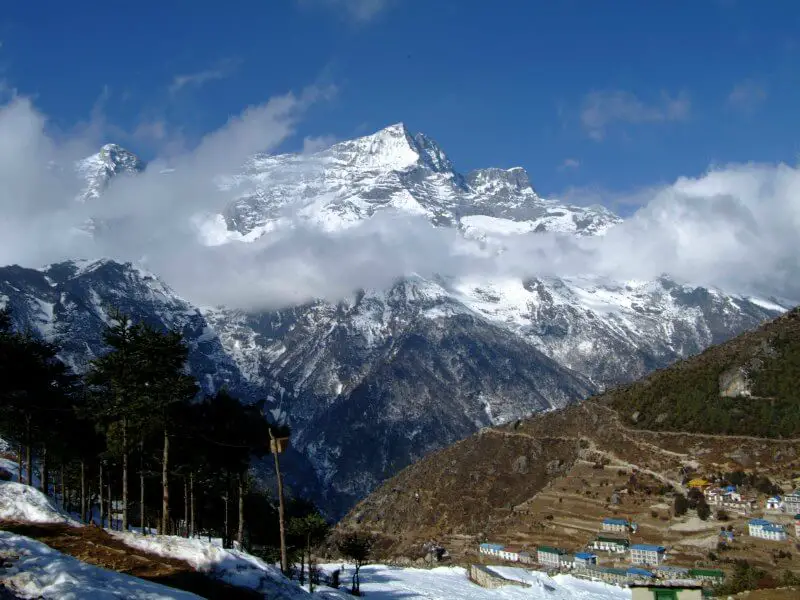 Seven years ago I was trekking to Everest Base Camp from Lukla airport, it was 3 week trip with limited opportunities to shower let alone shave. The trip involved staying in tea houses and the morning cleansing ritual involved a single bowl of water being placed in my shared room in the morning which was used for a quick towel wash and a quick teeth clean with some water from a bottle.  Three weeks later and I had substantial growth on my face and in those days I was a Mach 3 user and looking at the thought of dragging a clogged razor over my face filled me with dread (my current EJ double edge razor would have no such issue) . I was staying in Katmandhu  for my final day in the Nepal so decided to take a walk to see if I could find a barber that I could get a haircut and shave.

The Barber and Shave In Nepal
After about 20 minutes of walking around and stopping to buy some t-shirts I finally found a small barbers that was barely 10 feet long by 6 feet wide and there were 3 very busy barbers working on customers faces and heads. I sat down and waited my turn and was quickly ushered to a seat. The barber spoke little English but between us I managed to convey that I had just come back from trekking and needed a shave. He immediately set to working scrubbing my face and applying multiple hot towels, this was then proceeded with a head massage and shoulder massage followed by more scrubbing and cleansing of my face.
The instrument of choice was a shavette and nowadays I would have taken more interest in what blade he was using. He prepared the shavette and then set to work on further hot towels and more scrubbing.
The actual shave was 4 passes, 2 WTG, 1 XTG and the final one ATG, there was not a single mark on my face or irritation when he had finished the task and the final step involved a full face massage with the offer of a back rub as well which I declined as I had to get back to the group for lunch.
Afterwards I got up and asked him how much, the barber shrugged his shoulders and said whatever you want to give so I offered roughly £5 (converted from rupees) to which he said "little bit more" so I doubled it to £10 thinking that it was a lot but for an hours' worth of TLC it was worth it.
When I got back to my guide from the trekking he said that I looked like a young man again and asked me how much I paid, when I said close to £10 he laughed his head off and said that he normally paid between 50p and £1 for a shave. To be honest I thought it was worth it but should have asked first.
Related Posts:
4 Modern Day Barber Shops With Vintage Style
Britain's Best Barber Shave
The Sub Culture of Barber Shops
How Safe Is Your Face From The Barber?