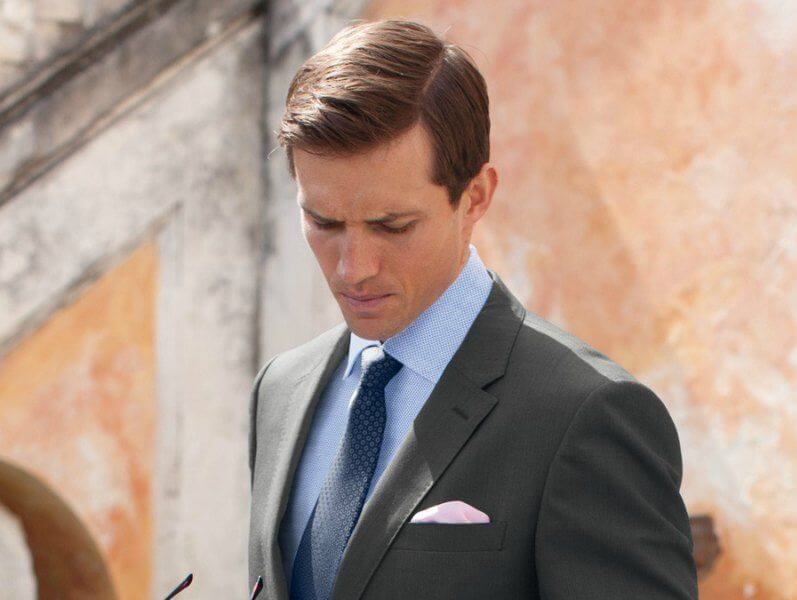 Remember the last time you observed a person entering a room and he had this certain "thing" about him. You'd never met him before, but instantly you got the vibe that he was somehow important. The way he carried himself, the way he spoke, –all of it had an air of confidence that just said, "I own this place."
Do you ever wish you had that kind of command over the atmosphere, the room, or a even a meeting?  Just think what you could accomplish if everyone else could see you as a person of influence, –someone worth listening to.

Become a Person of Influence Starts With Your Style
Did you know it's not as hard to accomplish this as you might think? There's a process involved in this kind of confidence, and guess where it begins? If you said style, you're absolutely right. You can't operate at 100% if you don't feel 100%. It's plain and simple.
So, how do you develop your sense of style? Here's the breakdown:
Build your wardrobe – Regardless of your age, a solid wardrobe always begins with classics. This means proven, timeless pieces that will never go out of style. Pieces considered classics have reached a level of perfection that allows them to span decades. Items like this are absolute wardrobe essentials. Every man's wardrobe should include:
At least one casual jacket (preferably a Harris Tweed)

Casual trousers

A pair or two of jeans

At least two suits (one black)

Solid coloured soft collar shirts

Solid coloured, long sleeved button up shirts (at least one white)

V-neck or crew neck knitwear for layering

Shoes and belts to match everything (leather, brown and black)

Two or more silk ties
This is your wardrobe foundation. Of course, you'll need more than just these few items, but these are what we call 'wardrobe essentials' and they provide you with trusted, classic pieces you can reach for again and again with confidence.
Find your trusted retailers – Smart, confident men don't waste time and money shopping in new stores every time they need a wardrobe item. There's nothing wrong with trying new and even trendy retailers for that off the wall item, but when it comes to the classics, it's smart to find a few that offer the finest quality at the very best prices, –and stick with them. A couple of our favourites are Brook Taverner and Mark and Spencer.
Brook Taverner provides a wide range of trusted favourites. It's the one place we've found that carries a superb line of Harris Tweed jackets while also filling in the wardrobe gaps with their remarkable prices on essentials like button up shirts, ties, and cardigans. For the suit lover who is not quite savvy on the best materials or colour combinations, Brook Taverner breaks down suit choices in easy to understand categories, like, Travel, Every Day, Washable, Wedding and Dinner Suits. We absolutely love shopping with Brook Taverner. And just so you know, Brook Taverner's 2013 Clearance Offer come with up to 74% off – Now that's a good deal if you ask us.
Mark and Spencer is another good choice for menswear with a line that includes everything from summer swimwear to suits and casual classics. M&S boasts a larger selection of clothing overall, which will provide you with plenty of options, although we do appreciate the way Brook Taverner does the work for us by pairing up shirts with ties and other wardrobe options. It's nice to not have to think about every piece and wonder if it will work with our current wardrobe (especially for those just starting out).
One you start putting your foundational wardrobe together and have found your trusted brands and retailers, you can start adding things that will boost your confidence. Little things, like a fresh hair cut every month, stylish glasses, and updated accessories.
Be Sure Your Brain Matches Your Wardrobe
Coupled with your sense of style, be sure you're constantly reading new things, learning and growing. You'll be amazed at how often random topics will come up in your conversations and attest to the fact that you're a well rounded, educated, leader.  Always be on the lookout for new things to try, dabble in hobbies, get creative, visit new places.
Developing your personal sense of style is a never ending process. It's part of who you are and should evolve and change along with the seasons of your life. Start with a solid wardrobe, add your accessories, culture and your own personality, and you'll find yourself being the one to 'command the attention of the room' when you walk in!
This is a sponsored post by Brook Taverner