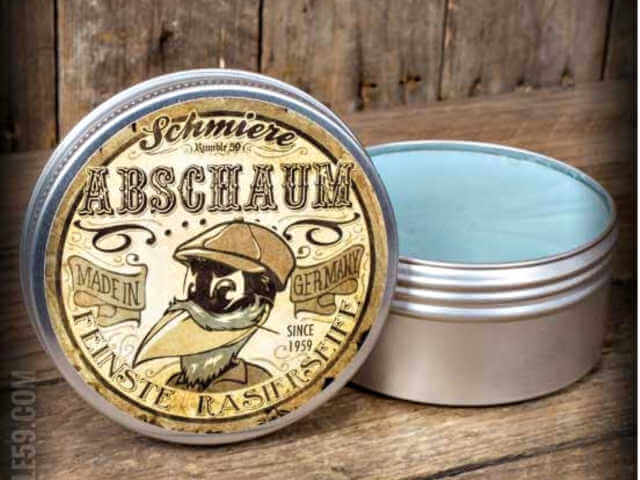 The German brand Schmiere–literally translated as "grease"–has a shave soap named Abschaum–translated as "scum."  So…Grease Scum shave soap?

Steve of the Shave Shack Of Texas and I often meet for lunch at a local eatery to talk wet shaving.  He recently brought a shave soap for me to try, Schmiere Abschaum from Germany.  Schmiere is a brand of Rumble59 (their English language website) that is actually better known for their pomades and grooming hardware but they have a shave soap, too.  It's described like this:
Based on an old recipe found in some barbershop's dirty corner and tested by Hobos and Sluggers throughout the country.Whether you like to give your manly beard the correct shape or to get rid of a fuzzy homeless look – Abschaum is just the right product for you. A must-have for every shaving! The new aluminium can with screw cap is perfect for usage as a shaving mug – foaming up the soap the classic way with a shaving brush. In addition, the milky-mint-colored soap won't drain any more. Not only guys will enjoy the fresh scent of a chilling seabreeze and the good ol' times while using it but also the ladies whom will stick on the guys smooth and fresh cheeks! Be aware, we are not responsible for the latter!
As the description alludes to, I find the scent to have a mild "nautical" note–kind of seawater-ish, but light and fresh too.
With a name like "Grease Scum" I would expect the consistency of the soap to be very soft and loose, but I think most people would classify it as a typical "croap" (cream/soap).
The shave soap lathers quickly and voluminously, even in my hard water.  The scent softens a bit when lathered on the skin, but it's reasonably persistent.
And I find performance to be excellent!  More cushion than I would expect in a vegetable-based shave soap like this and the lubrication is top-notch!
Post-shave feel is good as well.
As far as I can tell, the Shave Shack of Texas is one of the few places in the U.S. that carries Schmiere Abschaum shave soap.  And I think it's well worth searching out, particularly if you enjoy nautical/oceanic/marine scents.