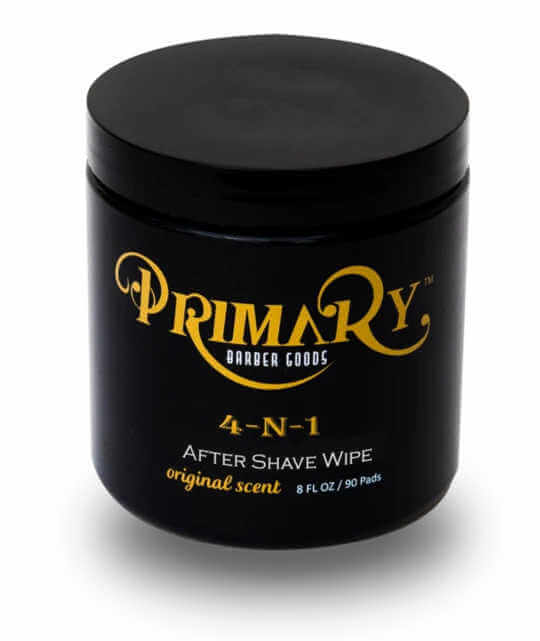 Part of my shave routine is a wipe-down with a toner on a cotton pad to reduce the possibility of ingrown hair.  Primary Barber Goods "4-N-1 After Shave Wipe" does this and more.
Primary Barber Goods 4-N-1 After Shave Wipe
From the Primary Barber Goods website:
"Function meets convenience with this original barber-made aftershave wipe. The travel-friendly jar comes packed with 90 pre-soaked wipes that make application a breeze, allowing you to easily apply the solution evenly across the skin. In the barber shop, at home, or on the go, our 4-in-1 after shave wipe packs in all of the important aspects of aftershave care and hygiene without the sting of traditional aftershave products."
"Our barber-crafted formula provides complete after shave treatment with cooling menthol, cleansing antiseptic, protecting astringent, and hydrating moisturizer. "
Ingredients (paraphrased): organic aloe vera juice, alcohol, glycerin, propanedal, witch hazel, water, sodium hyalurate, PPG-26-Buteth-26, green tea leaf extract, cucumber fruit extract, camfrey, calendula flower extract, PEG-40, hydrogenated caster oil, eucalyptus leaf oil, tocopherol, mentho, phenoxyethonol, ethylhexyglycerin, fragrance
(I have not seen PPG-26-Buteth-26 before.  I looked it up and it is apparently a relatively common skin conditioning agent and surfactant.)
My Experience With Primary Barber Goods 4-N-1 After Shave Wipes
[Note: Amazon links are affiliate.]
I purchased a jar several months ago and have been using it regularly.  I normally do an after-the-shave wipe-down with a good toner (like Lucky Tiger After Shave And Face Tonic or even a low/no alcohol Witch Hazel like Thayers) soaked into a cotton pad (available from the cosmetics isle of many grocery, department, and discount stores).  Then I rinse if off and apply an aftershave balm.  I find this routine drastically reduces the chance of ingrown hairs by cleaning off any residual shave lather that might be left of my skin.
Primary Barber Goods 4-N-1 After Shave Wipes (Amazon link) provides not only the cleaning application but also provides some moisturization as well.  While I don't think it would substitute for a good aftershave balm in very dry conditions (either dry skin or dry, arid weather) I think this could be a decent aftershave product in the hot, humid months by not washing it off after wiping down.  Although there is alcohol in the ingredient list I do not get "the burn" and the low concentration of Menthol provides a pleasant, mild cooling effect.
Conclusion
While Primary Barber Goods 4-N-1 After Shave Wipe does not particularly break new ground for me it certainly provides me with a convenient way to incorporate a routine I already use, with some additional benefits. A 15 count travel pack is also available.