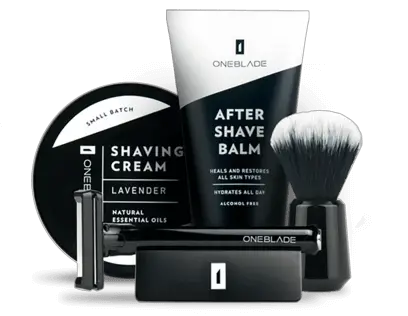 It's no secret that I'm a big fan of OneBlade.  I think their Stainless Steel Genesis razor is one of the best luxury razors out there. And when they introduced a lower cost version, the OneBlade Core razor, I was one of the first in line.  So when they recently released an updated version of the Core razor, I got in line again.
The Original OneBlade Core Razor
OneBlade sold a ton of Core razors when it was launched.  Many shavers coming from the "cartridge world" have been quite pleased with it.
But the OneBlade Core experience, at least for me and some other shaving enthusiasts, wasn't at the Genesis experience level.  Don't get me wrong, I enjoyed shaving with Core, but I enjoyed shaving with Genesis more.  There were these little, wonky quirks I had with Core:
The balance was a little "bottom-heavy" for my preference;
Blade loading could be a bit finicky;
It was an very mild shave, even by my standards (a "damn fine shave" – DFS – was easily managed but a "smooth as a baby's butt shave" – BBS – took more effort.  "Leisureguy" would probably classify it as comfortable but relatively inefficient).
Some other Core shavers also didn't care for some of the cosmetic aspects of the razor's head (I didn't notice it, myself).  And others (particularly from the DE razor world) weren't as successful as I was with tweaking their technique for a great shave.
Oneblade took the feedback from me and other shaving aficionados (shave nerds!) and started tweaking the design and engineering.  And–just in time for the holidays–they released "version 2" of the OneBlade Core razor.  And yes, I was one of the first in line to purchase their new "Black Tie" kit.
[Note that I was involved with testing some of the interim design changes of the Core razor over the past few months.]
OneBlade

Core 2.0

Here are some of the changes of the updated OneBlade Core razor:
Repositioned the stainless steel core weight for better razor balance and usability
Texture added to the upper and lower "registration surfaces" to reduce skin friction/improve glide
Changed lower head part "gate" location to improve appearance
Decreased diameter of dowel pin holes in the handle in order to decrease free play between the razor head assembly and the handle (pivot function)
Increased internal blade ramp heights in order to reposition the blade edge higher in the blade opening for increased blade exposure and improved blade latching function
Modified D-post profile and adjusted sonic welding parameters in order to improve blade loading and blade latching function
Added manufacturing step of burnishing the leading edge of the lower head part in order to dramatically improve comfort/reduce friction during shaving
A New Shave Cream And Aftershave Balm Too
While OneBlade was tweaking the Core razor, they also decided to make some changes to their "software" line-up as well with a new shave cream and aftershave balm.  While I thought their previous creams and gels were quite good, they partnered with a skin care lab in the US to come up with some really top-tier products.
OneBlade's new shave cream has a ton of skin-friendly ingredients (three essential oils and two "carrier" oils):
Shaving cream ingredients (paraphrased): water, glycerin, stearic acid, myristic acid, potassium hydroxide, butylene glycol, aloe leaf juice, shea butter, cocoa seed butter, lavender oil, geranium leaf oil, sweet almond oil, apricot kernel oil, avocado oil, safflower seed oil, glyceral stearate, glycol distearate, sodium hydroxide, phenoxyethenol, ethylexylglycerin, sodium methyl cocoyl taurate, disodium EDTA.
The new aftershave balm continues the skin-friendly theme with everything but the kitchen sink:
Aftershave balm ingredients (paraphrased): water, safflower seed oil, glycerin, witch hazel, water, polyacrylate-13, methyl methacrylate crosspolymer, kaolin, aloe vera leaf juice, Syricalmtm CLR, coenzyme Q10 extract, lavender oil, red tea extract, avocado oil, seaweed extract, polyisobutene, polysorbate 20, phenoxyethenol, ethylhexlglycerin, sodium hyaluronate.
("SyriCalmtm – is the cornerstone of our post shave recovery –  a natural product derived from Poria cocos and Phragmites. It effectively reduces inflammation and strongly supports skin in dealing with external stresses such as shaving. It helps the skin recover its natural balance.")
And A New Shave Brush….
OneBlade also introduced a new synthetic brush with a later generation of synthetic fiber in the "Tuxedo" style.  More on that later.
Putting It All Together With The
OneBlade

Core "Black Tie" Kit

OK, OK…so there have been a bunch of changes.  How is the new "Black Tie" kit?  And more importantly, how's the shave?

First, the shave cream.  It lathers well, even in my hard water, and the performance for me has been excellent.  The lavender scent is moderately strong (stronger than their previous cream; almost as strong as Castle Forbes for comparison) and persistant throughout the shave.  The persistance does not last long after the shave though, so you should not have to worry about it clashing with your EdT or cologne.
The "Tuxedo" synthetic brush is a bit small (20mm) for my preference (YMMV) but works well, typical of the newer generations of synthetic fibers.

The OneBlade Core razor?  I find the shave experience much closer to the Genesis razor.  Blade loading is more convenient for me (tip: when you insert a blade look at the back of the razor head instead of from above or to the side.  The visual cues you'll see will make loading angle a little more obvious).  The change in razor balance will probably make for a more "natural" feel for many, particularly if you are used to a DE razor.

The shave is noticeably more aggressive (though still probably "mild" to many shavers used to a DE razor), more "efficient."  And the changes to the pivot functionality may provide a more consistant shave for some; it seems to engage more readily.  I can get a "BBS" shave with less effort.

Finally the aftershave balm.  I don't notice a dramatic difference in post-shave feel but my skin can certainly appreciate the good ingredients.  It's not greasy-feeling or heavy on my face.

There's also a OneBlade Core razor stand and a blade bank in the kit, along with blades.
Do You Have A "Version 1" Core?
I asked OneBlade about those with the original Core razor who may not be totally satisfied with its performance.  Tod Barrett, OneBlade's CEO, says they want their customers to be happy with their OneBlade experience.  If you have a previous version and you think the "version 2" might be more appropriate, contact them at [email protected] for assistance.
The Bottom Line
Over-all, I think the updated OneBlade Core razor is excellent–closer in performance to the Genesis razor, even if it's not that high-end, luxury experience.  I'm quite pleased with it.
OneBlade links are affiliate but this is not a sponsored post.