Murphy & McNeil is a well-though-of shave soap artisan among wet shaving enthusiasts and have two different soap bases.  I tried some shave soaps from their "Aon" and "Kodiak" bases.
Murphy & McNeil
From Murphy & McNeil's website:

Murphy and McNeil exists to help fellow shaving enthusiasts, from newcomers to the experienced, to be able to experience all there is to gain from the luxuries provided by traditional shaving and better quality grooming products.
We encourage everyone to slow down a little, and enjoy these experiences that are available to all of us.  Every new person we teach to upgrade their daily shave or shower into a little luxury is a win… and it's why we're here.
Murphy and McNeil is proud to support a number of causes by sharing a portion of the proceeds of our sales.
Supporting those with Autism and their families
Supporting our First Responders
Supporting Victims of Violence and their Families
Supporting Nature & Conservancy
Mandate Of Heaven AON Shave Soap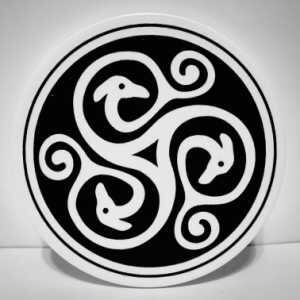 "The Mandate of Heaven (Tianming) is the divine authority given China's early emperors….  Although this right was god given, it could also be taken away.  The Mandate of Heaven decreed that rulers have a moral responsibility to act for the good of the people, or the Mandate could be lost…  If an Emperor was seen as acting against the good of the people, it was almost as if the people had a divine right (and still obligation) to act to overthrow their leader….  This cycle defined the rise and fall of Dynasties in early China."
Scent Profile:
Scent Strength: Light to Medium
Top: Mandarin, Basil, Ginger
Heart: Nutmeg, Lotus, Incense
Base: Violet, Musk, Ambergis
Ingredients: Stearic Acid, Water, Beef Tallow, Duck Fat, Potassium Hydroxide, Kokum Butter, Menthol (Optional – White Jar), Castor Oil, Sodium Hydroxide, Shea Butter, Vegetable Glycerin, Coconut Milk, Kaolin Clay, Lanolin, Tocopheral, Fragrance, Tussah Silk
My Experience With Mandate Of Heaven AON Shave Soap
From the scent perspective my lousy nose gets floral notes and musk.  Your mileage will probably vary, and this review is more about the Aon soap base anyway, so I won't dwell on the elements.  The strength is is pretty light off the container and softens even a little more for me when lathered on the face.
This is a soft, thirsty soap and can take a lot of hydration.  The consistency for me is somewhere between a meringue and a yogurt after I've worked at it a few times.  However I don't get a ton of volume in my "hard" water: adequate for a multi-pass shave to be sure but not as generous as some other shave soaps I have.
Performance-wise the lubrication/glide aspect is very good and the cushion/protection is better-than-average.  But frankly with the beef tallow, duck fat, and kokum butter ingredients I was expecting more.  Don't get me wrong, it's a solid shave but it didn't meet my expectations based on other reviews.
Post-shave moisturization on the other hand is very nice.
It's not something that stands out for me in the crowded artisan shave soap space.  But all-in-all a solid offering.
Nantahala Kodiak Shave Soap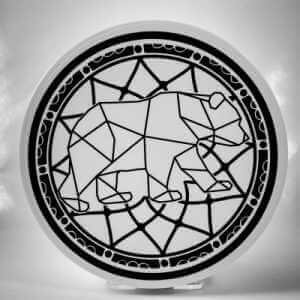 "Nantahala means 'jumping waters' in Cherokee, and as water makes it's way through and binds slate, granite, and earth… so too does water shape and bind us together in the shaving community.
Nantahala is a dedication to and celebration of nature and the spiritual connectivity that binds us all. Clean streams, slate and rock, trees, woods, and the sweet sunlight on our faces…. The sun is represented by citrus notes such as bergamot, pear, and lemon. Marine notes and pink pepper remind me of clean water running over stone, and the dark canopy of the forest is brought by notes such as wood, tonka, patchouli and lavender."
Ingredients: Water, Stearic Acid, Duck Fat, Tallow Beef, Potassium Hydroxide, Tallow Bear, Castor Oil, Kokum Butter, Glycerin, Goat Milk, Sodium Hydroxide, Shea Butter, Lanolin, Jojoba Oil, Fragrance, Kaolin Clay, Tocopheral, Tussah Silk
My Experience With Nantahala Kodiak Shave Soap
Again I won't dwell on the scent too much since this is really more about the Kodiak shave soap base.  I definitely get the citrus and marine notes; less-so the base wood notes.  I think the scent is a bit stronger than the Aon base, both from the container and lathered on the face, but not dramatically so.
The soap is firmer than the Aon base and can also handle a lot of hydration if necessary.  Lathering is more voluminous compared to Aon in my "hard" water, and faster to come together, too.  The consistency is closer to yogurt to me compared to the Aon base.
But performance?  Right up there with the better offerings of other artisans.  Both lubrication/glide and cushion/protection are excellent for me.  The addition of bear (!) tallow seems to make a difference in the performance of my shave with this soap.
Post-shave is even better for me than the Aon base.
Conclusion
[Note: Amazon, eBay, and Etsy links are affiliate.]
Murphy & McNeil is trying to differentiate themselves in the crowded artisan shave soap space with both unusual ingredients and a commitment to donating a portion of their revenue to charity.  Although I find their "Aon" soap base good, it is their "Kodiak" base that makes a difference in shave performance for me.  Murphy & McNeil products are available at their website, Etsy, Maggard Razors, eBay, Top Of The Chain (Canada), and Amazon.