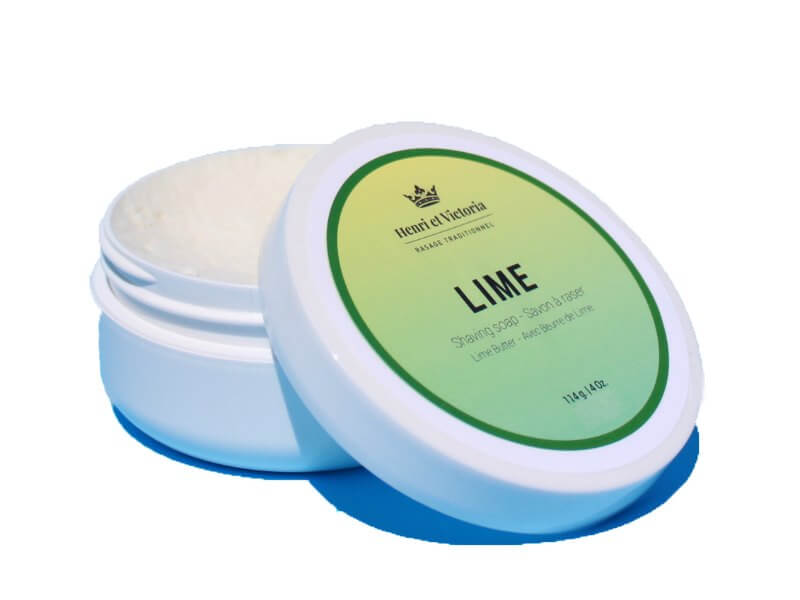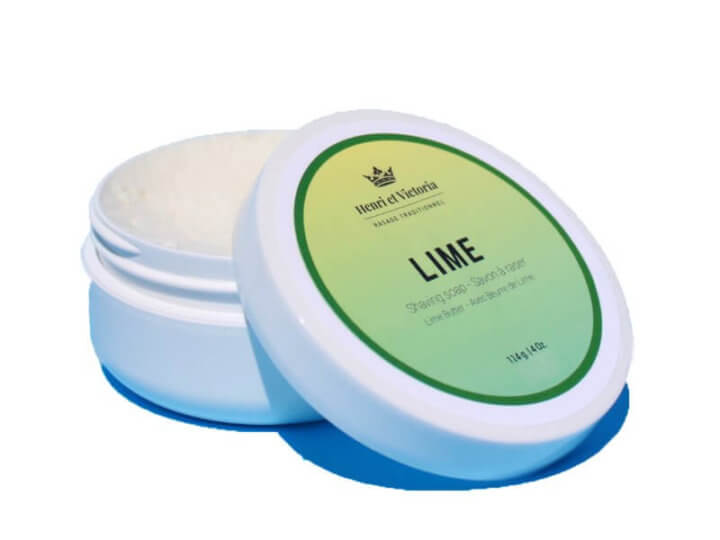 I'm still making my way through trying all the products I bought at the recent Big Shave East in Ft. Lauderdale, FL.  I got some Henri et Victoria shave soap with their new formulation, this one in limes.  Wow, what a change for me!  I also got some of the matching aftershave balm.

Henri et Victoria Lime "2.0" Shave Soap
This soap is based on their re-formulated vegan soap base.  Henri et Victoria describes the scent as:
"Lime: Gorgeous lime, open and clear smell, combined with fresh bergamot, A modern fresh amber with deep, warm, and musky tones. With a base note of rich, sophisticated and creamy sandalwood. This create a very open fresh top note with a deep rich and warm base notes that will keep it special all day long.  With Lime Butter"
Honestly, my (admittedly poorly-trained) nose gets lime, lime, and lime.  I just don't get the subtleties of the other notes.  But I also think the scent is very similar to one of my all-time favorite shave creams, Castle Forbes Limes: strong, sweet, and persistent!
Ingredients: Potassium Stearate, Potassium Cocoate, Water, Glycerine, Lime Peel Oil, Palm Oil, Potassium Ricenoalete, parfum.
Performance Changes
I have used Henri et Victoria's original formula shave soaps in the past.  In my hard water I thought the performance was good, but not great.  The "version 2.0" reformulation now makes the great classification for me!  Even though this is "just" a glycerin soap (and some shave nerds will poo-poo the idea that a simple glycerin shave soap base can perform well) I find it loads quickly, easily, and voluminously for me.
More importantly I find the performance noticeably improved over the previous formulation I tried.  Both cushion and lubrication are much better–excellent, really–compared to the previous formula base.  If the rest of the line (and their triple-milled line) reliably perform like this, Henri et Victoria may shortly claim a spot on my best shave soap list!
Aftershave Balm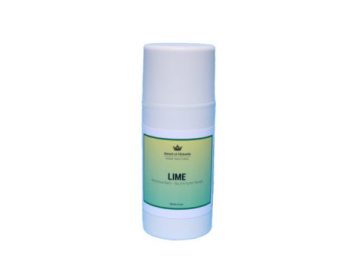 Henri et Victoria's matching aftershave balm replicates the shave soap's scent well: a fairly strong and sweet lime, though not as persistent as the soap so it probably won't interfere with your cologne should you care to use one.
The balm's consistency is a little thicker than most balms I've used: it looks more like a tooth paste out of the tube's pump top.  But it applies well enough (I routinely apply aftershave balm with moist hands on a moist face so the product distributes more thinly and easily) and it left my face with a nice matte finish.
Ingredients: Water, Aloe Vera Gel (Juice), Caprylic/Capric Triglyceride (fractionated coconut oil), Oryza Sativa (rice) Bran Oil, Persea Gratissima (avocado) Oil, Polawax(TM) NF-PA(MV), Cetyl Alcohol, Hydrolyzed Oat Protein, Sodium Lactate, Glycerin, Dimethicone, Panthenol, Allantoine, Cyclomethicone, Isopropyl Myristate, Parfum, Menthol, Propylene Glycol, Diazolidinyl Urea, Iodopropynyl Butylcarbamate
Henri et Victoria shave soaps are becoming more widely available now, too.  In addition to their own website they can found at vendors such as Classic Edge, Fendrihan, Maggard, West Coast Shaving (affiliate), and Amazon (affiliate).