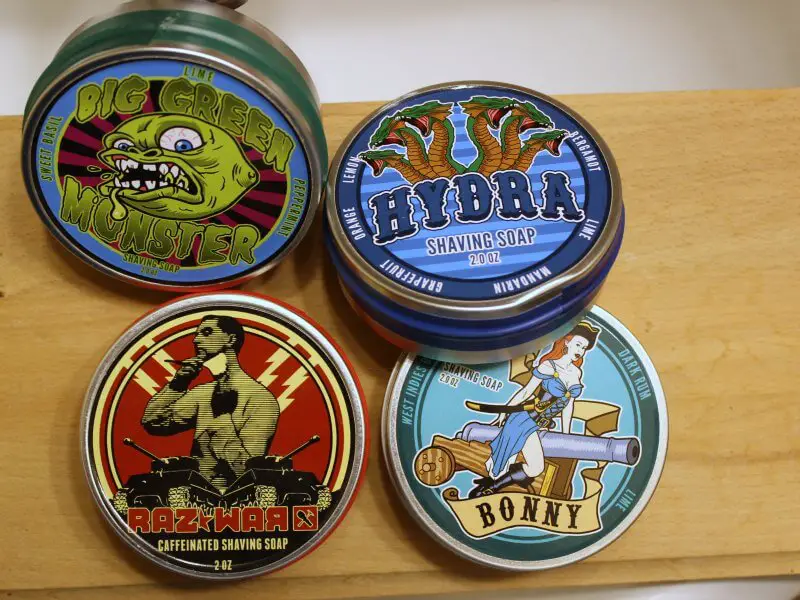 I recently got a chance to try a selection of Dr. Jon's shave soaps.  The varieties have eye-catching labels and names, but how do they perform?

Dr. Jon's shaving soaps come in a variety of scents, some quite unique in the wet shaving world.  Versions like Gold with tobacco, neroli, leather, amber, evergreen and clary sage; Hydra with citrus and bergamot; and Hex with cedar, black pepper, orange and cinnamon can create some interesting smells and they last through my  shave.  I'm sure the subtleties are lost on my poor sense of smell though.
Another unique attribute to Dr. Jon's is one of his shave soaps is specially formulated for raz*war, one of the first "razor by subscription" businesses out there.
Dr. Jon's shaving soaps are vegan.   Base Ingredients: Stearic Acid, Water, Potassium Hydroxide, Shea Butter, Mango Butter, Avocado Oil, Castor Oil, Coconut Oil, Evening Primrose Oil, Meadowfoam Oil, Essential/Fragrance Oils.  I noticed a couple unusual ingredients and asked about them.  Meadowfoam oil has skin-softening and moisturizing properies.  Jon explained "I tend to have a few dry, painful areas around my chin and using shaving soaps with a high coconut content was drying out my skin pretty badly. I read about meadowfoam and starting playing around with it in my recipes, it turns out that adding it at the end not only helped with the drying but added a little bit of slickness as well."  It also can help prolong the scent of other ingredients on the skin.  There is some evidence to suggest that primrose oil may be helpful with skin-healing benefits.
I found performance excellent once I figured out the correct amount of water to use for the lather.  And–at least for me and my notoriously hard water–the water ratio seemed to be a bit different for each variety I tried.  Some seemed to produce more abundant lather than others.  But once I got the hydration right I was rewarded with a lather that was both cushioning and well-lubricated.
Dr. Jon's shaving soap is available in nine scents and two sizes on Amazon and other outlets.  This shaving soap may soon make my "best shaving soap" list!