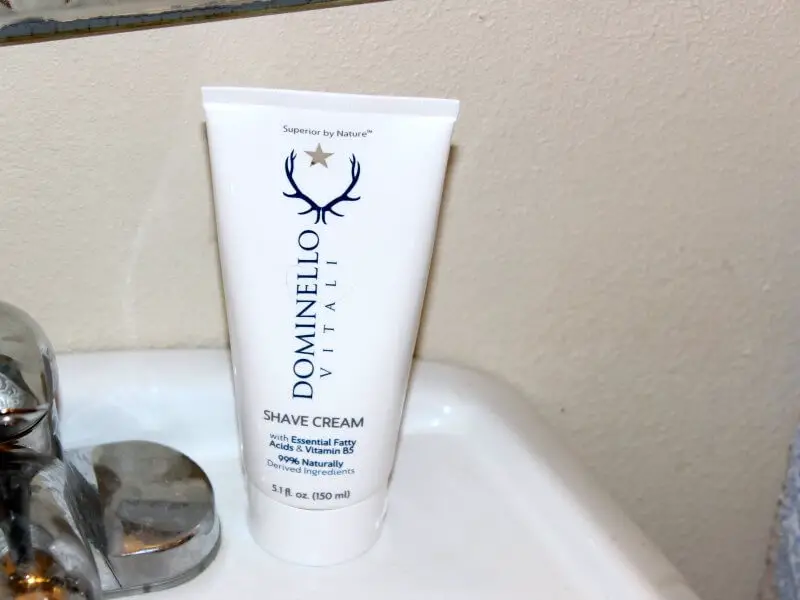 Fellow Texan Jim Dominello recently contacted me about his new Dominello Vitali skin care line, including a shave cream.  He's one of the new generation of skin care blenders to use more skin-friendly ingredients and fewer stablizers or preservatives.  I decided to pick up the shave cream to give it a try.

Dominello Vitali Shave Cream
Using the Dominello Vitali shave cream has been an interesting experience for me.  First, the scent.  It's like nothing I have smelled before.  Not unpleasant but a fairly strong set of different woody/herbal ingredients.  I just could not figure out the notes–even my wife had trouble, and her nose is much more educated than mine.  So I asked Jim about it and he said "Clove, Patchouli, Sandalwood and Bergamot."  Clove! That's what I was picking up on! It's an  almost peppery herbal note to me.  Then the woods meld in on the mid and base notes (bear in mind that I have a poor sense of smell, you may pick up a completely different mix).
I mis-read some of the tube labeling and I thought it was a brushless product, so that's how I used it at first.  It was a decent, solid shave, about like many other brushless shave creams.  But then I found out I could indeed use a brush!  Used with a brush I found the lather to be not quite as luxurious as some of my other creams in my "hard" water.  In fact, it's on the thin side for me.  But the performance is as good or better than many of the classic, traditional shave creams I use–lubrication and cushioning are very good!
Jim says he's beginning to expand the available outlets for his line: it will soon be available at Italianbarber.com and Luxury Barber.  If you watch these sites, give it a look.
Ingredient List: Aloe, Sodium Methyl Cocoyl Taurate, Stearic Acid, Coconut Acid, Glycerin, Linoleic Acid, Olive Oil, Shea Butter, Cetearyl Olivate, Hydrogenated Methyl Abietate, Vitamin B5, Betaine, Sorbitol, Sorbitan Olivate, Menthyl Lactate, Linolenic Acid, Old Man Weed, Prickly Pear, Wakame, Essential Oils (Vanilla, Clove Bud, Patchouli, Chamomile, Sandalwood, Black Pepper), Vitamin E, Hydrogenated Lecithin, Guar Hydroxypropyltrimonium Chloride, Sodium Phytate, Dead Sea Minerals, Water, Phenoxyethanol, Ethylhexylglycerin, Sodium Hydroxide
If you try this shave cream please leave a comment below with your thoughts!