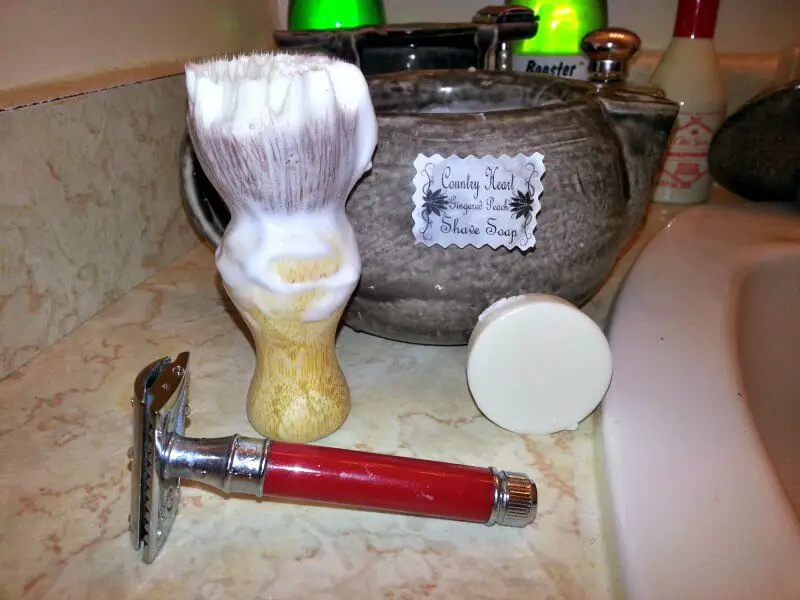 Unlike most of the shaving soaps I review, this one isn't based upon a recommendation from someone else. I stumbled across Country Heart Soap while doing a bit of searching on etsy, and I'm rather glad I did.
The samples I got from them all smelled quite nice, and all seemed to be reasonably strongly scented as well, as I'm sure anyone who's been following my reviews knows I prefer.

The Gingered Peach was one of the nicer ones. A nice sweet peachy scent, with just enough ginger to give it a bit of a kick. Perhaps not what would be considered the most masculine scent, but I still rather enjoy it. And hey, it's a shaving soap, not a cologne. Not like it sticks around!
It does, however, come on reasonably strong once lathered up, and lasts for the duration of the shave, with only the tiniest bit of fading.
I had initially assumed that it was a modified version of the rather ubiquitous melt and pour base from brambleberry.com that you see every so often, but with a glance at the ingredient list, that doesn't quite appear to be the case, although they appear to have mostly followed the same "recipe", this one comes sans palm oil. This might explain why this soap avoids the lather stability problems I often see from those types of soaps. Otherwise, however, the performance is much the same, it's still rather finicky to get just the right amount of water required to hit the "sweet spot" for glide and thickness. Still, it does the trick.
9/10 Scent Pleasantness
9/10 Scent Strength
7/10 Lather Quality
For the sample as shown I paid $6 for 5 samples, which gets you .8 – 1 oz of soap per scent you try, picking from their fairly extensive list, or 2 for $3.50. The full sized pucks are about 3.5 oz, and go for $9 for a pair, or $4.75 for a single.
I'd say that I'm willing to round up to an 8/10 on this one. It's a decently performing soap, that smells quite nice. And it's not like a sampler would set you back much.
Ingredients: Oils (Coconut, Castor, Safflower), Glycerin, Water, Lye, Sorbitol, Sorbitan Oleate, Soy Bean Protein, Bentonite Clay, Fragrance Oils.