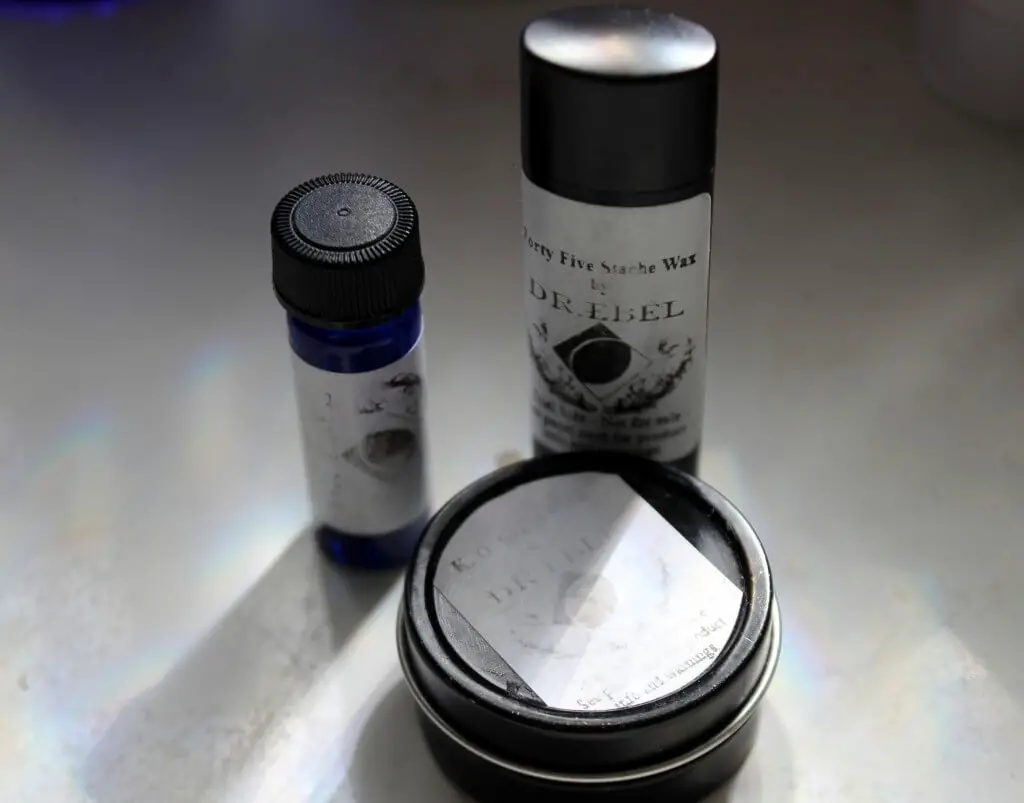 When it comes to the ability for smaller companies to get their product out in front of the market, the Internet is an amazing place. Frankly, there is no other way that I could imagine getting to experience as much as I have when it comes to reviewing products. One of the latest in the category of beard care came from the folks over at Draebel. Just recently relaunched, I was sent a sampler kit to get a feel for what they are offering.

I Mustache You Something
If you were to replicate what I played around with, you would be going for Draebel's $45 Beard Kit. This contains their beard oil, beard balm, and mustache wax. Of the three, the mustache wax (in the Catch Hell scent) saw the least usage by me. This is simply because I do not have that long of a mustache, so this particular product is not something I need to use. The enterprising beardsman could use it, however, to tame down some unruly spots of their beard, I suppose. Regardless of the utility, I was very happy to see the fairly simple list of ingredients, without the usage of 20-character chemicals. For myself, I try to keep things as simple as possible with my products, and what Draebel is offering fits that bill.
Working back through the kit, we also had the beard oil, in the Black Sails scent. Again, this is a fairly simple formulation (in terms of an ingredient list) and works just as you have come to expect from a beard oil (presuming you've been using one). While I used it, I certainly did not have any issues with dry or flaky skin in my beard, and you did pick up that slight shine that the oils impart. While I did not use the oil daily, I did find myself using the beard balm regularly.
A little dab will do ya
With the Draebel Beard Balm (in the K.O. scent), it too (like the oil) works just as you would expect. This one has a bit more of a pomade feel to it in the tin, complete with a slight touch of grittiness as you start to warm it up on your fingers. That smooths out pretty quickly, and then you apply it pretty easily across the beard and down to the skin. What really caught my notice was how little of the product was actually needed. With most beard balms, it feels like you're using a healthy amount to get good coverage across all of the facial hair. With the Draebel Beard Balm, though, I felt it really adhered to the "little bit goes a long way" mantra.
The last big component of the various beard care items from Draebel that I want to cover off on is the scent. This is a deeply personal choice, with different folks going for different smells. While I certainly have my favorites these days, I grew accustomed to the scents we had in from Draebel; even though they were different, they worked well together. The one I spent the most time with (the K.O. in the beard balm), well, I cannot adequately describe it, but it has a slightly fruity, or floral, touch to it. Not so much that it smells like perfume, but it is definitely unlike anything I have experienced to date.
For me, the Draebel Beard Kit was a decent set of products. The mustache wax and beard oil performed right as they should; the beard balm was, for me, the star of the show, with how far the product itself actually went. As I mentioned earlier, you can pick these three up in a $45 kit, or you can pick them up individually (oil – $20, wax – $13, balm – $25). The kit is a good way to try out smaller amounts of the products, especially if you've not used this style before. For me, I could see the beard balm getting into more of a regular rotation if I were to pick up the full size version. In summary, decent products, great beard balm, and a rather unique scent. Is it for you? Well, for that, you'll just have to try it out yourself, I suppose. draebel.com
Ingredients
Beard Oil
Grapeseed Oil, Sweet Almond Oil, Castor Oil, Fractionated Coconut Oil, Hempseed Oil, Argan Oil, Jojoba Oil, Fragrance.
Beard Balm
Shea Butter, Oils (Grapeseed, Sweet Almond, Castor, Factionated Coconut, Hempseed, Argan, Jojoba), Beeswax, Fragrance, Mixed Tocopherols.
Stache Wax
Beeswax, Oils (Grapeseed, Sweet Almond, Castor, Factionated Coconut, Hempseed, Argan, Jojoba), Lanolin, Fragrance, Mixed Tocopherols.