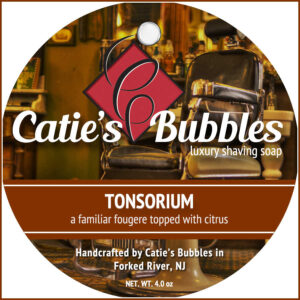 Catie's Bubbles has been on Sharpologist's "best shave soap" list for years, but I haven't really written about them in a single post for a long time.  So I thought it would be a good idea to pick up a jar of Tonsorium" to review.
Catie's Bubbles Tonsorium Shave Soap Background And Specs
From the Catie's Bubbles website:
A 'Flanker' to my favorite scent 'Tonsorial Parlour'. A citrus topped fougere expanded off the heart of the original but unique enough to make you fall in love all over again."
Ingredients: stearic acid, water, coconut oil, potassium hydroxide, shea butter, fragrance, sodium hydroxide, jojoba oil, sodium lactate, and glycerin
This product was added to their website in 2017.
What Others Think About Catie's Bubbles Tonsorium Shave Soap
There are not too many "independent" reviews of Tonsorium Shave Soap: most are on various vendor websites (which sometimes need to be taken "with a grain of salt" depending on the philosophy of the individual vendor).  But here is one I did find:
"The scent on Tonsorium is somewhat familiar as it is, as Chris puts it, a "flanker" to his much acclaimed Tonsorial Parlour. Tonsorium, in my opinion has succeeded TP as one of the must have scents in the Catie's Bubbles arsenal. The scent notes are lavender, litsea cubeba, bergamot, petitgrain, geranium and oakmoss. This blend opens with the beautiful lavender which is met by the litsea and bergamot before being rounded out by the florals and oak moss. Although complex, the scent is not intimidating and will likely be enjoyed en mass. Scent strength is mid-strong both out of the container and once lathered. As for comparable scents, certainly Catie's Bubble Tonsorial Parlour is a close relative.
"Catie's Bubbles performance is stand out in all measurable areas. The cushion and lather density exceed all other soaps in the vegan class. The slickness and residual slickness are in that handful of the very best available regardless of formula. The post shave is where the luxury soap base goes next level. Catie's Bubble post shave bridges the gap between tallow based soaps and vegan soaps. The base leaves your skin moisturized and supple on the level with any soap artisanal or commercial. Comparable soap bases that I'd recommend are Barrister & Mann, Talbot Shaving and L&L Grooming." [LINK]
My Experience With Catie's Bubbles Tonsorium Shave Soap
[Note: I purchased this shave soap for evaluation.  My comments are my own opinions and have not been reviewed or approved by Catie's Bubbles.]
The scent off the tub is a moderately strong mix of floral and citrus: my notoriously insensitive nose cannot pick out individual scent notes.  I like the over-all vibe from it.  But as with all things pertaining to smell and my reactions, "Your Mileage Will Vary."
The scent softens somewhat when lathered on the face but it is still noticeable and persistent to me.
Speaking of lather, I get a fast, easy, voluminous lather–even in my "hard" water.  Perhaps not the "stupid easy" I can get with a few other shave soaps but certainly easy enough.
Performance for me is top tier, with lubrication/glide and cushion/protection that's outstanding for me.  Performance like this is kind of surprising to me given the relatively short ingredient list–a testament to what can be done when the artisan blender knows how to mix ingredients to their best effectiveness.
Post-shave moisurization is very good, though perhaps not quite at the top tier level of some other shave soaps.
Summing Up
Catie's Bubbles is on Sharpologist's best shave soap list for years, and for good reason.  Catie's Bubbles Tonsorium shave soap can be found on the Catie's Bubbles website, and vendors such as Maggard, Pasteur, West Coast Shaving, etc.