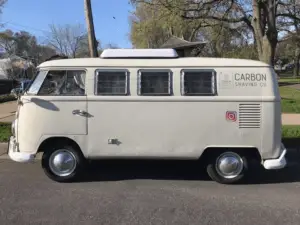 Carbon Shaving Co. is the newbie on one of the toughest blocks in the traditional wet shaving world. The "higher end" razor market has recently seen a surge in newcomers as many machinists have seen an opportunity to enter the small market of elite shaving gear. It's a tough area of competition and it takes a special tool to really make an impression in a highly competitive market.
Recently I picked up a Carbon Shaving Co. razor to give a try myself, after following the company via social media since its inception in 2019.  I was intrigued by both the design, story and unique models that came out in the last year. I decided to take the plunge and try one.
Before getting into the actual review, let's take a moment to discuss the company and people behind it.
About
The Carbon Shaving Co. is a small husband and wife team based out of Minneapolis Minnesota.  Their goal is to create unique, high performing products that will last a lifetime.   By utilizing modern CNC machining technology and keeping production in house or nearby, the team at Carbon feel they are very close to their products and offer a close net relationship with their customers.
Their journey started about seven years ago when owner/operator Sean rediscovered the world of traditional wet shaving after receiving a double edge razor as a gift. Originally taught by his father how to shave with a Gillette Red Tip Superspeed, receiving this new razor brought back a feeling of nostalgia and Sean decided to make his own razor.
Several years and prototypes later Carbon Shave was born. Sean who has a background with using exotic materials in working on boats as a Maritime Captain decided to use different materials when building his special edition razors.  These materials, most of which have never been used in the double edge razor industry, consist of carbon fiber, Damascus Steel, Titanium and Mokume.
Although new to the double edge razor game, Carbon Shave is striving to be different with their special releases and readily available core products. Let's take a moment and review their current offerings as well as some special releases.
Models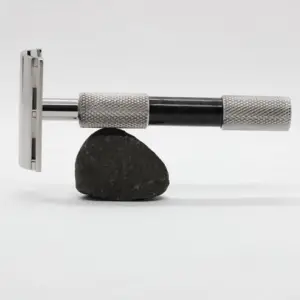 Carbon Shave offers the CX line which includes several readily available razors as well as the CX Titan line which are hybrid razors made of titanium and carbon fiber. Carbon Shave has also offered  several special edition razors made of different materials such as Damascus or Mokume steel

Interview with Sean
I contacted Sean with some questions regarding Carbon Shave that I could share with the wet shaving world. Here is our discussion:
1.                     What brought you to the world of traditional wet shaving?
My father taught me how to shave with an old Gillette butterfly (I think it was a Red Tip) when I was 6. Faint memories of that experience and a very special moment, I sure wish I had that razor today.   When I began to shave regularly, I used plastic razors for many years.  I rediscovered wet shaving about 7 years ago after receiving a double edge razor as a gift from a family member, which was a very nostalgic experience for me…. I then became obsessed with the vintage designs.
2.                    When did you decide to create a safety razor? Do you have a machinist background?
I decided to make a razor 7 years ago. I do not have a machinist background. I tinkered with designs for a few years and made our 1st prototype about 3 years ago.  In Minnesota, we have several large medical device companies, and rapid prototyping, small highly skilled machinists are locally accessible to us. We think making a razor is made up of 3 components including design, machining, and finishing…all of the designs are ours and all of our finishing is done in-house. In the watch industry, finishers are sometimes referred to as "finisseurs". We
strive to be best in class…We think finishing, design and material are our key differentiator. It goes beyond high polish.
I had a 100-ton maritime captain's license and worked on boats for 10 years. I bring this up as I worked extensively with exotic materials on fast racing boats, classic yachts, and the innovated designs of mega yachts. I enjoyed working with my hands on these boats. Eventually, I
drifted off into corporate life where I worked as a product manager among other roles for fortune 500 companies.
3.                   Was there a razor that was your inspiration?
I have two!  The Feather AS-D2 and a 1940 Gillette Tech.  You can see this design inspiration with the "pinch blade" design and the "chevron" lather holes.  We draw inspiration from jewelry, race cars, fine watches, and sailboats.
4.                   How many prototypes did you go through before making a final product? What were some of the struggles?
Carbon Shaving Co probably went through over 15 handle designs, 20 base plate designs, and 13 cap designs.  Several of them are pictured on our Instagram account.
As far as struggles, there was no template to follow.  The whole process was a struggle until we reached an epiphany on each piece.  Once we were able to establish key elements of the shave quality specifically gap, angle, exposure, things naturally evolved from that standpoint.
Ergonomics was a key consideration, reducing weight, maintaining the balance and the feel in your hand were critical. The thin head design, the blade post thru holes were from the original Gillette tech.  Most modern razors have "dead holes" i.e. they come to a dead end in the base
plate (or cap) which causes soap scum, hair, and water to collect. We designed our holes to maximize water, lather, and air flow. Carbon Shaving Co believes design is a process, not an event.  We are constantly collecting customer feedback, learning, and incorporating that
feedback into our designs as we go.  One thing we discovered after launching is that everyone has a personal preference, be it shave dynamics, handle design, weight, etc… While we can't please everyone, having options are important as we continue to design. It's one of the benefits of small batch manufacturing…
Deciding on material was also a big struggle, we had the option of using less expensive 303 or 304, that is cheaper material but elected to use the higher quality 316L stainless steel. While some argue 303 or 304 is "good enough" we didn't want to make a "good enough" razor…. this is
important to us as material plays an important part in our designs.  Another reason why we have used Damascus, mokume-gane and carbon fiber in our products.
5.                   What type of machining do you use?
Carbon Shaving Co works with a small machine shop in Minneapolis. We keep our production as local as possible down to the metal and material.  As an example, we use carbon fiber from a small shop in Duluth Minnesota (we do not have plans to make our own carbon fiber).
We customize our own epoxy that we use in our carbon fiber which is sourced from 3M (also a local company).  But to answer your question, a traditional mill and a lathe are used.  What most don't understand is that machining is only one component.  Design, machining and finishing,
we think are all the elements. Finishing the product is what separates premium products from others much like in watch making. All our finishing starts with hand sanding, we then manual finish each razor using numerous other techniques, all done in house except for the
electro-polishing as it is dangerous, hazardous, toxic and is a specialized skill (commonly used in the medical device industry).
6.                     I see you use different materials (carbon fiber, titanium, stainless steel). Do you have a preference material to work with?
Carbon Shaving Co. was the 1st to use stainless Damascus in our products.  I believe there is only one mokume-gane razor ever released on the market. We recently launched a titanium model which has been greatly welcomed in the community.  Our titanium is the lightest
Titanium model on the market today coming in at 52 grams.  The carbon fiber and titanium piece weigh in at an incredibly light 38 grams. These were inspired by F1 race cars and high-performance sailing yachts, where weight and strength are priorities. We pride ourselves in
these materials, innovations, and firsts.
As far as a preferred material, Damascus is particularly interesting because you don't know what you're going to get until the final etch. We love all the material we use, but our favorite materials are the materials that we haven't used yet…
7.                   How long does it take to complete a razor?
It took us 3 years to make our first one.  The machining process can be relatively quick, the set-up process can take a while, so can forging the metal. In terms of actual machining, Titanium takes the longest and softer materials like our copper/brass mokume take much less time, this is a function of the materials hardness amongst other things. The finishing is what takes the longest to achieve.
8.                   Any plans for different products? (Soaps, aftershaves etc.)
Looking into software (soaps, aftershave, etc…).  We really want to do it right.  There are a lot of good soap and brush makers out there.  We think it would be a nice complement to our line. We haven't finalized our direction and strategy, but we think it makes sense…
9.                    Anything else you would like to share?  New products on the horizon?
We make our Cx razors in small batches only, this gives us the ability to improve our product by incorporating customer feedback. It also allows us to innovate and bring new products to market quickly.
We use USA sourced material, except for the 316L base plate which is either German or UK 316L stainless steel
 We plan to release a few new base plates in the next few weeks, so our customers can customize their shave experience.
We really don't announce our products until they are completed, but plan to continue to innovate with design, material and finishing techniques, based on what our customers want…
Review
For this review I'll be discussing the CX-316L with the R2 stainless steel handle.  In addition, I purchased the 316L razor stand which I found to be a nice addition.
*Disclaimer: This review is based solely off the writer's experience with it. The razor and sand were purchased at full retail price directly from the manufacturer. Please remember YMMV (Your Mileage May Vary) when using safety razors.
The first thing I noticed when holding the CX-316L is the polish.  The razor is mirror polished and lacks any sign of tool marks or imperfections even though in the description it says they may be present.  If there are, I can't see them.  I've used many razors and find the CX-316L's finish to be ranked with some of the best.
Once holding the razor, you can't help but feel how balanced it is.  This had me second guess the actual term "balanced" from my previous experiences with razors. I can feel the weight of the razor, but it's not overbearing in the front.  The razor feels very solid and extremely comfortable in hand. It's almost like holding a high-quality pen that you feel you can write with forever without putting it down.
Loading the blade is standard as with any three-piece razor and I love that they include a rubber washer to go between the handle and the base plate to protect them from metal to metal contact.
While shaving with the grain (WTG) the razor is extremely efficient and smooth.  It's not overly aggressive, so if you're looking for something more along that line you can opt for the more aggressive baseplate. Each pass I noticed my hand holding the razor differently than I usually do, much like how a violinist holds a bow. I didn't notice it at first, but the design of the handle and the weight distribution of the whole razor makes for a different grip. It's quite comfortable and enjoyable.
Shaving Against the grain (ATG) posed the same enjoyable experience.  The efficiency of the first pass, left little to be removed on the second which leaves for less if any irritation.  Easy passes holding the handle like a bow and exceptionally smooth and efficient.
Head shaving with the Carbon was a true pleasure.  I'll admit when using some higher end razors that tend to be aggressive, it's tough to get an enjoyable head shave. The standard Carbon 316L is honestly on the verge of being almost too aggressive but is still comfortable and efficient.
Conclusion
I am extremely impressed with Carbon Shave's quality.  Their unique and risky designs have brought them into an Elite status that only a very few makers.  The shave is extremely enjoyable and, in my opinion, (and believe me I have tried almost every razor out there) ranks this razor in my top three of all time.
It's a great head shaver as well, at least with the .68 mm baseplate (I wouldn't recommend any higher for head shaving) and I really love the balance and design of the handle.
Using the CX 316L is like driving an exotic sports car.  The weight distribution, handle design and finish are all refined and the performance of this razor is smooth, comfortable with a tad aggression letting you know there's power under the hood if you want to use it,
You can tell that the team over at Carbon Shave really put their time in when designing their razors and it shows in both looks and performance.  At a base price of $249.99 for the Cx-316L it is considered a higher end razor but is readily available and worth every penny in my opinion.
The future looks promising for Carbon Shave and lucky for us they made their dream a reality.
About the Author:
Joe Borrelli is a long-time wet shaving enthusiast and collector.  He hosts the Wet Shaving Talk Podcast, runs his own self-funded website http://shavestraightandsafe.com/  and operates a YouTube channel to help inform the community of new information involving the wet shaving world. Joe holds a BBA from Florida Atlantic University, and currently works for the nation's largest wine/spirits/beer retailer. In his spare time, he enjoys spending time with his wife Linda & son Anthony, reading, writing, outdoor activities and collecting wet shaving apparel. Joe has also written several dozen articles for online publications such as Sharpologist,   How to Grow a Mustache, Cremo Company and has been featured on blog sites such as Thurston Threads, and Naked Armor . Find out more about Joe here.