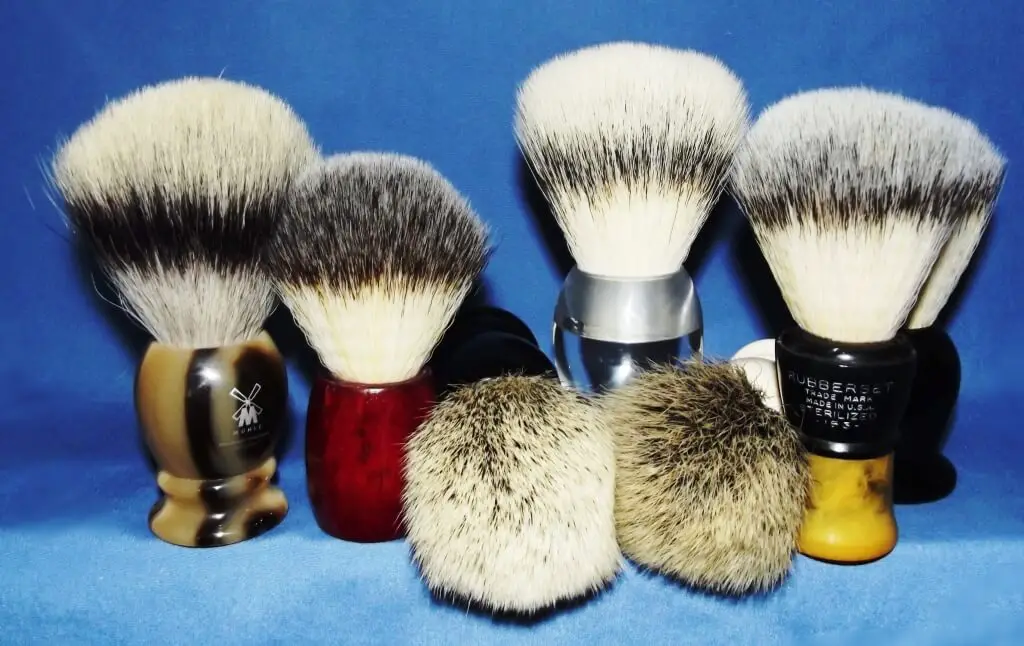 What is the best shaving brush for you? There are many varieties of brushes, available from small "garage" artisans, Far-Eastern factories, and long-established European companies. Let's try to make some sense of it all by discussing the different elements of a shaving brush then narrowing the field down to the best shaving brush in different categories.

The Shave Brush Market
Not too many years ago the shave brush market was dominated by just a few manufacturers, mainly old-school British companies such as Simpson, Vulfix, and Edwin Jagger, plus a few established European brands like Shavemac, Muhle, and Omega.
Now there is both a consolidation of the old-line brands (Simpson and Vulfix merged, for example) and a dramatic rise of "artisan" brands using "OEM" products from the Far-East.  Thanks to the wider availability of hair-only knots (sourced from China but sold through western outlets such as The Golden Nib) artisans need only "turn" their handles in quantity to establish a reputation.  The result is a much wider range of choices, at better prices, to the shaving consumer.
Brush Varieties
Sharpologist recently posted an extensive article about why you should use a shave brush and what goes into making them, but here's the short version:
Shaving brushes generally come in one of four types of bristle: boar hair, badger hair, horse hair or synthetic material.  Sometimes you will see a "mixed bristle" brush–badger and boar for example–but they are uncommon.
Badger hair brushes have been generally regarded as the preferred material for shave brushes  Unfortunately there are several different grades of hair but no standardized grading process.  Here are some general guidelines:
"Pure"  Characterized by a dark color and relatively stiff, coarse-looking hair.  Some manufacturers will bleach the hair to make it look like a higher grade.
"Super" (sometimes called "fine").  Finer-looking hair that is softer and lighter in color.  These brushes retain water and heat noticeably better than lower grades.
"Silvertip"  Silvertip hair is usually cream-colored on top, with darker bands of color below and very fine but flexible hairs.  These brushes retain even more water and heat than "super" grade brushes, but less dramatically.  Historically these were the highest-priced brushes but over the past few years competition has stabilized (and even slightly reduced) prices.
Boar hair brushes–sometimes called "natural bristle" brushes–are the most commonly seen in mass market outlets.  Many of these brushes are not very well constructed and tend to require more work to get a good lather from.  However, a well-made boar hair brush can provide years of service.  Sometimes these brushes are dyed to look like badger hair brushes.  Boar hair retains less water than badger hair.
Horse hair shave brushes are made from the horse's mane or tale (or a mix of both).  The performance is roughly that of a boar brush but is considered the most "animal-friendly" variety.
Synthetic brushes can range from brushes with nylon bristles those with more specialized synthetic material.  Significant improvements have taken place over the past couple of years and the higher-end synthetic materials are now much closer in performance to quality "super" and "silvertip" badger brushes at very competitive prices!
Dimensions
Brush dimensions are typically expressed in millimeters and are often divided into three sections: loft, knot, and over-all height.
The loft is the length of the actual hair from the top of the handle to the tip of the hair.  The tips of the loft can be formed into a fan shape or into a bulb shape.  Each style has their advocates but there's no real agreement about it.
The knot is diameter of the amount of hair packed into the handle.  The knot dimension can be a kind of fuzzy since hair can be packed loosely or tightly.
The over-all height of the brush is determined by the length of the handle plus the length of the loft.
Many find that larger brushes are better at lathering large areas more quickly, while smaller brushes offer more control.
In the absence of knowing what kind of handle you want, measure the distance from the palm of your hand to the pad of your thumb.  Let that measurement be the maximum length of the handle.
Criteria For The Best Shaving Brush
Unlike just a few years ago, there are now many fine choices when it comes to getting a shave brush! With so many options, variables, and sources, how can the "best" shaving brush be determined? Like the other "best" lists on Sharpologist, I think we can use some (albeit somewhat arbitrary) parameters. Heaviest weighting first to narrow the field:
Reputation and popularity: my experience and the experiences of others reported on blogs, forums, and shopping sites.
Over-all value.
Availability and length of time on the market: there are many fine artisans but they tend to come-and-go from the market so this list gives more weight to established sources.
Available in different sizes: some brush lines have different loft or handle sizes to accommodate larger or smaller hands.
Handle material available in other than wood: wood tends to degrade more quickly over time and use (remember, shaving is a high moisture activity!) and while some wood-handled brushes are carefully sealed against water other materials may be longer-lasting.
As with all products, caveat emptor and "your mileage my vary." This list is not sponsored: I did not get paid to mention any of these products (however see the Disclosures page for more information on affiliate relationships.  Alternate sources can be found with a simple search engine query). I plan to update this post as products change, enter, and leave the market.
So what's the best? Here's the TL;DR. More detail after!
What Is The Best Shave Brush?
Now let's take a look at the details and honorable mentions:
Best Low Cost Shaving Brush: Maggard Razors 22mm Synthetic Brush. Honorable Mentions: Omega Boar/Badger mix and the Omega Pro 48 (the '48 is the classic "barber brush" that has been around for years–Proraso has a version of the brush under their own label).
Best Value Shaving Brush: For a great "bang for the buck" consider the Sterling badger brush. Honorable Mention: Edwin Jagger Best Badger, Parker Pure Badger, and the Semogue 1305 (after an extended break-in period).
Best "Popular" Shaving Brush: The Edwin Jagger Super Badger brush (with a matching stand) has an excellent history and reputation. Honorable Mention: West Coast Shaving Torch Silvertip Shaving Brush
Best Travel Shaving Brush:  Parker Travel Brush   Honorable Mention: Frank Shaving Travel Synthetic Brush.
Best Synthetic Shaving Brush:   The Muhle 39k257 Synthetic shaving brush uses the latest generation of synthetic fiber in a classic form factor. For an unusual, upgraded version take a look at the Muhle 31M89–computer images of the "rosegold" color don't do it justice.
Honorable Mentions: Frank Shaving Pur-Tech, Supply Silvertip Synthetic brush, WCS Beacon Black ("Tuxedo" style) Synthetic brush
Best High Performance Shaving Brush: WSP "Stubby" in high-density, "high mountain white" silvertip badger hair–a rare combination for an exceptional price. Honorable Mention: Kent BK8
Best "Price-Is-No-Object" Shaving Brush: the Kent BK12 in silvertip is regarded as one of the finest luxury shaving brushes on the market. A very large brush as well (smaller versions include the BK8 mentioned above and the BK4). Honorable Mention: Simpson Chubby 3 in super badger.
Over to you. What do you think? Do you have any of these brushes? Any other recommendations? Leave a comment!
(Find this article useful? Be sure to share it!)