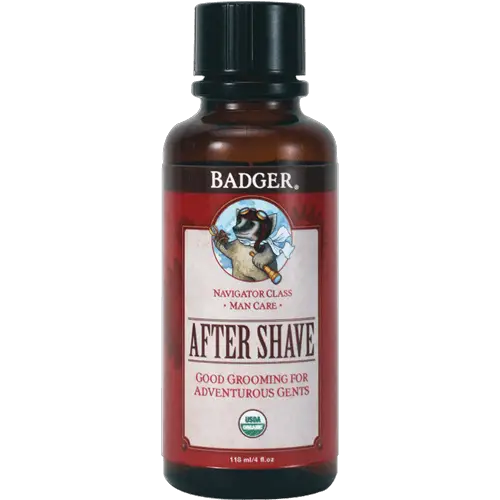 Badger After Shave Oil really surprised me. I was expecting something heavy on the skin with not much skin care benefits (aside from moisturization) based on the ingredients as it is composed mainly of essential oils. I thought, "what the heck, nothing to lose may as well give it a try!" Well, let me tell you I'm sure glad I did.

Badger After Shave Oil
Not only is the product NOT oily on the skin afterwards, provided you don't use too much of it at one time. But I found it to be exceptionally healing and gentle to my skin. I have very sensitive skin that tends towards being oily. Hence my apprehension on using an oil based product. Provided I used a small amount at a time, as recommended I found the skin absorption to be excellent, with no oily feel afterwards. It did not increase the oiliness of my skin. I did not breakout, like I feared I would using a completely oil based product. If anything the opposite, my skin was greatly calmed after shaves and looked great the following day.
The scent is very pleasant although light. The Bergamot scent reminded me of an Early Grey tea scent (since bergamot is the scented oil used in that tea) and faded within 30 minutes of application. I liked the scent and wouldn't have minded if it stuck around more afterwards. I also would be pleased if they used a flow reducer on it. The bottle has a fairly wide opening and you have to be very careful not to pour too much at one time.
I found it to be a great moisturizer to apply before bed as when I wash my face at night on the nights I don't shave, I often use a light moisturizer. This one doesn't have a strong scent and so is easy to fall asleep with. Some other products that are much stronger scented I have found are not pleasant to have on your face when you go to sleep. I think especially in the winter months, this product would be an excellent one to use. I'm not so sure in the summer, as it hasn't gotten very warm yet here, so I cannot say. I could see myself preferring something with a bit more toning in the summer months needing less moisturizing at that time. While the product does say there are Menthol Crystals in there, I did not feel any cooling whatsoever.
In summary, Badger After Shave Oil is a great product with excellent skin care properties priced reasonably on their website. Lightly scented and all natural ingredients (a huge plus in my book and this earns it bonus points!)
Out of 10 with 10 being the best rating possible:
Packaging: 7 – Flow reducer would greatly help in the rating. Brown glass jar is however a big plus.
Scent: 7 – Pleasant light scent. If you like Earl Grey tea you will like the scent of this aftershave oil! Not much staying power though.
Moisturizing 9 – Very effective moisturizer without being overly greasy, a little bit is recommended and justifiably so.
Face feel 8 – feels great on the face provided you don't use too much at a time!
Healing 9 – Incredibly effective at skin care and healing minor blemishes. I don't know why since the ingredients aren't what traditionally you would associate with that. But it works!
Ingredients 10 – It is always a real pleasure to see and use a product that has all natural ingredients that is also very effective. All natural and yet effective ingredients. Top marks!
Value 8 – I would say it isn't the cheapest aftershave product. But it certainly isn't close to the most expensive either. Good value for the money as only a little is needed at a time.
Anyhow. I hope this review is useful to you and I will review more of the products at another time. I was really happy with this product and would recommend it to others, particularly in the fall and winter months.
Author, Attila Szamoskozi: I discovered the world of wetshaving about 3 years ago thanks to online mentors like Mark Hero (Mantic as he is known online) and GeoFatboy. Since then I progressed from using various DE razors to exclusively using Straight razors. One of the great joys in our hobby is trying different products and tools and with the great selection of items now available to us there is no reason to ever be bored with our routine of shaving! In fact, shaving is something I still look forward to every time.