Is your shaving cream trying to kill you?  Concerns about the ingredients found in personal care products periodically pop up in Sharpologist's feedback form and in the shaving forums so I thought I would look at a shave cream common in the "old school" niche' and see what all the ingredients were for…and how safe they are.
A Baseline "Old School" Shave Cream?
I decided to look at a very popular (consistently in the top 10 shaving products at Amazon and a number of online vendors) shaving cream, Taylor Of Old Bond Street's Sandalwood shave cream (Amazon referral link).  I am not singling it out for criticism: I am just using it as a common representative sample.
Let's break down each ingredient to see what it is used for and what kinds of health concerns there may be.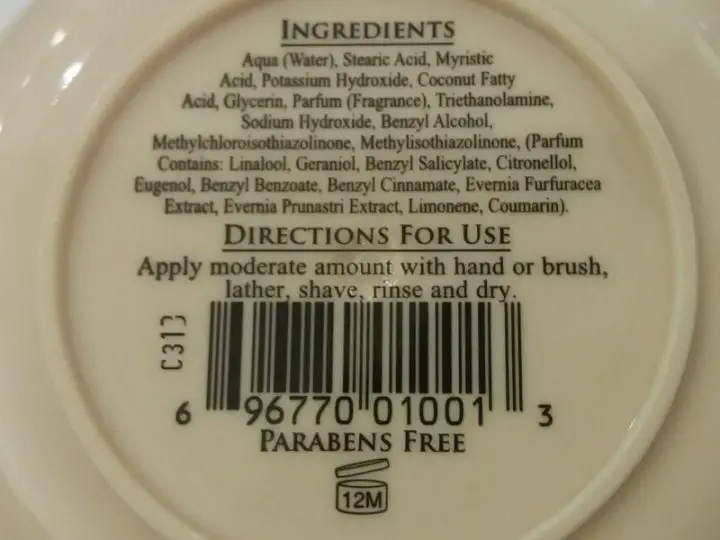 Keep in mind:
Any individual ingredient–even water–can be "dangerous" if it is improperly used.
There are different labeling conventions: some products list the ingredients used in manufacturing, others list the chemicals in the end-result.  There is no world-wide standard, which tends to create some confusion.
Some ingredients are more problematic at higher concentrations and relatively benign at lower ones.
Some ingredients may be dangerous by themselves but harmless when used in combination with another ingredient (for example, Sodium is flammable and caustic on contact with water and Chlorine is a toxic gas but when you put them together you get table salt).
An individual's sensitivity to a specific ingredient is always something to consider.  An individual ingredient may be fine for 99 out of 100 people, but there's that one person who may experience a reaction….
INGREDIENTS:
Aqua (Water)
Stearic Acid
"Stearic acid is mainly used in the production of detergents, soaps, and cosmetics such as shampoos and shaving cream products. Soaps are not made directly from stearic acid, but indirectly by saponification of triglycerides consisting of stearic acid esters. "
The over-all concern is very low.
Myristic Acid
"It has a variety of uses in the beauty industry, including as a: Fragrance Ingredient; Opacifying Agent; Surfactant; Cleansing Agent; and Emulsifier."
The over-all concern is very low.
Potassium Hydroxide
"Because of their softness and greater solubility, potassium soaps require less water to liquefy, and can thus contain more cleaning agent than liquefied sodium soaps."
There are occupational hazards to handling Potassium Hydroxide in manufacturing settings, and there is some evidence to suggest it can be an irritant to the skin, eyes, or lungs (though the concern is low).
However–there is no actual Potassium Hydroxide left in the product after the saponification process.  There is no risk to the consumer as long as the manufacturing process was done properly.
Coconut Fatty Acid
Essentially, coconut oil: "Coconut oil is an important base ingredient for the manufacture of soap. Soap made with coconut oil tends to be hard, though it retains more water than soap made with other oils and therefore increases manufacturer yields. It is more soluble in hard water and salt water than other soaps allowing it to lather more easily.A basic coconut oil soap is clear when melted and a bright white when hardened."
From a toxicity viewpoint the concern is very low, especially for a topical application like soap.  The trouble comes when it is used as an additive in food, where it causes health concerns related to cholesterol and weight gain.
Glycerin
A very common, non-toxic ingredient: "…used in medical, pharmaceutical and personal care preparations, mainly as a means of improving smoothness, providing lubrication, and as a humectant."
Although there are a few restrictions regarding usage, glycerin is considered a very benign ingredient.
Parfum (Fragrance)
See below.
Triethanolamine ("TEA")
A strongly alkaline substance, "It serves as a pH balancer in many different cosmetic products, ranging from cleansing creams and milks, skin lotions, eye gels, moisturizers, shampoos, shaving foams, and so on."
This ingredient is a bit dicey.  There is some evidence to suggest Triethanolamine may cause allergic or toxic reactions to the skin, immune system, and respiratory system.  There is also evidence that it is an environmental toxin.
Sodium Hydroxide
Sodium Hydroxide is an "…inorganic compound also known as lye and caustic soda…a highly caustic base and alkali…."
By itself Sodium Hydroxide in high enough concentration is quite dangerous as it is very corrosive and will cause severe chemical burns.  It can also cause blindness.  However, in the small concentrations common in products such as cosmetics and shaving products it is used to stabilize pH and the over-all hazard considered to be reasonably low.  Skin sensitivities are certainly possible though.
However–there is no actual Sodium Hydroxide left in the product after the saponification process.  There is no risk to the consumer as long as the manufacturing process was done properly.
Benzyl Alcohol
Benzyl alcohol is a common "ingredient used in the manufacture of soaps, topical creams, skin lotions, shampoos, and facial cleansers and is popular due to its anti-bacterial and anti-fungal properties."
Another ingredient that can cause concern, as it can cause allergic contact dermatitis.
Methylchloroisothiazolinone ("MCI")
Methylchloroisothiazolinone is a preservative with antibacterial and antifungal properties and is often found in cosmetics.
Although it is not generally seen as a carcinogen, in high concentrations Methylchloroisothiazolinone can cause chemical burns.  But even at low concentrations it can cause allergic reactions.  The over-all health concern is seen as moderate.
Methylisothiazolinone ("MIT")
Methylisothiazolinone is a common cosmetic preservative and–depending on concentration–poisonous.
There are rising concerns about this ingredient in all concentrations.
"Parfum" Subset
The "Parfum" entry in the ingredient list is itself made up of a number of additional ingredients. And to complicate matters, the listing and usage of fragrance ingredients is largely dependent on the country of manufacture.
As TOBS Sandalwood is made in Europe the labeling holds to European Union standards.  If it was produced in the US this section could simply be labeled as "parfum" or "fragrance" with no additional notations.
For reference, Taylor describes the fragrance as a "…classic fougere fragrance with top notes of geranium, lavender, rosemary and liquid amber supported by a heart of carnation, fern and orange blossom resting on a sumptuous base of patchouli, sandalwood, vetivert, powdery musk and rock rose."
Linalool
Linalool is a naturally occurring terpene alcohol found in many flowers and spice plants. The scent is described as "floral, with a touch of spiciness…..  Linalool is used as a scent in 60% to 80% of perfumed hygiene products and cleaning agents including soaps, detergents, shampoos, and lotions."
Linalool is generally regarded as safe.
Geraniol
Geraniol is a rose-like scent produced by honey bees to mark nectar-bearing flowers and locate the entrances to their hives.
Surprisingly (to me anyway), Geraniol is quite hazardous: it is classified as toxic to the environment and to the immune system at high concentrations.  However at the concentration used in cosmetics it is considered safe.
Benzyl Salicylate
Benzyl Salicylate is a chemical compound "most frequently used in cosmetics as a fragrance additive…with a mild odor described as 'very faint, sweet-floral, slightly balsamic' by those who can smell it, but many people either can't smell it at all or, describe its smell as 'musky'."
In the concentration here Benzyl Salicylate is considered safe.  The International Fragrance Association has restricted its use.
Citronellol
Citronellol is a natural scent derived from plants like rose, lemongrass, and geranium (it's found in citronella oils as an insect repellent).
Although the FDA considers it safe, its use in perfumery is subject to restrictions.
Eugenol
Eugenol is a natural scent derived from clove oil.
Is It Safe?
At high concentrations this can be mean stuff, causing liver damage.  Even at the very low concentrations used in perfumery, its use is restricted.
Benzyl Benzoate
Benzyl Benzoate is a "fixative" in the fragrance industry, to make scents last longer.  It also has medical uses.
Is It Safe?
A relatively benign ingredient, it has a low toxicity.
Benzyl Cinnamate
Derived from balsam wood, Benzyl Cinnamate has a mild aromatic-spicy-floral sweet-balsamic powdery cinnamon scent.
Is It Safe?
Another relatively benign ingredient in cosmetic dosages.
Evernia Furfuracea Extract
What Is It?
Treemoss extract, another ingredient often used as a "fixative."
Is It Safe?
"Its use in perfumes is now highly restricted by International Fragrance Association regulations, and many scents have been reformulated in recent years with other chemicals substituted for treemoss."
Evernia Prunastri Extract
Oakmoss extract, often used as perfume fixatives and form the base notes of Fougère and Chypre class perfumes.
Is It Safe?
"Its use in perfumes is now highly restricted by International Fragrance Association regulations, and many scents have been reformulated in recent years with other chemicals substituted for oakmoss."
Limonene
A natural citrus (lemon/orange) scent.
Is It Safe?
Limonene variants may cause skin irritation in some people but is otherwise safe.
Coumarin
A scent from the tonka bean, often described as newly-mown hay.  Also the first synthesized note in perfuming!
Is It Safe?
Coumarin use is restricted in the perfume industry but there is insufficient evidence that it is dangerous to humans at the concentrations used in cosmetics.  However there is evidence that it can be dangerous at higher concentrations: it was banned as a food additive in the US in 1954.
Thanks to Will of Barrister & Mann and Fran of  Phoenix Artisan Accoutrements for their help with this article!