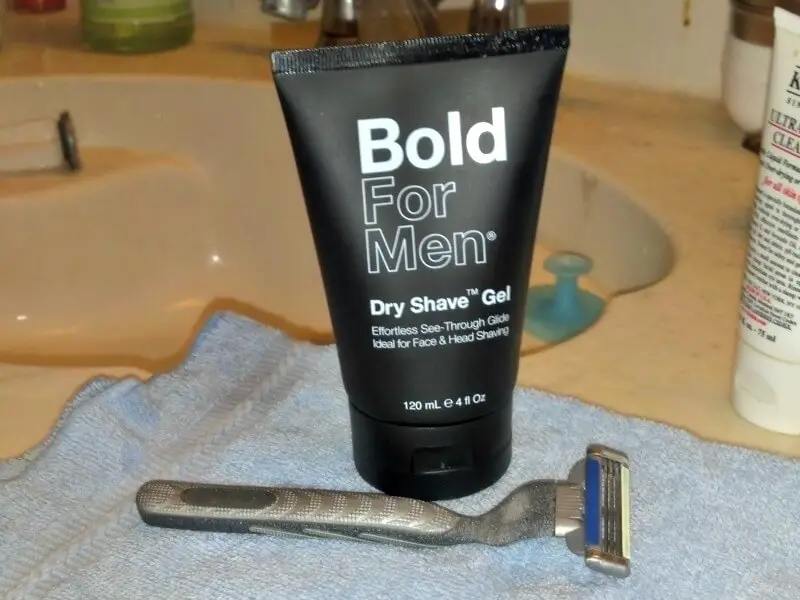 A few months ago I saw Classic Shaving's newsletter announcement for Bold For Men Dry Shave Gel.  This is definitely not an "old school" product: it's meant to be applied to a dry face, without any significant prep.  Squirt some onto your hand, massage it into your stubble, wait 30 seconds, shave.  Sharpologist co-founder Andy Tarnoff and I both recently gave it a try.
My Reactions
Does it work? Well…yes.  Good enough for a single-pass shave to look presentable anyway.  However, take too much time and I found that it will "dry" on the skin, requiring another application.  Multi-pass shaves will also require additional gel.  It worked OK using a DE; a multi-blade cartridge razor seemed to perform better for me.  Rinsing the blade (DE or cart) wasn't a problem.
You can also use it as an aftershave by rubbing in a bit more gel after the shave is over.  Surprisingly (for me anyway) it seemed to work reasonably well as an aftershave.
There's no "joy" to the shave though: there's almost no scent and no ritual to shaving that many old school shavers enjoy.  But if you're in a rush and need to look reasonably groomed, Bold's dry shave gel will get the job done.
Andy's Reactions
The good news about Bold For Men Dry Shave Gel is that it works. In two separate tests, I received as smooth of a shave as I would with any other product, and because I could see exactly where I was shaving, I didn't miss any spots that would otherwise be covered by soap or cream. And it smells good, like cinnamon oatmeal.
But that's pretty much where my praise ends. I have extremely sensitive skin, and in both trials, the gel began burning my face upon application and got worse as I let it sit on my beard for the recommend 30 seconds. While it performed just fine, it took all of the joy out of wet shaving, because, well, it wasn't wet. In fact, I think I like the stuff more as an aftershave, which is one of its advertised uses.
The first shave was with my '74 Super Speed Adjustable, and the second, just to see how vanilla I could go, was with a Gillette Fusion ProGlide. Even dumbing it down to this level, I was left with nasty razor burn on my neck, although that's still not that unusual for me.
In a nutshell, there's nothing wrong with this gel, but there's nothing right with it, either. I suppose it could save a little time from brush lathering, or it could be used while camping without lots of water. In the end, it's just a neat curiosity, but just one small step up from using an electric razor to shave.
You can find more information on it at Bold For Men.
Ingredients: Water, Avena Sativa (Oat) Kernal Extract, PEG-8 Dimethicone, Allantoin, Panthenol, Eugenia Caryophyllus (Clove) Leaf Oil, Zingiber Offinate (Ginger) Root Oil, Eucalyptus Globulus Leaf Oil, Leptospermum Scoparium Oil, 1,2Hexanediol, Caprylyl Glycol, Butylene Glycol, Glycerin, Polysorbate 20, Carbomer, Triethanolamine, Disodium EDTA, Sodium Benzoate, Potassium Sorbate, Blue 1, Red 33