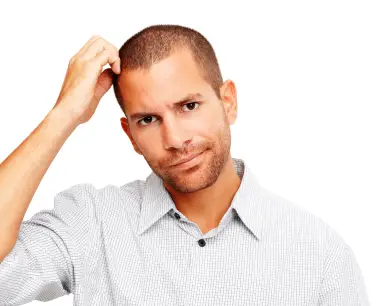 Have you ever noticed that one man can look great with a goatee and shaved head, while someone else can try the same look with less than favorable results? Well this all stems from the many different face shapes we all have. Face shapes can help determine the best hat or glasses to wear, and the same is true for facial hair and styling.
What Is Your Face Shape?
There is a large percentage of men who have a square face shape, and it is coincidentally the most ideal and desired shape to work with. (The square face is the male counterpart to the oval face shape for women.) Therefore, when it comes to haircuts and beards, the goal is to square off the face, while taking into consideration any imperfections and how to camouflage them.
Here is a short guide that can aid you in finding ways to maximize your facial features by complementing or disguising certain aspects of your face. Also, if you're unsure of what face shape you may have, here are a few quick tips that can help you to figure it out! ~ How To: Determine Your Face Shape
OVAL (a very desirable face shape as well)
Description: The face is visually symmetrical. Eyes are evenly spaced, with one eye width distance between them.
Suited Haircuts:
Facial Hair:
Goatee
Neat moustache
Light beard/scruff
ROUND 
Description: A full and round jaw line and a round hairline in many cases.
Suited Haircuts:
Layered styles with sides close
Styles with height to lengthen the face
Off centered parted styles
Long hair works but stick with one length
Suited Facial Hair:
Neat moustache
Trimmed beard designed to slim and make the face seem more oval
TRIANGULAR
Description: Wide hairline, broad jaw line and narrow chin.
Suited Haircuts:
Close to the scalp (i.e. buzz cuts; Keeps top of the head from being the focal point)
Cropped styles
Both recommended styles should stay away from hard lines that define the hairline
Suited Facial Hair:
Full Beards (Trimmed or scruff, designed to take away from the pointed chin)
SQUARE
Description: Squared and broad jaw-line. Forehead, cheekbones and jaw are the same width.
Suited Haircuts:
Most hairstyles (However stay with clean squared off lines and NO flattops)
Suited Facial Hair:
Goatees
Moustaches
Neatly trimmed scruff
Neat beard with hard lines
All designed to maintain and enhance the square jaw
PEAR 
Description: Narrow forehead/hairline and broad jaw line.
Suited Haircuts:
Full hairstyles
Round haircuts with the sides equal to the top
Designed to balance the face
Suited Facial Hair:
Full beard trimmed to square off the face/also slimming the face
OBLONG/RECTANGLE
Description: Sides of face are narrow and straight. A slightly rounded chin in many cases.
Suited Haircuts:
Layered styles
Wispy bangs
Try to stay away from styles that define the hairline
NO – long sideburns
Suited Facial Hair:
Neatly shaped moustache (to shorten the face)
Neatly trimmed beard (shortening and squaring the face)
DIAMOND 
Description: Rounded Hairline, wide cheekbones and a narrow chin.
Suited Haircuts:
Full Bangs (designed to square off the forehead)
Suited Facial Hair:
Full Beard (to square off the face and hide the prominent chin)
Click here for Craig the Barber's (Visual) – Guide to Face Shapes & Grooming