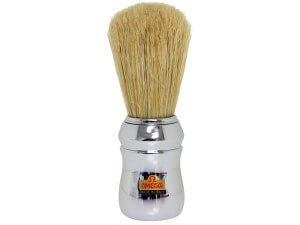 The Omega 10048 (aka PRO 48) shave brush is a very popular entry-level brush.  Although it uses boar hair the longer hair length ("loft") of this brush compensates for the relatively poorer water-holding ability of boar hair.  After a "break in" period the hair becomes soft and pleasant.
Be sure to review shipping/handling fees and taxes when comparing product pricing.
CLICK HERE for price on Amazon

If you use this product be sure to leave a comment below with your review so that others may benefit!