It might surprise some readers to know I don't own any Simpson's shaving brushes (actually, that's not quite true: Lee from Leesrazors sent me a Simpson's "Major" travel brush a few years ago as a gift.  But I didn't have any full-sized Simpson's brushes).  I always thought Simpson's were, well, a little over-rated if not over-priced.  Maybe I was rebelling against the "snob appeal."  So my reaction was admittedly luke-warm when John from West Coast Shaving suggested I try a "Rover" limited-edition brush.  After a little more prodding from John, and a little more hesitation from me, he finally said "here, try one, on me" and sent me a sample, gratis (normally I buy everything I review).
When I received it, the brush didn't look particularly impressive to me.  It is packed with Simpson's "Best" grade hair, which is pleasantly soft to the touch.  It is a little smaller than average:  loft 47mm, knot 22mm, total height 92mm.  The handle is certainly distinctive, though I was not particularly taken with it.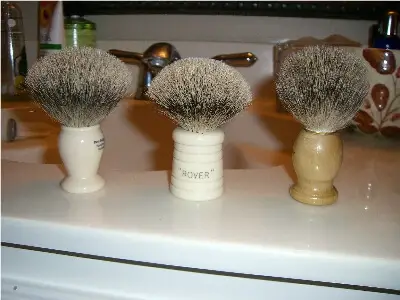 But I quickly discovered that looks can be deceiving.  While the knot dimension is 22mm it is "packed" much more fully than the other brushes I have of about the same size.  And that translated to outstanding performance!  This little guy lathers like nobody's business!  I've been using it for several weeks now and I continue to be impressed with it: its smaller physical size gives it good maneuverability but its denser hair knot gives it the lathering performance of a bigger brush.  It has worked equally well with soaps and creams, though I seem to like it better with creams (purely personal preference here, your opinion may vary).
My preconceptions of Simpson's brushes have been challenged.  This may not be the last one I buy….
Anyone else using a Rover?  How do you find it?  I'm particularly interesting in someone who can compare it to other Simpsons brushes!