Wikipedia defines Talc as "a mineral composed of hydrated magnesium silicate…. In loose form, it is the widely used substance known as talcum powder."  Talcum powder helps cut down on friction and absorbs moisture, making it useful for keeping skin dry and helping prevent rashes. It is widely used in products like as baby powder and adult body and facial powders, as well as in a number of other consumer products.  But its use does not come without some contention.

Talcum Powder And Cancer?
A concern with using talcum powder is that the mineral Talc is often co-located with deposits of asbestos ore which could lead to contamination of the Talc.  While this problem has been largely eliminated by the use of quality control processes to separate industrial-grade Talc with food/cosmetic grade talcum powders, some manufacturers have elected to use substitute ingredients and use the term "talcum powder" as more of generic term.
Talcum Powder and Shaving
Using talcum powder after shaving is a long established tradition, though not without some disagreement even among barbers.  Traditionally talcum powder is used as the very last thing to do after shaving, applied to the face and neck to calm the skin, absorb residual moisture and oil, and in some cases to reduce the look of dark (though shaven!) stubble over light skin.  Sometimes the powder is applied to the hands of the barber which in turn is applied to the shaver's face.  Others shake a little powder into a towel which is then massaged into the face and neck.  However some barbers discourage the use of talcum powder, one arguing "I never use talc in anything to do with shaving. This would be counterproductive in my opinion as talc will 'soak up' any moisture, which of course is the very last thing you want to do to the beard before, during or after shaving."
My personal opinion is that using talcum powder is probably most useful for those who have oily skin or live in hot, humid environments.  Give it a try and see how you like it.
Products
Here are several products that approach shaving talcum powder in different ways:
King Talc (from the makers of Barbicide) and Pinaud Clubman Talc are probably the two classics, both primarily using Talc and zinc stearate (to cut down on friction) as their major ingredients.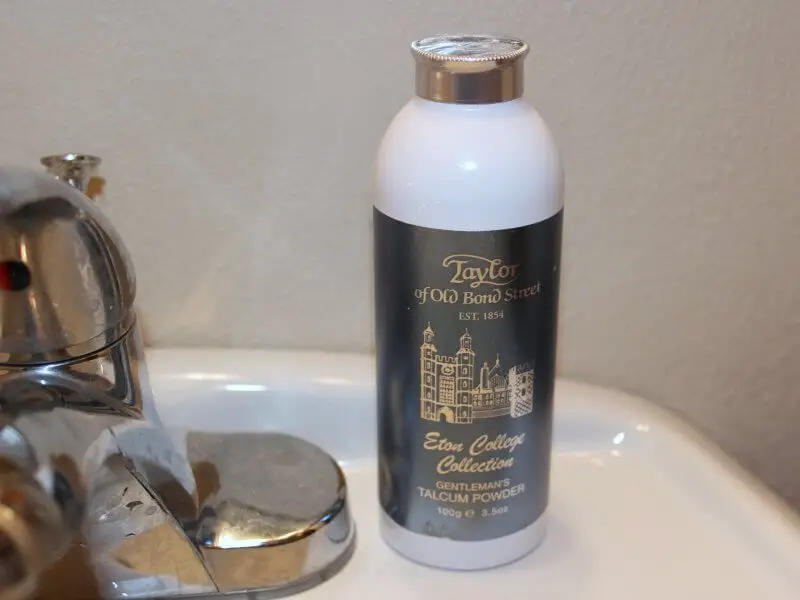 Taylor of Old Bond Street's "talcum powder" actually uses magnesium carbonate (a powder often used by gymnasts and rock climbers) as its primary ingredient.
New York Shaving Company's "After Shave Powder" specifically says it's talc free, instead relying on a mix of kaolin, corn starch, tapioca starch, and other ingredients.


Do you use talcum powder?  Leave a comment below!