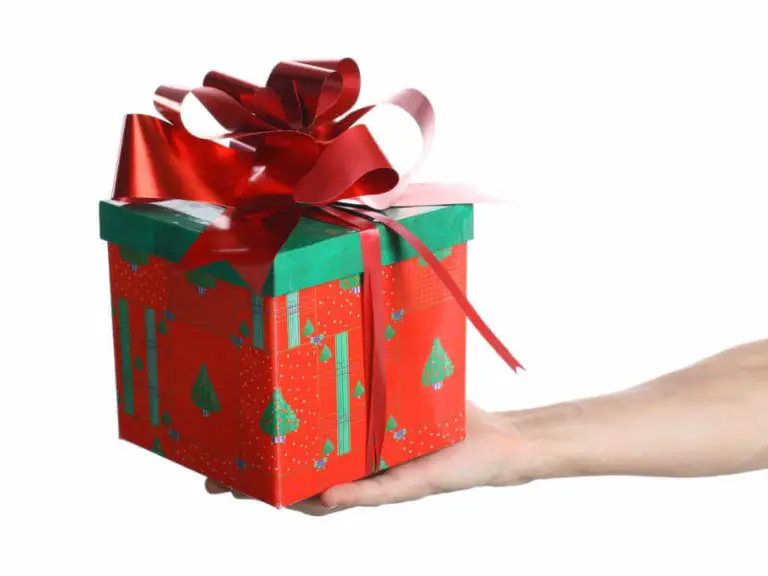 It's time for Sharpologist's annual holiday gift guide!  This has been one crazy year, so maybe it's time to get yourself (or someone you love) that special shaving-something…or leave a printout of this article laying around the house as a hint.  Luckily there are recommendations at almost every price point!  Plus a way to keep up with holiday sales!
A Look Back
Sharpologist has covered quite a number of gift-worthy products this year.  Click/tap to read:
Vikings Blade Meiji Adjustable Razor
Supply Single Edge Alloy Razor – How Does It Stack Up Against The Original?
The West Coast Shaving Lithe Razor Head, Designed By Charcoal Goods
King C. Gillette Razor – The King Is Dead, Long Live The King! A Review
Double Open Comb And Self Lubricating Razors – What They Are And How To Use Them
Is this the World's Finest Razor
Want To Make A Statement? 8 Razors For The Luxury-Minded Shaver
Mühle R89: Solid Performance, Excellent Value
Gillette Heritage Returns And KCG Razor Expands
As you can see it's been quite a year for razors, and I think PAA's Peregrino brush mentioned above (and others that use those synthetic fibers) is noteworthy as well.  And that's not even counting the continued robust selection of truly excellent shave soaps and creams.
But it has also been "quite a year" for the world's health and economy.  Luckily, shaving as a hobby doesn't have to be expensive.  There are some excellent products available at almost all price points.
Note: Amazon, Etsy, Grooming Lounge, OneBlade, PAA, Smallflower, Supply, Teige Hanley, and West Coast Shaving links are affiliate.
Razors
Looking for a razor that's a little out of the ordinary from the "typical" double edge razor?  The Supply Single Edge is available in Stainless Steel or lower-cost Alloy; Parker's "Semi-Slant" is a kinder, gentler version of the usually more aggressive slant bar design; for a high-end adjustable razor experience the Rex Ambassador is a premium product that would no doubt be welcomed by the shaving aficionado while the Parker Variant is more "mainstream" in the adjustable razor world, and the Qshave "Futur Clone" and Razorock Adjustable Razor are low-cost introductions to adjustable razors.
If you want to give that shave enthusiast something even more out of the ordinary but still not too extreme, there's the Razorock Switch: it can be configured "horizontally" kind of like a straight razor, or "vertically" like a standard DE razor.
For the pivoted single-blade experience check out a OneBlade razor.  They're all mild and will be familiar to use for the cartridge razor user you may be trying to "convert" to old-school wet shaving (or maybe you just want one for yourself!).  OneBlade razors have three different price points: the entry-level, very mild Core; the mid-price, slightly-less-mild Hybrid; and the least-mild (but still very approachable), premium Genesis.
For the shaver who just has to have the trendiest razor on the market, there's the GilletteLabs Heated razor….
Getting back to double edge razors, for a holiday gift how about Gillette's "throwback" razor, the Gillette Heritage razor?
Then there are artisan-made razors like Timeless, Karve, and Blackland; or homage razors like the Razorock Game Changer or Mamba (availability from artisans can be spotty with supply-and-demand, especially around the holidays, so shop early).
Brushes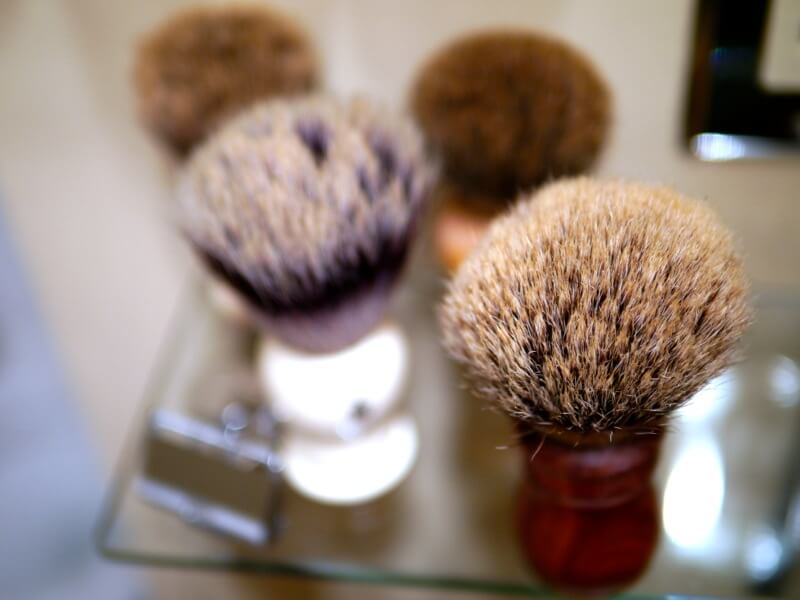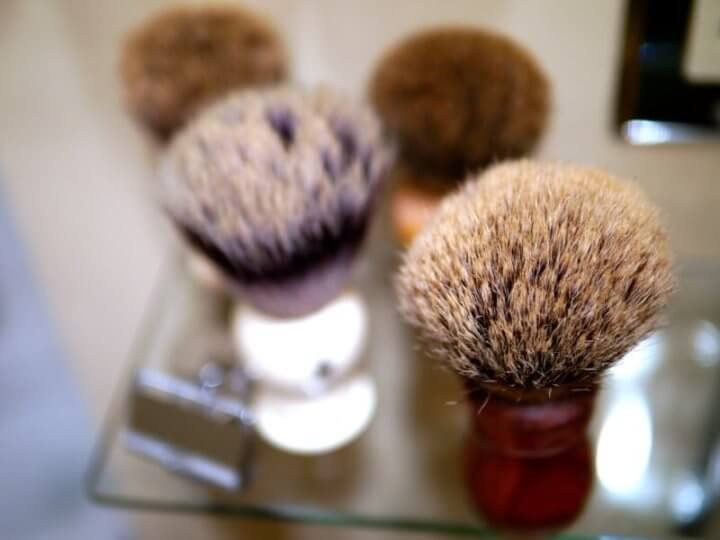 It looks like 2020 is the year that synthetic shave brush fibers finally "caught up" to high-end badger hair performance.  And the pricing is astonishing.  The PAA Peregrino and Aero Lite brushes, for example, are priced at a fraction of similarly-performing badger hair brushes.  Other shave brush brands are sure to follow suit.
Beyond that there are excellent, gift-worthy badger brushes including the the inexpensive-but-still-excellent Stirling "Finest" brush, the WSP "Monarch" brush, or the classic Simpson "Chubby" series brush.
Artisans like Wolf Whiskers, Envy Shave, AP ShaveCo, and Pantarei have been pumping out shave brushes on a regular basis too (but again remember that availability from artisans can be spotty with supply-and-demand, especially around the holidays).
Creams And Soaps
You can hardly go wrong with a shave cream or shave soap from the Sharpologist "best of" lists.  Just make sure you get something with a scent that will appeal to the recipient.
Accessories (And Novelties)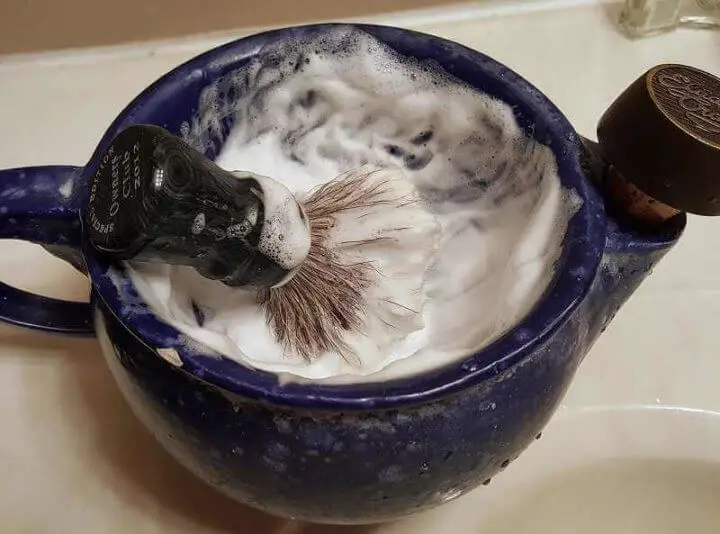 There continues to be interest in shaving bowls and scuttles this year, with more variety available.  So perhaps this year's holiday gifts could include something to keep that lather from the cream or soap you just bought nice and warm during the cold Winter.
The classic names in lather scuttles: Sara Bonnyman Pottery, Dirty Bird Pottery, and Georgetown Pottery being the most well-known.  You can even find Georgetown Pottery on Amazon.
Now there are more are getting in on the trend.  And along with the additional supply comes downward pressure on the price points.  You can get a scuttle from Qshave for under US $22 on Amazon (if you don't mind their logo on the side).  PAA sells a plastic "Travel Scuttle".  The modular Shave Bowl can be configured several different ways; and Naked Armor offers a shaving set that includes scuttle, soap, and brush).
Shave bowls (vs. scuttles) from Fine, Captain's Choice, Edwin Jagger, and Parker continue to be popular.  But Supply has a nifty marble lathering bowl!  The unusual Spiffo bowls that come in a version for the right-handed and a version for the left-handed.
Or how about an interesting razor and brush stand like this one from Super Safety Razors or this silicon razor and brush holder that attaches to your mirror.
If reading is your thing, check out "70 Razor And Shaving Patents."
Other Grooming Products
Looking for a brand-consistent set of grooming products?  Check out Grooming Lounge, Tiege Hanley, and Vitaman!
Conclusion
It's been an interesting year.  But there are plenty of gift-giving ideas for the wet shaver…even if money is a little tight this year.
Want to keep up with the latest holiday sales and promotions from shaving and grooming brands and vendors? Be sure to take regular trips to Sharpologist's sister site!  Click/tap here for SHAVE ADS!