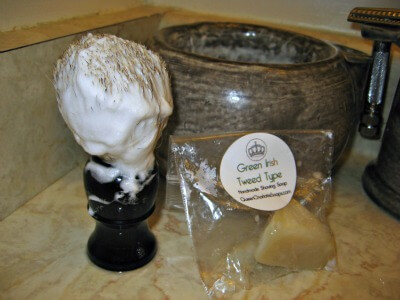 This is supposed to be a shaving soap with a scent inspired by Creed's classic Green Irish Tweed cologne. I think. It's kinda hard to tell, because the scent is extremely weak. I think I can kind of, when I practically shove the little slice of soap up my nostrils, make out the citrus scents top notes on a base of sandalwood that I know I'm supposed to be smelling. But then half a second later, it's gone, and I'm just smelling soap. Frankly, I'd suspect they accidentally sent me a sliver of unscented soap by accident, if it wasn't for the fact that Queen Charlotte Soaps doesn't sell an unscented soap. Maybe it was a bad batch, but hey, I can only review what I've been sold.
The situation scent-wise doesn't improve any once you lather up, then all I'm able to smell is the brush.
So, that having been said, once lathered up, it provides a decent enough shave. Nothing to write home about, but it lathers up nice and thick, provides enough of a cushion, and enough glide. I think I've figured out that the key to lathering these little sample wedges is to soak them a bit in warm water, and then jam them in nice and good on the side of whatever container you'll be lathering in, so they don't move on you while you're loading your brush. Little to no irritation was invoked, and I didn't notice it leaving my face noticeably dry or moisturized.
?/10 Scent Pleasantness
1/10 Scent Strength
7/10 Lather Quality
The sample was one of 5 in a $10 sample pack (1/4 oz each) bought off Queen Charlotte's website.
Overall, I'd recommend avoiding it. 4/10. Pick something else from their line, as I haven't noticed this "complete lack of a scent" issue from any of the other sampler slices I took a sniff at. It's a decent enough shave, but it's not that outstanding that it can stand on the shave alone without taking the scent into consideration.
Ingredients: Saponified tallow, water, saponified castor oil and shea butter, glycerin, saponified stearic acid, cocoa butter, coconut oil, fragrance oil(s), saponified avacado oil, palm oil, olive oil, aloe vera extract, kaolin clay, lanolin, vitamin E.