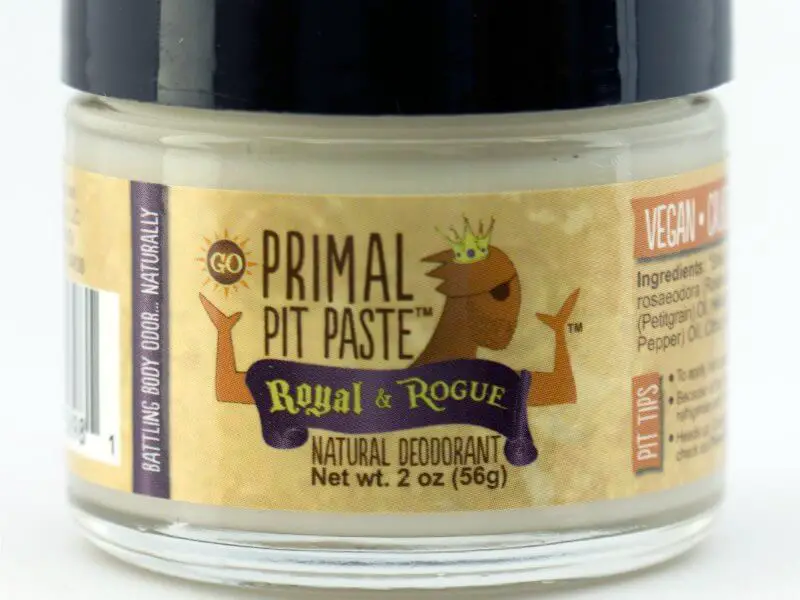 Primal Pit Paste is kind of a throw-back to the old school of grooming: you rub a small amount into your hands and rub it into your underarms, like deodorants of yesteryear (but they do have a stick version too).

Primal Pit Paste History
Amy Cazin created Primal Pit Paste from her quest to find natural and safe personal care products for her family to use:
"…while training for several racing events, (I'm a Certified CrossFit trainer and athlete) I noticed that the large race sponsors were companies that promote and give out samples of deodorant containing toxic chemicals. With all the information out there about the toxic chemicals in our food, and the obvious realization of skin patch technology, it's clear that what we put on our skin is as important as what we eat. Parabens and aluminums in deodorant, in particular, are becoming increasingly suspect in regards to cancer (breast cancer more specifically) and Alzheimer's research. We are finally actually being told to try and avoid these chemicals as prevention.
"My concern turned to a primal energy to protect my daughter and provide the world with a safe alternative to harmful products. I turned that energy into research, and that research into Primal Pit Paste. I believe that through Primal Pit Paste, I have succeeded in making a healthy, organic deodorant that actually works for all types of moms, dads, kids and athletes alike."
Amy came up with something that doesn't use parabens, aluminum derivatives, or synthetic fragrance, instead using Organic Coconut Oil, Organic Shea Butter (which contains vitamins A and D which are skin-friendly), Organic Arrowroot Powder (as a thickener and drying agent), Aluminum Free Baking Soda (to fight odor), and Essential Oils.  It's available in Lavender, Thyme & Lemongrass, Unscented, Royal & Rogue and Jacked-Up Jasmine.  Other scents may be in the works.
Using Primal Pit Paste
The directions call for using a pea-sized amount ("a little dab'll do ya!") on each pit and rubbing in like a lotion. It might take a few applications to determine how much you personally need to use.  I was a little concerned that the Coconut Oil and Shea Butter would make my pits feel greasy or runny but that wasn't the case at all.  It soaked in quickly and left the area feeling moisturized but dry at the same time.  The scent is very mild and disappears completely after a few minutes, so it shouldn't interfere with any colognes you may want to use.

The deodorant stick is similar to commercial products you might see elsewhere (and look like a shaving stick!  So be careful what you're storing in your shave den! 🙂 ) but used a bit differently: you have to hold it in your pits for a moment before rubbing, to melt the product slightly.
I find Primal Pit Paste works well and worth looking at if you're interested in a product that doesn't contain some of the questionable ingredients that are in many commercial deodorants and antiperspirants found today.