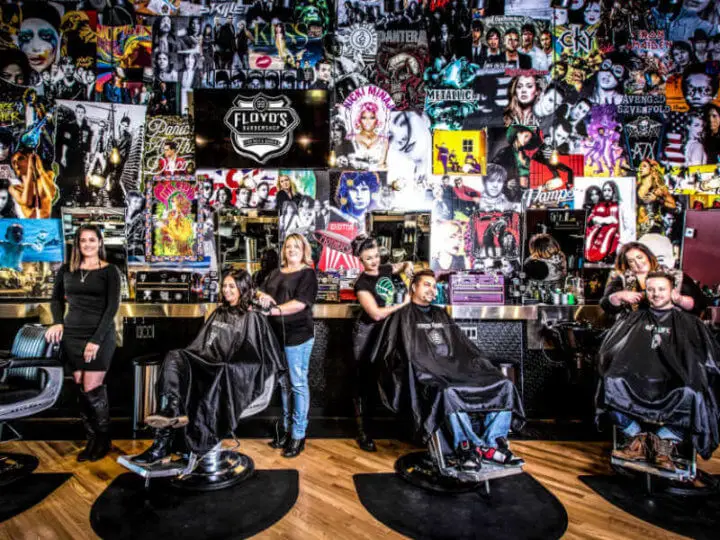 [Comment from Mantic59: I get a lot of email from public relations representatives. Pretty much 99% of it gets deleted but every now and then there's one that I think is interesting enough to pass along.]  Floyd's Barbershop, known for expert cuts with an amplified experience, once again embarks on their annual partnership with the Juvenile Diabetes Research Foundation (JDRF), the leading global organization dedicated to funding Type 1 Diabetes (T1D) research.
The cause became paramount to Floyd's after Founder Paul O'Brien's daughter was diagnosed with T1D in 2012. Since her diagnosis, Floyd's has been dedicated to leading the charge to help JDRF with their necessary fundraising initiatives in search of a cure. In 2019 the company raised $315,642, far surpassing their $250,000 goal, for total $1.4 million raised since the start of the partnership.
Throughout the month of August, clients who donate $5 to the JDRF at any Floyd's 125 shops across the country will receive a Floyd's coupon book valued at $35 featuring Floyd's signature services and products. The discounts within the booklet, which can be combined in a single visit, include a complimentary massage and shampoo, $5 off any shave, $5 off any grey blending, $3 off any haircut, $10 off a deep conditioning treatment and 25% off Floyd's grooming products or 15% off other retail brands. There is no limit to the amount of coupon books a customer can purchase. Donations exceeding $5 are welcome and appreciated. Coupons can be redeemed in any Floyd's between September 1 and October 31, 2020.
Floyd's and JDRF understand that funds are tight this year but also people continue to be diagnosed with T1D, a diagnosis made even more complicated by the pandemic. Now more than ever, every dollar is appreciated to propel the world-class researchers and doctors towards finding a cure. To that end, clients can donate $1 and put their name, or the name of a loved one, on a JDRF shoe to be displayed in the store throughout the month.
"A barbershop is a staple in a neighborhood," O'Brien said. "We do not want to just operate a business in the community, we want to be a part of it. We know that a lot of our clients are impacted by [T1D], and we know firsthand how stressful that can be."
The O'Brien brothers opened the doors to their first shop in Denver, Colo., in 1999, with a focus on providing exemplary service in a welcoming environment. Their passion for service and experience has helped shape Floyd's 99 and its staff, producing the magnetic atmosphere that draws its loyal clientele to return time and time again. Along with their array of services, Floyd's also offers their own retail line of grooming products.
Founded in 1970, JDRF leads the search for a cure for T1D. To learn more about the organization and their cause, please visit http://JDRF.org. To learn more about how's Floyd's and the JDRF are working towards a cure one haircut at a time, please click HERE.
ABOUT FLOYD'S 99 BARBERSHOP
Floyd's 99 Barbershop is a family-owned company, established in 1999 by brothers Paul, Rob, and Bill O'Brien on the principle that success is driven by providing superior client service and that satisfied employees result in satisfied clients. With an old-school/new-style mentality, it mixes an old-school approach to providing excellent service with the new style appeal of on trend cuts and an experienced, talented staff. From the diverse styles and personalities of the stylists and barbers to the signature rock and roll poster wall plastered with a time machine of music memorabilia, Floyd's 99 is creating a welcoming, all-inclusive environment where each person who walks into the shops feels valued, cared for and comfortable to express their individual style. Floyd's 99 Barbershop operates 125 locations in 14 states, including AZ, CA, CO, FL, IL, KY, MA, MD, MI, MN, NV, PA, TX and VA.