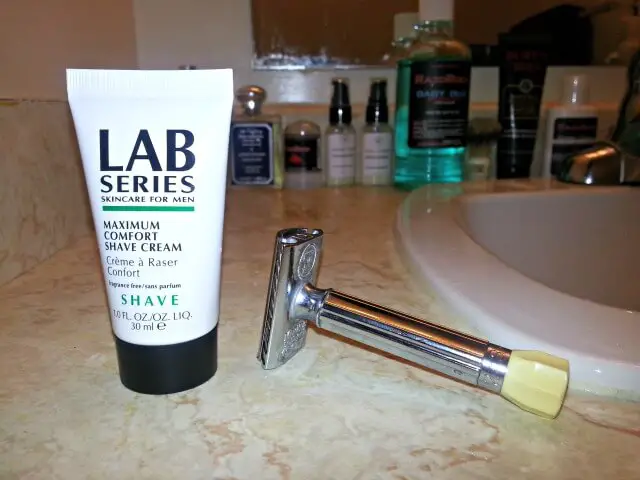 Suffice it to say that I continue to be mostly unimpressed by the shaving products produced by companies that are primarily in the cosmetics industry. Especially the lather-less stuff.
The Lab Series shave cream was a fairly thin product (not quite runny), which provided an OK amount of lubrication, but little to nothing in the way of cushioning. One minor annoyance was that it seemed rather resistant to water; it tended to clog in the razor and wasn't easy to rinse out, and cleaning when cleaning it off my face after the shave was done, it needed to actually be wiped off instead of just rinsed off with a splash or two of water as I usually do. That having been said, once the shave was done, it felt reasonably nice and moisturized.
The scent is fairly weak, but of course this was intended to be fragrance free. It's got a bit of what I would consider to be a clean / medicinal scent to it. Overall fairly pleasant, and while weak, the scent didn't seem to fade in the least. Again, I'm one of those types who expects the scent of a shaving cream to add to the experience of it all, so this fell flat for me here too, but if you don't care about that, please feel free to ignore that part of the rating.
7/10 Scent Pleasantness
7/10 Scent Strength
5/10 Lather Quality
A tub of the Lab Series shaving cream is going to run you $24 for 8 oz / 227 g. As per usual with latherless creams, you need to keep in mind that you're going to end up using a lot more of it per shave than you would use for a standard shaving cream or soap. On the first shave, I averaged about 4 g per pass, which is about 2 – 3 times what I would usually use total on a 3 pass shave. So while the tub is on the surface just a bit more expensive than most shaving creams or soaps, you're going to also be going through it a lot more often.
Anyways, overall I'm giving it a 5/10. A bit thicker and we might be able to bump it up a few points.
Ingredients: (note: I suspect that this ingredient list is outdated, based on some comments in some reviews [in particular complaints that the Benzocaine was apparently removed from the new formulation], but after over half an hour of searching I can't find a new listing, and the sample tube I used doesn't have it.) Water, Stearic Acid, Propylene Glycol, Propylene Glycol Stearate, Tea Stearate, Petrolatum, Benzocaine, Ppg 26 Oleate, Butylene Glycol, Cola Nitida (Kola) Nut Extract, Myristyl Myristate, Allantoin Glycyrrhetinic Acid, Cetyl Alcohol, Tocopheryl Acetate, Lanolin Alcohol, Hyaluronic Acid, Tridecyl Stearate, Neopentyl Glycol Dicaprylate/Dicaprate, Tridecyl Trimellitate, Chamomilla Recutita (Matricaria), Anthemis Nobilis (Chamomile), Diethylhexyl Adipate, Ethylhexyl Stearate, Ethylhexyl Palmitate, Algin, Polyquaternium 24, Dimethicone, Glyceryl Stearate, Peg 100 Stearate, Hydroxyethylcellulose, Trisodium Edta, Imidazolidinyl Urea, Methylparaben, Propylparaben, Butylparaben