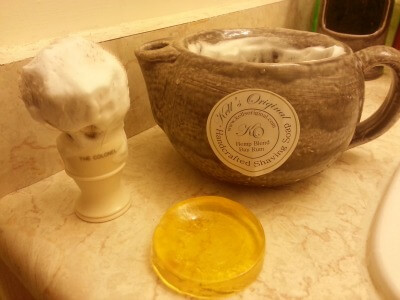 The too long; didn't read (tl;dr for those in the know) review of this soap would be what my girlfriend said when I gave her a sniff after lathering up: "Nice, but weak".
The lather itself was exactly what I've come to expect from Kell's Original, very very nice. It's a reasonably thirsty soap, so be sure to use plenty of water, but what water you do use should be put to good use in creating plenty of a luxuriously thick lather, providing good cushion and glide. It also left my face feeling nice and soft and moisturized after the shave. It seems I'm a fan of hemp oil as a soap base.
The scent is a definitely a really nice bay rum. It's a bit sweeter than most of the other bay rums that I've came across thus far, but I wouldn't say this detracts from it. Nice and spicy with a little bit of sweetness, I would say I'd really like this shaving soap.
If, that is, it were strong enough. It doesn't come across strongly while lathered on the face or on the brush, although at least it doesn't seem to fade all that much during the shave.
8/10 Scent Pleasantness
7/10 Scent Strength
9/10 Lather Quality
The sample puck used was $2 for 1 oz, also available are 2.7 oz cakes for $5.25, 4oz in a tin for $8, or a 2.5 oz shave stick for $9.
Overall, I'd feel fine rounding up to a 8/10. It's a good soap, but it's not the best I've seen out of Kell's Original (both Energy and Ancient Sedona beat it), and it's also not the best Bay Rum I've come across (that honour belonging to Al's Shaving Products). On that basis, I wouldn't recommend buying it on it's own, but you might want to give a sample a shot if ordering something from Kell's Original anyways (such as a sampler of the rest of their stuff too!). Because, of course, your mileage may vary.
Ingredients: Hemp blend ingredients: Coconut Oil, Palm Oil, Olive Oil (Grade A extra virgin), Safflower Oil, Glycerine (vegetable origin), Hemp Seed Oil (unrefined), Purified Water, Sodium Hydroxide (saponifying agent), Sorbitol (moisturizer), Sorbitan oleate (emulsifer), Soy bean protein (conditioner), Wheat Protein (conditioner)