Here are some pics and comments from last week's Big Shave West event in Pasadena, CA, and once again I have reviewed the links I have read over the past month and here are some of the most interesting ones I would like to pass along.

The Big Shave West
April 22 was "The Big Shave West" in Pasadena, CA and I'm only now getting able to put my thoughts down on paper…err…pixels.  🙂
This was the third year for the event and by all accounts was just as good as last year's, with estimates of 300-500 wet shavers attending (I think it was closer to the 300 mark.  Still a lot of people though!).  There was an amazing energy and it was great to meet up with people I had conversed with but have never met in person, including: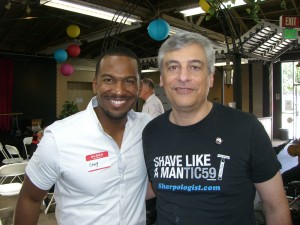 In May I'll be heading to Michigan for this year's Maggard's meetup.  Stay tuned!
Shave Like Grandad
Straight-Grip Update & An Old-School Mid-Shave Method
"With experience, I've continued to evolve my straight-razor technique including how I hold the razor for the basic free-hand grip. "
Complacency, A New Straight Order
"I've enjoyed shaving with my Parker SRX barber straight. I do admit to a little trepidation before each shave because, after all, it's walking the high wire without a net."
Parker SRX or PTB Straight? My Preference
"I think that both the barber straight razors that I've tried from Parker, the SRX and the PTB, are good razors. After taking my initial learning curve with the heavy, all-stainless-steel SRX, I then shifted to the PTB, the push-type razor with the black scales."
A Subtle Benefit of Pre-Shave Oil
"Since I've started using my two barber razors, the heavy Parker SRX and the nimble and max-feedback Parker PTB, I've been most often using a shave oil as part of my shaving preparation."
Triumphant Return to my Adjustable Variant DE
"After using my barber razors for several shaves, yesterday I returned to my Parker Variant adjustable double-edge (DE) razor, with an eye to getting not only an optimally close, comfortable shave, but also one in which I thoroughly enjoyed the process."
The New Parker Variant with Charcoal Handle
"If you really understand product development and market introduction, you know two things:The wise company does their utmost to perfect their product prior to initial release.Despite the best efforts of the manufacturer, the new product, if it involves any level of sophistication, usually undergoes an evolution with cycles of ongoing improvement and fixes as the new product undergoes further testing and evaluation by the first waves of customers.The Parker Variant adjustable razor with the charcoal handle."
BrushnSoapnBlade Podcast
Ep 168 – No Matter How Hard I Try…
Ep 169 – Three and Out for the Treet Carbon Steel Blade
Ep 171 – How an Artisan Blade Dies
Jayaruh Shaving
Gem Lather Catcher
Gillette Adjustables Compared
"I now own four of the Gillette Adjustable razor types, so I thought I would redo my comparison graphic."
Wet Shaving Times
The Modern Wet Shaver
"He's dapper and different He cares about his face He calls his restroom his Shave Den and it's his favorite place He uses a shiny double edge razor He buys blades on the cheap His shaving brush is made from badgers…"
Wegian Warrior
Let me inject some old advertisments
What is opposite of shilling?
"There are a couple of things about this hobby that ticks me off… the big one is not unique to wetshaving; shilling. Not to point fingers or mention names, but there is a couple of vendors who either condones or outright encourages shilling – which is bad enough when they use it to shill their own products, but worse when they use it to talk down, belittle or attack the products of others."
More Twin injector information
I have found some references to being able to use the Schick Twin with normal injector blades, but not more than one… on some images online the twin blade looks to be made of two blades that each are thinner than the normal blade… the resulting double blade seems to be a little wider and thicker than a modern single.A modern single blade in an E2 injector
Wet The Face
Pacific Shaving Shaving Cream & Aftershave Review
"When I saw this shaving cream on the shelves at target I thought why caffeine? Why would I need caffeine in my shaving cream? As it turns out, you really don't. They do say it reduces redness but does it really?"
Grooming Lounge
Shaving Tips For Sensitive Skin
"Does your morning shave extract more blood than a Red Cross drive? Razor burn, bumps and irritation a predictable part of your day?  You aren't alone. In a 2011 medical survey, nearly 45% of the men who answered said they had sensitive, up to very sensitive skin. This could be because of your skincare routine, or even the way you shave your face. Or, in some cases, you may truly have clinically sensitive skin."
Minneapolis Star Tribune
Target sharpens edge through partnerships with Harry's and Bevel razor companies
"Target saw the writing on the fogged-up bathroom mirror.  Its sales of men's razors and blades, one of the biggest categories in its beauty and personal care aisles, had begun to slip as a number of upstart online brands were disrupting the industry and going straight to consumers, bypassing stores altogether.  Its solution? The Minneapolis-based retailer joined forces with them."
The Grooming Artist
How To Care For Your Shaving Brush
"If you've ever had a relative pass down a vintage shaving brush, then you know that with proper care, a shaving brush can last a lifetime – if not longer. For a brush that gives you years of great shaves, regular cleaning and periodic deep cleaning are fundamental."