Since the US Independence day holiday is coming up I thought this would be appropriate. Beef up your summer BBQs, with tips, tricks, and recipes from Tony Roma's Executive Chef, Bob Gallagher.

 Grilling Tips for Backyard BBQ this Summer
Burger Rules to Insure Your Burger Rules
Balanced Flavor of Succulent Beef & Flame
Hot & Juicy
Setting Up your Grill:
Prior to placing any burgers on your grill:
Insure the grates of the grill are:
Clean, brush well with a wire brush.
Well oiled with vegetable oil.  Simply dip a paper towel and wipe down your grill gates.  Cover grill with the lid.
The grill should be 500F prior to placing burgers on grates.  Most grills have a temperature gauge built into the lid.  If using charcoal, insure the coals are lighly ashed-over.  Leave a small section of the grill without flame, in case of flair-ups.
Burgers should sizzle once on the grates.
Note:  If you're still a purist, and are using charcoal – I applaud you, but "86" the light fluid and invent in a $12 electric charcoal starter.  Simply lighter fluid can impart a harsh chemical flavor into your food, basically tainting the flavor of the meat and ruining your results.
 Juicy Burger Preparation:
Use 80/20 lean ground beef chuck
The fat provides flavor.  During the cooking process, fat also helps to impart a smoky flavor as if drips into the flames.  The 500F temperature will allow the grates to provide a sear flavor that complements the beef.
If you're hand forming beef patties (Highly Recommended), insure not to overwork the ground beef (Recipe to Follow)
Form burgers to ¾" in thickness.  Size and shape should consistent. Note: Insure the bun size is relative to your burger diameter.
Place formed burgers on a baking sheet and return to refrigeration.    Chill 30 minutes prior to cooking
 Grilling Techniques:
Place burger on hot grates.
Close lid.  Listen for fair-ups.
After 4 to 5 minutes, with a metal spatula (no tongs) carefully slide the spatula under the burger and rotate 90degrees.  Move burger from the back of the grill to the front and from the front to the back to insure even cooking.  Most times burger cook faster in the back of the grill.
Return lid.  Continue to cook for 2 minutes.
Once you see beef juices on the surface of the burger, flip the burgers over.  Manage flair-ups as needed.
Remember – Flip burgers only once.
Grill Burgers to 160F.  A thermometer is the easiest and safest way to insure burgers are properly cooked.
Total cook time is approximately 8 to 10 minutes.
 Perfect fall-off-the-bone Ribs: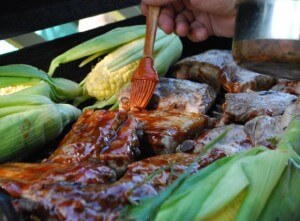 Step One:
Place rack of ribs in a pan with a little bit of water.
Cover with foil and bake at 350 for 2-2 ½ hours.
Step Two:
Tip: Cooling is important!! If you don't cool your ribs, they'll fall apart on the grill.
Step Three:
Fire up the grill.
Clean the grill to avoid stick and remove residue.
Place ribs on the grill and cover in sauce.
Tip: Keep an eye out for bubbling — this is when you know they're caramelizing.
Once you note the bubbling, flip the ribs and apply more sauce. Repeat this step four times for rib perfection (about 10 minutes total).
 Tony Roma's Backyard Burger
1-½ lbs.  Ground Chuck 80/20
4 slices of finely diced cooked bacon
1T Tomato Chili Sauce
1-½ t Italian seasoning
½t Kosher or Sea Salt
1t Worcestershire sauce
1/4t freshly ground black pepper
 Place beef chuck into a large bowl.
Mix other ingredients into a small bowl.  Mix well.
Pour over the meat and gently mix.
Form into 4 patties.
Refrigerate one hour prior to grilling.
 Build Your Burger
 1 each burger bun, buttered & toasted
1  burger, grilled
2 slices American cheese
1 piece Romaine leaf
1 thin sliced onion
2 pickle slices
1 Tbls. Tomato Jam
 Tomato Jam
2 ea. Tomatoes, chopped
½ tsp. ginger, minced
½ Cup diced white onion
½ Cup diced yellow bell pepper
1Tbls. Olive oil
1Tbls. minced fresh garlic
¾ Cup apple cider vinegar
¼ Cup light brown sugar
½ tsp. agave syrup
½ tsp. sea salt
¼ tsp. dry mustard powder
pinch cayenne pepper
Combine all ingredients in a sauce pan.
Mix well.
Cook on medium heat, stirring until tomatoes are soft and sauce thickens.