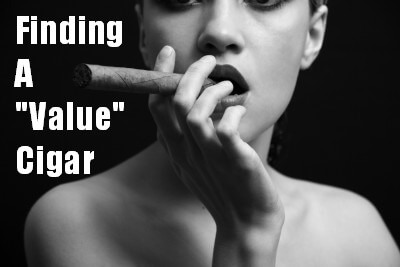 [Note from Mantic59: Sharpologist occasionally wanders off from shaving and grooming into other topics that might be interesting.  This time it's cigars.]
Some would argue that cigars hold little value. Famous Baptist pastor Charles Spurgeon explained the value of a cigar this way: "When I have found intense pain relieved, a weary brain soothed, and calm, refreshing sleep obtained by a cigar, I have felt grateful to God and have blessed His name…."  Many who enjoy cigars would echo his sentiments. If you've taken the plunge, that is tried out cigar smoking and taken a liking to it, you may want to check out a few of my favorite value cigars. What makes them valuable can be either great flavor, good flavor at a reasonable price, or distinction; something unique you can't find elsewhere.
Many who are new to cigars assume that the most expensive cigars must be the best. While highly priced cigars often have immaculate construction, the overall smoking experience from an expensive cigar will not suit every cigar smoker. Construction is not something to overlook but it is not what makes a cigar unforgettably good. However, poor construction can ruin a cigar; or at least ruin the experience of trying to enjoy it. When selecting a cigar pay attention to its condition. Splits or cracks in the wrapper or cap, an overly tight draw, a wrapper that unravels, or too much vegetable gum are just of a few things that can cause issues. Cigar manufacturers use vegetable gum to adhere the wrapper seams, the cap, and the band. It is not a chemical based adhesive, it's actually rather harmless. That said, the band should not be stuck to the wrapper. Occasionally, even on high end cigars, too much gum is used on the band and it leaks onto the wrapper adhering the two together. This can also happen in transit if temperatures get too high, even if just for a short time. While a stuck band isn't the end of the world, it can rip the wrapper if you try to remove it. If you find yourself in this boat, have some patience. Hold the cigar by the band, specifically putting your fingers on the seam. The heat from your fingers will melt the gum enough to remove the band safely in a couple of minutes.
Petit Tatuaje
Back to the topic at hand; value. As mentioned above, value can be defined a few different ways. For cigars, good flavor for a good price is probably what most would consider value. One cigar that offers a great bang for your buck is the Petit Tatuaje. Tatuaje is Spanish for tattoo. Tatuaje is a very popular brand of Nicaraguan cigars made by Don Pepin Garcia. Pepin has a number of cigars that bear his name and even more that his company makes for other labels. Most Pepin made cigars are Nicaraguan puros. However, the Petit Tatuaje has a Habano Ecuador wrapper. It is a small cigar, approximately 4.5 inches long with a 32 ring gauge. Don't be fooled. What it lacks in size it makes up for in flavor. As with other small ring gauge cigars you have to be cognizant of how quickly you smoke it. If you do not take your time, resting this cigar between draws, it will burn too hot. This will lead to a bitter taste that can ruin your experience. Larger ring gauges are a little more forgiving in this regard. Do not let that scare you away. The Petit Tatuaje is well worth it. You can buy them at most cigar shops that carry Tatuaje for about $4 each. They would still be a good deal if they cost $2 more per cigar. You can also purchase the Petite Tatuaje in boxes of 50 for around $160. As with most Pepin made cigars, these start off with a bit of spice or pepper which quickly mellows. While the intensity eases early on, it slowly builds back up ending with a crescendo.
El Rey Del Mundo Robusto
Another good cigar for a small price is the El Rey Del Mundo Robusto. It is rather easy to spot at your local cigar shop due to the fact they are wrapped in white tissue paper rather than in cellophane. They are 5 inch x 54 ring gauge with a dark maduro/oscuro wrapper. The wrapper is a Connecticut Broadleaf. The binder and filler are both Honduran. It is considered medium to full bodied, and the wrapper imparts a hint of maduro sweetness. It produces a large volume of white smoke and holds a nice firm ash. This cigar will not blow you away with complexity but, it is consistently well made, has nice flavor, and has medium to full body. The fact it's probably closer to medium than it is to full bodied makes it a good choice for beginners and those who know their way around their local cigar shops. One thing you may want to try; It's been noted by some that these cigars smoke better if they are stored without the tissue. Many folks who buy them by the box remove the tissue when putting them away in their humidors. The El Rey Del Mundo Robusto can be had for around $6.00 each at a local smoke shop or can be purchased in boxes of 20 for around $65. At that price point it is difficult to find a better robusto sized cigar.
Joya De Nicaragua Antano 1970 Lancero
Lanceros and panatelas have been gaining some popularity as of late; and for good reason. The long thin shape means the wrapper's flavor is more predominant in the overall flavor of the cigar. Not to mention, there are quite a few good lanceros out there. A good selection for those looking for something bold is the Joya De Nicaragua Antano 1970 Lancero. It measures 7.5 inch x 38 ring gauge. The entire Antano 1970 line is considered full bodied. While that is true, JDN has found a good balance preventing them from being bitter or harsh. The Antano 1970 line is rather unique in the flavor profile it offers. The Lancero seems to stand out from the others and is probably the best in the line. It retails for about $6.50 each or can be found in boxes of 20 for about $90.
The cigars featured here are just three of thousands. They were selected for their quality flavor and smoking experience in contrast to the small price they demand. Sure, there may be better cigars out there but there are probably not too many in this price range. If you can't locate the cigars above nearby you can find them at
AtlanticCigar.com
. AtlanticCigar was singled out because they carry all three cigars featured in this article, I've had great experiences purchasing from them myself, and they were gracious enough to let us use two of their stock images. AtlanticCigar has become well known for their great prices and excellent customer service. A special thanks should also go out to
TexCigars.com
for allowing us to use their stock photo of the Petit Tatuaje. I haven't purchased from them in the past buy given their good nature I am likely to in the future.
Due to the subjective nature of flavor, opinions will vary. If you've tried any of these cigars please feel free to give your thoughts on them.