Father's Day is later this month and I am starting to see the usual gift guides popping up on websites and email newsletters.  I thought I would take gifts for dear ol' dad into some possibly unknown territory with a few unusual–but still good!–wet shaving gift ideas.

Razors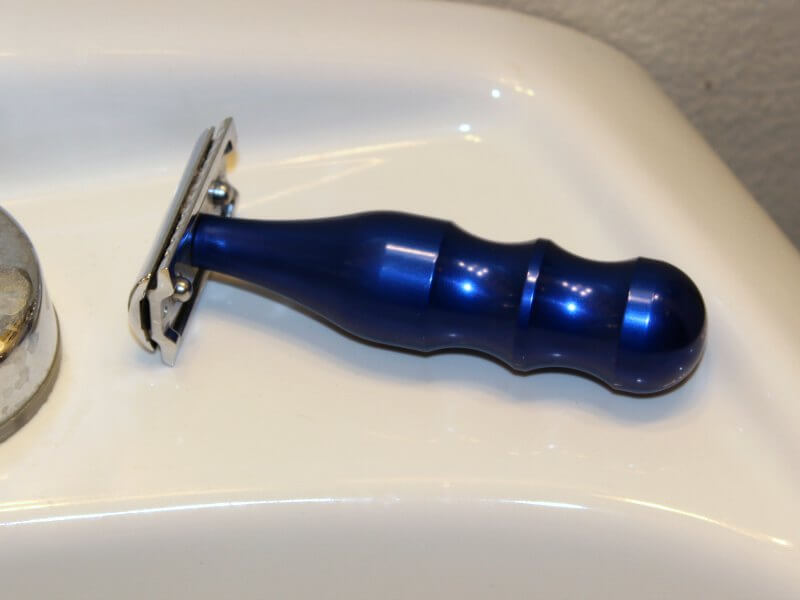 I recently wrote about the Merkur 40 "Barrel Handle" razor.  It's unusual handle doesn't get a lot of love but if dad has big, meaty hands or has difficulty grasping things (a tough of arthritis perhaps?) this razor could be for him.  And at under $40 it's not terribly expensive (as metal DE razors go, anyway) either.
Then there's the new crop of "slant" razors.  Michael "Leisureguy" Ham recently wrote about these, too.  Slant bar razors are a little off the beaten trail for most people–even DE users–but after you get the hang of using them their efficiency can help solve some shaving problems.  The Merkur 37C (and "barber pole" handled 39C) are the most widely available slant razors but a new generation of them are beginning to pop up, with the Ikon Slant and the Above The Tie Slant razors getting a lot of good reviews for their superb craftsmanship and build quality.
Something else father may have not considered is an adjustable razor.  There are unfortunately just two variants extant, the Merkur Futur (available in gold, chrome or satin finish) and the Merkur Progress (with a long handle or a short handle).  I make no secret that the Progress is my favorite razor so I guess I'm biased but I really value the ability to adjust my razor to the particular conditions of the day's shave.  More recently an artisan has taken the "guts" of a Progress and created a completely different-looking razor from it, the Eskimo, available at Bullgoose Shaving in Blue Lapis, Onyx, or Quartz.
If dad still wants something "classic" maybe you can up his game with something like the Feather AS-D2 stainless steel razor?  There are a number of stainless steel razors available now but I think the Feather was the first one out of the gate and the one a lot others aspire to.  It's a fairly gentle razor: if pop has sensitive skin the 'D2 shouldn't give him any trouble (if it's too gentle, drop in a Feather blade and watch the stubble disappear).
Brushes
Shaving brushes are another area to give dad a little something special.  If you want to stay on the classic, conservative side but still want something really gift-worthy, consider the Kent BLK8.  It's a relatively large brush but built so that it fits well in the hand and comes in a classy presentation container too.  If the Kent is out of your price range consider the WSP "Monarch" shaving brush, an exceptional value.

If you want to keep on the classic side but want to give him something just a little unusual, check out the Muhle 31M89 Synthetic Silvertip Shaving Brush in "rosegold" finish.  The new generation of synthetic fiber shaving brushes coming out of Muhle are competitive with some of the best natural badger hair brushes out there, without the concerns about the way badgers are harvested.
If, on the other hand, father has a bit of a crazy streak in him, maybe he'd like one of the Six Shooter shaving brushes.  With variations like "Outlaw," "Redemption," and "Tactical" these brushes not only look unusual but perform well.
Creams/Soaps
I admit a lot of the razor and brush gift suggestions may fall out of your price range, so let's look at some creams and soaps that not only may make good gifts but are also more affordable.
For something classy, classic, and with outstanding performance I suggest any of the DR Harris shaving soaps.  Their shaving creams are good too but their tallow-based shaving soaps are really something special.  Varieties include Almond, Arlington, Lavender, Marlborough, and Windsor.
A few other classic but not very common products include I Coloniali Mango Oil Shaving Cream Soap (with a cool terracotta bowl), Institut Karite Shaving Soap and Ogallala Bay Rum shaving soap.
If you're looking for something "classic with a twist" to give dad, consider St. James of London shave creams. They take an established ingredient and give it a kick in the pants: sandalwood…with bergamot; cedarwood…with clarysage; patchouli…with mandarin orange; lime…with black pepper.

If you want to wander off into right field with something more whimsical try Dr. Jon's or Tabula Rasa.  Dr. Jon's is relatively new on the scene but becoming reasonably widely available.  Dad might enjoy the pin-up-ish graphics on the shaving soap tins, and the soaps themselves work well too!  There are a number of scents available including Anne Bonny with bay rum, black tea, and lime; Savannah Sunrise with peach, gardenia, honeysuckle, jasmine and orange blossom; Aphrodite with rose, black currant, pomegranite and apple; Hydra with orange, lemon, lime, grapefruit, mandarin and bergamot; Green Monster with basil, peppermint and lime; Hex with cinnamon, cedar, orange and black pepper; and Classic with lavender, vetiver, cedar, lime, rosemary and bergamot.
Tabula Rasa on the other hand has been around for a while but pretty much "under the radar" until very recently.  They've launched some excellent shave creams (though some call them soft soaps) with really interesting scents: Cardamom (with mango butter and argan oil),  "Dark" Lavender, Herbal (mostly lemongrass), "Steampunk" (cedarwood, violet, lime, and musk–a particular favorite of mine), and Olibanum (frankincense), among others.
Other Gift Ideas
Maybe dad just needs that certain something to round out his "shave den?"  How about a shaving cream scuttle?  Or a Dopp kit to store his stuff while traveling?  Do you need to get him to complete his grooming setup with a nose and hair trimmer?
At the other end of the spectrum, if you really want to go all-out, consider a high-end wet shaving set like the Muhle S091m89 Sr shaving set, or an Edwin Jagger 3-piece Chatsworth DE shaving set (Barley and Silvertip).
And if all else fails?  How about a copy of the newest edition of Leisureguy's Guide to Gourmet Shaving the Double-Edge Way?  If you're out of the US, HERE is information on the various country-specific Amazon sites.
Happy Father's Day!