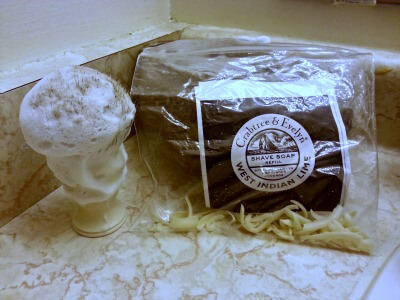 When Garry's Sample Shop sends out soap samples, rather than attempting to cut up the soap into slices, he runs them through a cheese grater, sending them to you in a little baggie as shown (the photo shows about half the sample, the other half was used for that day's shave). So, the first task is to figure out how to lather the darn things. I threw them into my pre-warmed scuttle with just a little bit of hot water, and let it sit for a minute. That softened it up enough to squeeze it all into a little cake stuck to the side of the scuttle.
For all future samples of the sort, I'm going to have to be sure to use separate containers for the loading of the brush and the lathering of the brush, as the soap in the container sometimes makes it hard to get the right water ratio in the lather. I ended up getting something I liked, but made way too much of it in the process.
But, what I did make gave a pretty good shave. After putting in a bit of elbow-grease, I was able to work up some reasonably thick lather. Decent amount of cushion, while still giving enough glide. No irritation whatsoever, and it left the facing feeling pretty good afterwards, moisturization-wise. Lather broke down a bit between passes, but whipped back up easily enough. A good shave, but not anything to write home about.
The problem was with the aroma. I was expecting "Fresh limes and vetiver blended with nutmeg, ginger, coriander, and juniper." What did I get? Well, in the words of my girlfriend after I had her sniff the brush to verify that I wasn't just coming down with a cold, "It doesn't smell like much of anything".
Granted, that was the lather. The soap slivers themselves had a bit of the expected scent, a nice little lime concoction, but even that wasn't strong by any stretch of the imagination.
8/10 Scent Pleasantness
3/10 Scent Strength
7/10 Lather Quality
Garry's Sample Shop had the half-ounce sample for $3, which I figure would last a good 5 – 6 shaves, if not more if you're stingy. A full 100g refill puck sells for $9 from Crabtree & Evelyn. While you're of course paying a far higher price per gram going with the samples, suffice it to say I'm rather glad I didn't end up wasting the extra $6.
Overall, I'm not recommending this one. 5/7. There's better shaves out there that actually deliver with the scent.
Ingredients: Sodium Palmate, Potassium Stearate, Sodium Cocoate, Sodium Stearate, Water, Potassium Cocoate, Glycerin, Fragrance, Citrus Hystrix Leaf Extract, Ginger Root Extract, Vetiveria Zazanoides Root Oil, Bisabolol Tocopheryl Acetate, PEG-40 Hydrogenated Castor Oil, Sodium Chloide, Tetrasodium EDTA, Tetrasodium Etidronate, Calcium Carbonate, Benzyl Salicylate, Limonene, Linalool, Hexyl Cinnamal, Alpha-Isomethyl Ionone, Eugenol, Sodium Benzoate, Potassium Sorbate, Titanium Dioxide CI 77891, Iron Oxides CI 77492, Iron Oxides CI 77491.