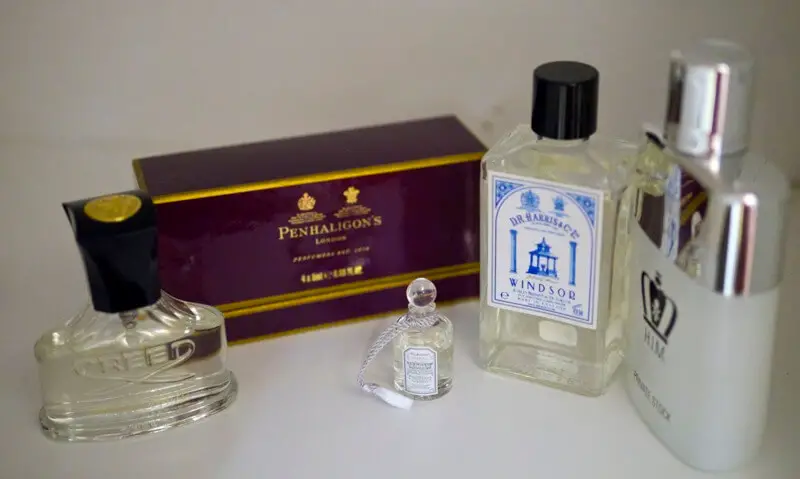 I've never been to England, so I guess I can't tell you for sure what a proper British gentleman smells like. But when I'm cruising around town in my '75 MGB, top down with the breeze in my hair, I can imagine the smell of refined elegance and royalty.

Britain In Summer?
To me, summer British colognes should smell crisp, slightly floral and a little citrusy. Understated and expensive, not what you wear to a nightclub; rather something to make the ladies swoon at the polo match.
Obviously, I'm generalizing, but I got my hands on several classic (and not-so-classic) English colognes, at the three different price points. The good news is that even the cheapies I sampled smelled bloody good. The high-end ones performed brilliantly. You really can't go wrong with any of these.
Rolls Royce
Any list of British colognes really has to begin with Creed. The only full-size bottle I own from the legendary perfume maker is Creed's 1985 masterpiece, Green Irish Tweed
. It's supposedly the signature scent of many of Hollywood's leading men (specifically, George Clooney), and it's easy to see why. I'm not sure I'd call it a summer fragrance, though many do. Hey, at a retail price of $165 an ounce, you should be able it any time you want, right? Personally, I wear it year round, but more in cool weather.
The cologne is a classic Fougre: rich, fresh and sporty – but that doesn't quite do it justice. With top notes of iris and lemon verbena, middle notes including violet leaves and base notes of ambergris (basically, whale mucus) and sandalwood, GIT is frequently imitated but never reproduced. Counterfeits are rampant, and the decant I once had in my possession only smelled a little like the bottle I bought from a legit source. A poor man's version of GIT is Cool Water by Davidoff
, but don't let that sway you; the real deal can't be copied from this legendary French fragrance house that once made cologne for Napoleon.
I've also sniffed Creed Aventus
, which was much too pineapple for me, but the other sample I own is Creed Silver Mountain Water
. Inspired by the Swiss skiing memories of perfumer Oliver Creed, it's a slightly aquatic, green, fresh scent that's a little sweet for me. I like the top notes of bergamot, but blackcurrant gets fruity and metallic fast. Yes, this is a nice scent, but not a masterpiece (to me, anyway) like GIT. Others have mentioned Virgin Island Water
and Selection Verte
as two good Creed summer scents – I'll have to save up for these and try them next.
High-End
A nice introduction to four of Penhaligon's London's colognes can be found in the $45 Gentlemen's Fragrance Collection. Typically, a 100ml bottle of the fragrances from house that dates back to 1870, retails for $150, so it's wise to get your hands on these 5ml samplers in a beautifully presented box to get an idea of what you like and don't like.
My favorite in the group is Blenheim Bouquet, a floral lemony scent that might already be familiar to wet shavers from its legendary shaving cream. This is a cologne that is 112 years old, yet it still smells modern and doesn't change much over the course of incredibly long longevity. Eight hours after application, you'll still smell lemon, lime, lavender and pine. There's a reason this masterpiece has stood the test of time. This is a safe blind buy, trust me.
Quercus (the Latin name for British Oak) is a unisex fragrance from the '90s that is a bit sweet for my liking. It opens with citrus and basil, then blends into musk. These tiny bottles unfortunately use a round rubber stopper, and the one for the Querecus broke off on the first day of use. It's totally evaporated and useless for me. No huge loss.
I like 2003's Endymion, which like the others, opens with citrus (this time mandarin) but blends into nutmeg, cardamom and leather. This is a good, classic, hot summer night scent. (Do they play polo at night?)
Finally, Sartorial is a fougre and not an especially enchaining one. The metallic effects dance with honey and vanilla. Very safe work at-work wear. For the price point, it doesn't blow me away, but you could certainly do worse.
Mid-Range
I simply adore D.R. Harris' Windsor, a reasonably priced fragrance that takes the best of the classic Terre D'Hermes and the '90s edgy cologne, Cartier Declaration. Somehow, it strips out the flintiness of TdH and contains none of the cumin/body odor note of Declaration, just leaving a pleasant, orange-pepper, invigorating nose. You can buy a big 100ml bottle of Windsor for only $38. It smells much more expensive, and you might find yourself using a lot of it, because the bottle doesn't have an atomizer, just a splash top, unfortunately. This is another winner that gets me nothing but compliments.
Budget
You may remember the brand of British Sterling from the '70s. The drugstore cologne now  makes two new scents for 2014, H.I.M. Reserve, and H.I.M. Private Stock, and for colognes that won't break they bank, they aren't that bad.
H.I.M. Reserve
(a huge bottle sells for about $25 at Walmart) smells a little like Dr. Pepper to me: a woodsy oriental scent with citrus and spice. I prefer the Private Stock
(equally cheap), though, with the same basic notes in a more subdued form. Yes, they smell somewhat young and cheap, but not offensively so. Both are real bargains with good longevity and fair projection. But at that price point, spray away!
Related Posts:
Cologne Classics That Will Live Forever
After The Shave – Fragrances
Prada Men's Fragrances