Barbershops of America is a 120 page 13in. x 10in. hard cover "coffee table" book with hundreds of photos from over 70 barbershops in all 50 States of the U.S.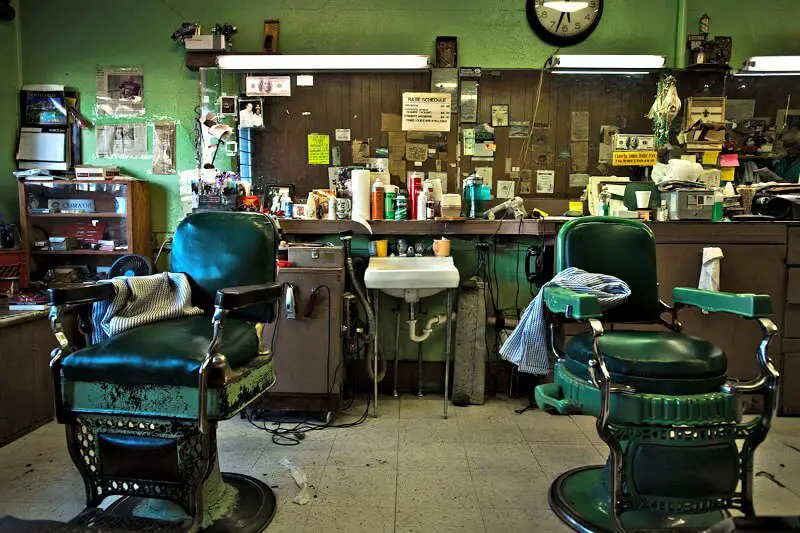 Growing up, Rob Hammer developed an early appreciation for everything involving barbershops.  In September 2011, he began photographing old shops that he found around Southern California. During a trip to the east coast he was photographing shops in NYC and found a shop in Spanish Harlem.  It became clear to him how amazing these old shops are, and evident how quickly they were disappearing.  So for the next two and half years, Hammer drove around the U.S. searching for truly authentic barbershops. Staying off the highways and scouring small towns, led him to shops with history and décor as diverse as the people and places that make up the United States.  Over the 2.5 years, he traveled roughly 45,000 miles and visited over 600 shops. This book is his collection of those shops that inspired him the most.


As you imagine, this is an image-intensive coffee table book.  The text is pretty much limited to a little history of Hammer's journey and some "sound bite" sized quotes from barbers.  But if you are interested in the visual history and "spirit" of the neighborhood barbershop this is a cool book to look at.
I was able to ask Rob a few questions about his adventure:
Did you get a haircut at each of these shops?
I only got my haircut at one shop in Rhode Island, because my barber was on [vacation], and I had a wedding to go to. I'm very loyal to my barber.
How many shops offered shaves? Did you get any shaves?
Roughly half the shops are still offering shaves.
Are these shops still considered general neighborhood gathering places or are customers now limited to older clients?
The shops are still very much considered meeting places. Some of these barbers are cutting multiple generations of family members.

Do you have any additional questions for Rob?  I'll be happy to pass them and his answers along!