Today we are bringing you a guide to Automatic watches! Every watch has its own movement in order to function and these movements may be small but they are highly complex and differ depending on the brand and shape of the watch.

The Automatic Watch
An Automatic, or self-winding, movement is one of the most popular movements used in watches today. It removes the need for a battery thus making it highly efficient and environmentally friendly and is powered by kinetic energy from the wearer's arm movements or a watch winder if the watch isn't worn for some time.
The heart of a self-winding watch is the semi-circular piece which can be seen on an open case back watch, such as in the images below. When the watch is moved by the wearer this piece moves and it is attached to a gear train which winds a spring inside the movement. This spring stores the energy that powers the watch.
This movement currently has no definite inventor. It is believed to have been invented by a Swiss watchmaker named Abraham-Louis Perrelet in 1770 who made the movement for pocket watches. However, others say it was a man named Hubert Sarton in 1778 who made the first drawing and wrote the first accurate description of an automatic watch.
The first automatic watch was made by John Harwood in 1923 after the popularity of wristwatches during World War I. This model of watch, however, used an early form of the automatic movement featuring a 'spring bumper' which moved the plate back and forth instead of a full 360°.
Well, Automatic watches sound great but what choices are there?  Here are three examples of Automatic watches that are my personal favourites:
Mont Blanc TimeWalker Date Automatic 110338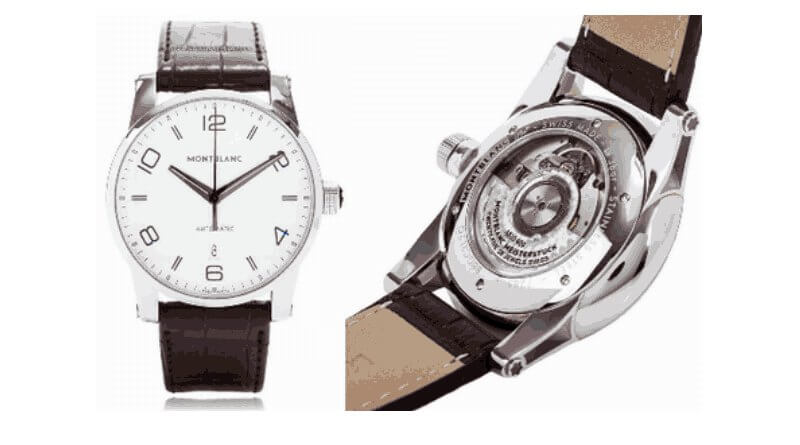 This new Mont Blanc timepiece celebrates the 10th anniversary of the brand's TimeWalker collection. The brand were once renowned as only pen aficionados but have recently, since 1997,  made a name for themselves in luxury watches. This new model has a simple and easy-to-read white dial with a date window at 6 o'clock and a brown leather alligator strap giving it a sporty elegance. The sapphire glass open case back shows the automatic movement for interested horologists and watchmakers.
Seiko Grand Seiko Automatic SBGH001

The automatic movement of this Grand Seiko watch can be seen through the sapphire glass open case back. Seiko's first Hi-Beat caliber was introduced during the 1960s and the watches were seen as the best in the world and now, 41 years later, the caliber has advanced due to new technology and materials. This model uses Seiko's most advanced and precise automatic Hi-Beat caliber yet- the Hi-Beat 36000.
Zenith El Primero Chronomaster Power Reserve 03.2082.4021/22.C734

Zenith's El Primero collection is where the first ever Automatic Chronograph watch came from, 'El Primero' meaning 'the first' in Esperanto. The dial is complicated with an opening at the top left showing the colourful escape wheel and lever and it has an open case back that shows more of the movement making it eye-catching and interesting.  There is also a power reserve indicator at 6 o'clock that shows when the automatic movement is running out which is an incredibly useful tool on an automatic watch.
So, which one of these Automatic watches is your favourite?