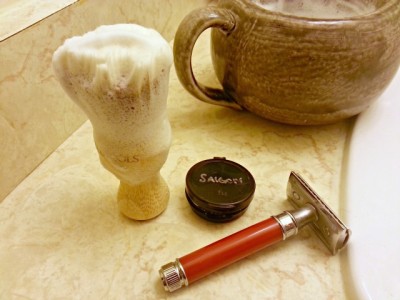 Creams from Al's Shaving Products seem to undergo a magical transformation when lathered, and Saigon is no exception. Before being lathered up, Saigon is a weird kind of hay-like smelling aroma, rather bland, not all that pleasant. But once lathered up, it bursts into a lemongrass scent, with a hint of spice and a few other things that I can't quite place. It's not overpoweringly strong, but it stays noticeable without anything in the way of fading during the shave, and lingers for a fair bit afterwards as well.
The shave itself is quite excellent. It lathers up quite easily, to a rich and luxurious lather, providing plenty of glide and cushion. Just be sure to use plenty of water.
9/10 Scent Pleasantness
9/10 Scent Strength
10/10 Lather Quality
The sample shown is sold as part of a $20 7-scent sample pack. Or, the same amount for a full tub of the Saigon. Or, at least that's the regular price. I'll note however that they both seem to be on a semi-permanent sale, of $15 and $16 respectively.
9/10 for this one. I highly recommend trying the sample pack.
Ingredients: Al's Shaving Cream contains sodium and potassium salts of fatty acids (stearic, oleic, linoleic, palmitic, myristic and lauric) in addition to water, glycerin and botanicals.