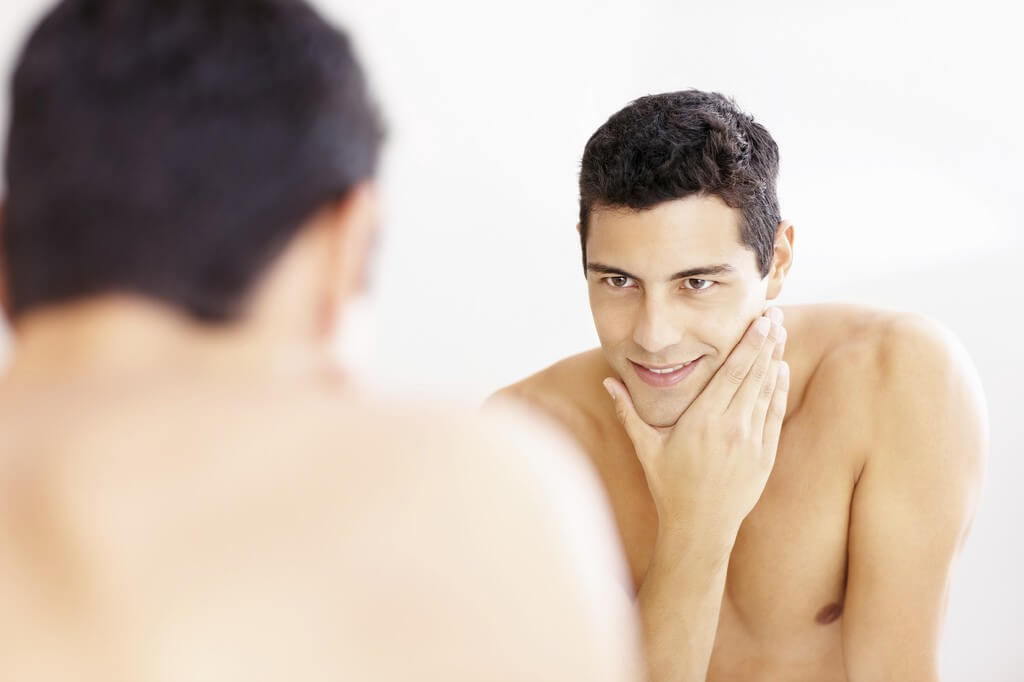 Aging is nature's irreversible process. But aging need not be sped up. While women are more scrupulous when it comes to taking care of their skin and beauty, most men don't seem to care at all. Do you know that ageing can be slowed down, even halted? It's easy. Here's how we'll show you 10 super-simple anti-ageing tips for men.

Tip # 1: Understand your skin.
Skin, the body's largest organ also happens to be the most neglected. Most men are not bothered much about taking care of their skins. But it's the skin, especially facial skin that reveals much of the tell-tale signs of ageing, which happens due to cellular or physical damage, hormonal and metabolic changes. Skin therefore needs caring for. Before reaching for skin-care products you need to first be aware of your skin type: dry, combination, oily, sensitive, pimple-prone, or normal skin.
Here's one easy way to determine your skin type. Cleanse your face with a mild cleanser and pat it dry. Half an hour later your skin will tell its tale:
Dry skin – feels itchy, irritated and is flaky. Use products containing moisturizing agents, like hydraluronic acid, glycerine, aloe vera etc.
Related Post: 5 Natural & Effective Ways to Care for Dry Skin
Combination skin – dry only around cheeks. Nose and forehead is oily. This is the most common skin type. Use non-abrasive products with very light moisturizers.
Oily skin – shiny, and feels greasy. Use oil free products that contain exfoliating agents – to clear away oil and dirt.
Sensitive skin – gets irritated by weather changes and most skin-care products like shaving creams etc. Use products made especially for sensitive skin. Avoid those containing dyes and fragrances.
Pimple-prone skin – Bursts with pimples, blackheads and acne, often seen on dry or oily skin. Use products that do not clog pores.
Normal skin – Healthy looking, without shininess or blemishes. Most products can be used for this skin type, unless indicated otherwise.
Tip # 2: Keep yourself clean.
Personal hygiene is the per-requisite to healthy, beautiful skin. Bathe regularly with lukewarm water (hot water tends to dry up the skin) to clear away dead skin cells and unclog sweat pores, and allow your skin to 'breathe'. Use only those skin-creams, moisturizers or lotions suitable for your skin type, in your country's particular climate.
Tip # 3: Eat well, eat healthily.
We are what we eat, it's true. Your diet should contain the optimum balance of proteins, fats, carbohydrates, minerals and energy. Avoid, or slow down on, convenience and processed foods, since you'll likely miss out on good, wholesome, and fresh nourishment. Working men especially tend to eat out, gorging on unhealthy fast, and fad, meals. Ultimately that tells on your health and your skin becomes the first casualty.
Related Post: Skincare and Diet for Men: Get a Great Complexion by Eating Well
Tip # 4: Include plenty of fruits and vegetables in your diet.
Want to look more vibrant and attractive? Eat plenty of vegetables and fruits. They contain essential minerals and micronutrients for the body's nutrition and effective metabolism. They increase oxygen circulation and supply nutrients like vitamin C, E, hydroxy-acids and other micro-nutrients so necessary for the skin's health and its immunity from infection. Ensure adequate servings of vegetables and fruits so your body gets the all-important nutrients for beautiful skin health, skin tone, collagen building and elasticity.
Tip # 5: Drink plenty of water.
70% of the human body is moisture. The body shrivels when dehydrated and that shows on the skin. Water not only hydrates the body, it also naturally cleanse the intestines and kidneys, flushing out toxins that would otherwise cause irreparable damage.
Tip # 6: Avoid smoking.
Smoking is the single biggest cause of lung cancer in the world. It makes you inhale the poisonous carbon monoxide which displaces oxygen in your bloodstream, causing oxygen starvation of the body. It reduces vitamin C gets which collapses the collagen tissues, and cause wrinkles to show with prominence.
Tip # 7: Drink but in moderation.
Avoid alcohol altogether. If you must drink, do so moderately. Alcohol starves the body of moisture, which is why you thirst greatly after a drinking bout. Alcohol dilates blood vessels, exposing blemishes on the skin. Internal organs like the liver gets damaged, senses dull and the skin wrinkles up faster.
Tip # 8: Exercise.
Exercise and fresh air are no doubt so beneficial for skin health. As people age, they tend to become more sedentary. The result is accumulated fat at the wrong places, obesity and an unhealthy heart. We all know exercise build strength, stamina and flexibility. It also boosts the immune system and is helps in stress reduction. So go ahead, hit the gym, or the grounds; a healthy body makes for a healthy and younger skin too.
Tip # 9: When outdoors, use protection.
Sunlight is essential for the body to synthesize vitamin D, but too much sun exposes you to harmful ultra-violet rays that can age the skin faster, cause skin diseases, even cancer. Therefore try to stay as much under shade, use a hat, or use a sunscreen of at least SPF 30 for protection.
Related Post: Skin Care Tips Before You Hit The Slopes
Tip # 10: Take recourse with cosmetics and beauty products.
Cosmetics and beauty care regimen are no longer the preserve of women alone. Men are becoming vainer too, aware that looking good takes them places. Men's skin is different from women's and the cosmetics industry has now come up with products suitable for different men skin types for different climes. Everything can be found online at the click of a mouse, like for instance or any country you live in.
Finally, looking good and young help build self-esteem and puts you on the notice board. A younger looking skin not only makes you look good but makes you feel good too. So go on ahead and try these anti-ageing methods to a younger looking you. They are that easy, just simple tweaks in your lifestyle and you are well on your way to a forever younger you!
Author Bio
Hi! I am Tressie Dawson, a skin care expert and a blogger. Born in a family of dermatologists, my life revolves around things that are healthy and natural to keep the sanctity of our skin alive. I use my passion for writing to share my observation and experience with various skin products to make lives of my readers better.
Related Post: Be The Sexiest Man In The Room With These 5 Skincare Tips