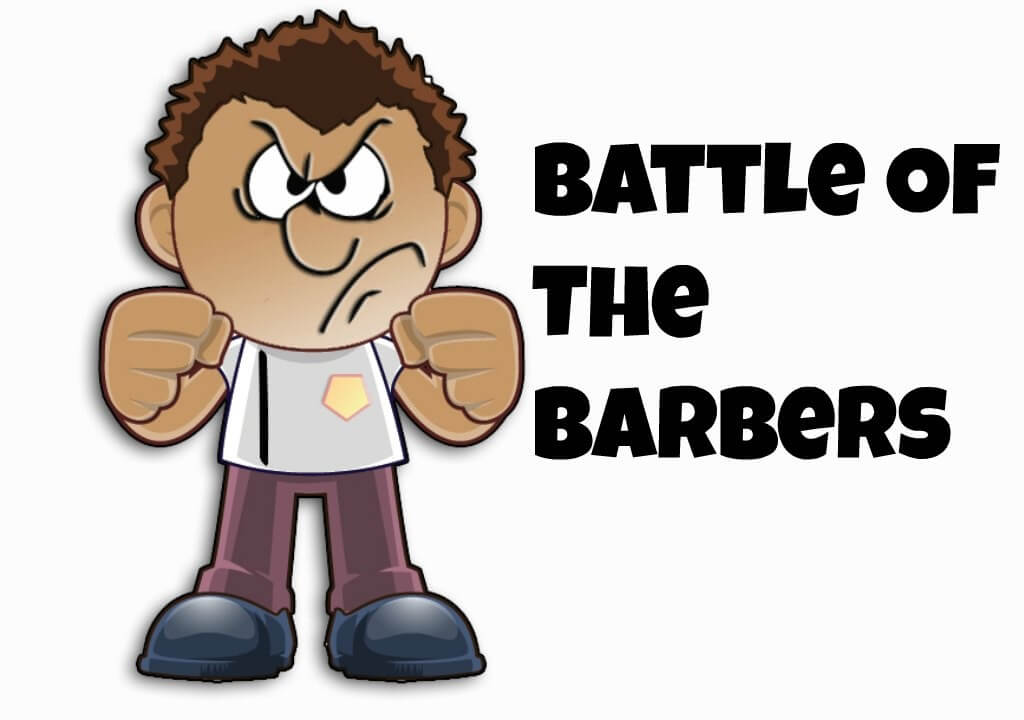 Steve, the owner of the newly-launched CCC Shave Shack, suggested that Sharpologist hold a "battle of the barbers," looking at shaving products produced by (or at least inspired by) actual barbers.  This first round of the battle looks at Fellow Barber shave cream.
From the Fellow Barber website:
"Fellow Barber believes in and celebrates barbering tradition. Since opening in 2006 in Downtown New York City, we have grown independently to multiple locations in New York and San Francisco, with over 100 employees. Along the way, we developed our own grooming product line, which is now being sold in barbershops and retailers worldwide.…
Fellow Barber hair products are designed to work for the majority of contemporary men's hair styles, while our shave products work well with any type of wet shaving razor, from straight edge to the newest, multi-blade disposable….
All of our hair, styling and shave formulas have been developed in accordance with our own barbers' strict standards, to provide top-shelf products that evoke the experience of visiting one of our barbershops."
Fellow Barber Shaving Cream
"Fellow Barber Shave Cream is a light and airy formula suitable for any wet shave regimen, with or without a brush. It has an abundance of glide and reactivates with water. Not overly thick and will not clog up your razor. Naturally scented with essential oils.
– Alcohol free
– Paraben free
– Sulfate free
– Not tested on animals
– Made in USA"
Personally I get more of a "minty" kind of herbal/woody vibe from the scent.  It's not too weak for me and my poor sense of smell (and shouldn't over-power you) and unlike many other creams of this type the scent stays noticeable when lathered on the face, with good "persistence."  This cream can be used with or without a brush: with a brush the lather is a bit thin in my hard water but not objectionably so.  Unlike some brush/brushless creams, this product doesn't "disappear" into the brush!
Performance is excellent for me though, even with the somewhat thin lather.  Really good lubrication and cushioning (actually the cushioning aspect kind of pleasantly surprised me given the relatively thin coat).  A full three-pass shave to a reliable DFS/BBS level is easily and reliably obtainable for me.
Ingredients: Water/Aqua/Eau, Palmitic Acid, Myristic Acid, Stearic Acid, Glycerin, Coconut Fatty Acid, Potassium Hydroxide, Avocado Oil, Cetyl Triethylmonium Dimethicone PEG-8 Succinate, Ricinus Communis (Castor Oil), Juniperus Virginiana (Cedarwood Virginiana Oil), Cupressus Sempervirens Oil (Cypress Oil), Pelargonium Graveolens (Geranium Egyptian), Bulnesia Sarmienti (Guaiacwood Oil), Juniperus Communis Fruit Oil (Juniper Berry), Citrus Limonum (Lemon Oil Argentina), Boswellia Carterii Oil (Olibanum Oil), Pogostemon Cablin (Patchouli Oil), Abies Sibirica Ledeb (Pine (Fir) Needle Siberian), Rosa Damascena (Rose Otto Bulgarian), Vetivera Zizanioides (Vetivert Bourbon), Artemesia Absinthium (Wormwood Oil), Sodium Lauroyl Sarcosinate, Menthone Glycerin Acetal, Tocopheryl Acetate, Bisabolol, Chamomilla Recutita (Marticaria) Flower and Leaf Extract, Aloe Barbadensis Leaf Juice, Retinyl Palmitate, Ascorbyl Palmitate, Squalane, Sodium Hydroxide, Hydroxypropyl Methylcellulose, Tetrasodium EDTA, Phenoxyethanol, Caprylyl Glycol, Ethylhexylglycerin, Hexylene Glycol.
So I would call Fellow Barber Shave Cream, this first product in the "battle of the barbers," a strong contender!
Fellow Barber also has an aftershave lotion, a shampoo, a styling cream, a texture paste, a tonic, and a pomade.
This post is sponsored by CCC Shave Shack–where you can find a wide variety of traditional shaving and grooming products, personalized service, samples, and more!